photos by Taylor Rea
We would like to welcome a new column to our magazine – "Horse & Style Home" – in which we will feature fabulous equestrian-themed design, décor, and properties each issue. First up is our own Alli Addison, frequent H&S contributor, whose exquisite California home can be described as eclectic and collected.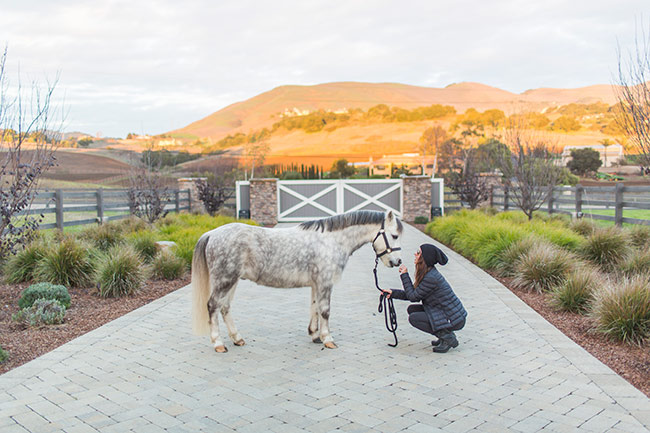 From 1837 to 2011
For Alli's family, it all started in 1837 when her great-great-great-grandfather, Captain William Goodwin Dana, originally from Boston, MA, settled on a piece of land approximately an hour north of Santa Barbara, California. He had taken to sea life early and traveled the world extensively before making his way to California as the master of the brig Waverly. Santa Barbara was not only a major seaport at the time, but it was the capital of Alta California.* Captain Dana set up a merchandising business, held several public office positions, and met and married Josepha Carrillo, the daughter of the provincial Governor of California (then still a part of Alta California).
Prior to the marriage, however, Captain Dana had to give up his American citizenship, become a Mexican national, and convert to Catholicism – all of which he did. As a result, he and his wife received the Mexican Land grant of Rancho Nipomo, totaling 38,000 acres. They built their home, Dana Adobe, which still stands today, established a profitable ranching operation, and had 21 children!
"Our family has lived here ever since. Farming. Ranching. We have raised cattle, tended to the land. Parts of the original land grant have been sold off through the years, but members of the Dana family remain, living on plots of land that have been in our family for generations," notes Alli. "My husband and I built our house on land adjacent to my parents' home. We began designing and building in 2009 and moved in on June 9, 2011. I will remember that date for eternity as we found out the weekend we moved into our new dream home that we were expecting our first child."
*Alta California was a territory of Mexico that included what is now CA, NV, UT and parts of AZ, WY, CO, and NM. It was ceded to the United States after the Mexican-American War in 1848.
The Milton Menasco Influence
Santa Barbara has a definite style, but from a design perspective, basically anything goes on the California coast. While Spanish ranches and custom Mediterranean homes abound, Alli knew she wanted something more unique for her own personal residence. She would, of course, honor her family's rich heritage, but she admits to two additional style influences: her great-great-uncle, well-known equestrian artist Milton Menasco's work, as well as her love for Kentucky.
"When I was 15, I took a break from competing on horseback and got involved in a horse judging program that took me all over the country, and primarily to Kentucky. I was so taken by the landscape there, the farms, the style, the way of living, and the horses. Additionally, my late Aunt Florence Menasco, wife to my Uncle Milton Menasco, was now living in California in a quaint little Kentucky-style home. I loved visiting her at her home, and taking in the mid-century classicism of her space. The art, the mill work, the colors, the furnishings, the shutters, and the board and batten exterior."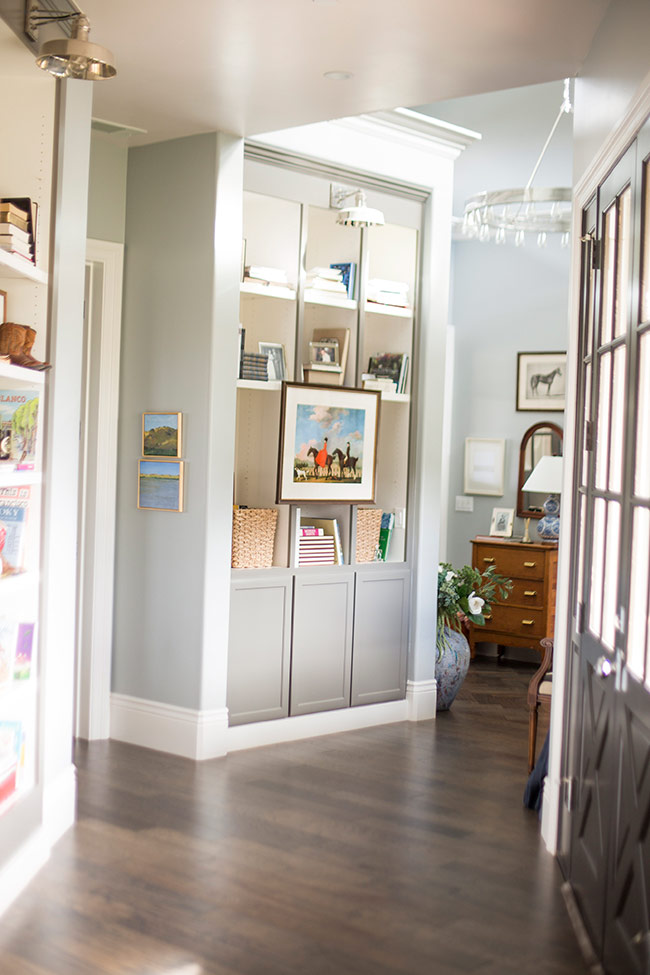 Alli believes that her relation to the artist and her upbringing with his family influenced her style in a very classical way. In her home, Menasco's work is mainly surrounded by traditional elements, but she does, at times, push the boundaries. "I've long told clients that classical art can exist in both traditional and modern settings. The juxtaposition can be a very good thing. But for my own personal style, I find myself developing a deep appreciation for soft, natural colors, similar to those you find in Menasco's pieces. His landscapes in the background of his subjects are stunning. His use of terrain, skyscapes, etc. – all the colors are soft yet true. I find myself pulling a lot of blues, greens, grays, and browns into my space because of those works."
Alli's home also features traditional elements such as heavy base, crown, and raised paneling on interior doors, and to appease her equestrian-obsessed design aesthetic, she drew upon the classic cross buck detail on her doors and the z-style shutters surrounding the windows. On the exterior, a cupola was added. "It is certainly a nod to the famous horse farms and barns of Kentucky, but it's also a nod to my Spanish-California roots. My great-great-great-grandparents' Casa de Dana Adobe features a cupola."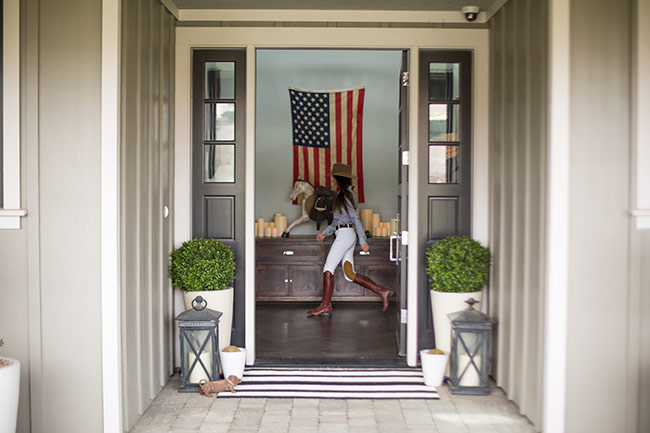 A Collection of Old and New
Alli notes that her style is entirely eclectic and collected, and her home is filled with modern touches, traditional elements, and rustic pieces. She and her husband had been saving for so long in order to build their dream home, that when they moved in, they didn't have any art, fun pieces, or heirlooms. But that changed on their first weekend in the house.
"During that first weekend, my mom gave me two Menasco pieces. I remember wandering around my house, trying to find the perfect place to display them. They spent a year in various locations and then eventually found their 'place.' I also began to acquire some furnishings, started purchasing pieces, fell in love with antiquing, and began collecting a mixture of old and new."
That love for antiquing can be seen in Alli's entryway, where three of her favorite pieces have found a home. The first is an old American flag she purchased while shopping in a small town not too far from home. Alli loves that the red from the flag draws the eye and gives a pop of classic color. Below the flag rests an Americana folk-art horse toy chest which found its place there by accident. "When I brought it home, I honestly didn't know where to put it," remembers Alli. "So I put it on the entry table, and it has remained there ever since. Several weeks later, my mom dropped off some old tack. I didn't know where to put the saddle and on the folk-art horse it went. It simply stuck."
Not surprisingly, Alli is very partial to another piece by Milton Menasco that was given to her by her mom. "It's a study of my aunt's broodmare and foal at their farm in Kentucky. After my aunt passed, it hung in my grandmother's house for years. And now it hangs in our house. It is a small piece, of no great horse, but it is incredibly special to me."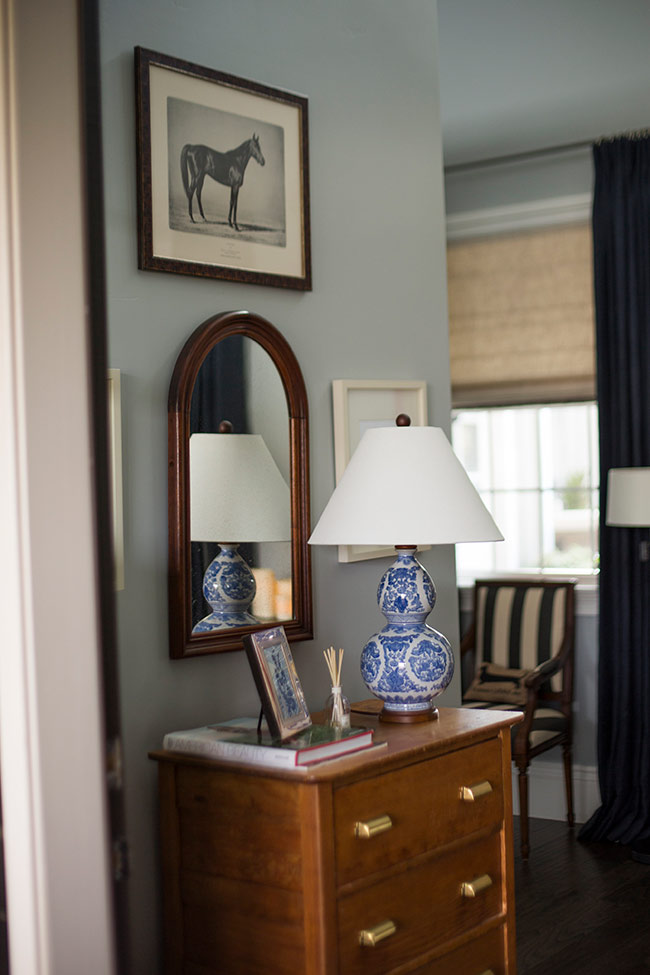 It Takes a Lifetime
While Alli is very happy with the home she and her husband have built on her ancestors' land, she reminds herself that it will take many years to make her home feel "complete." She recommends gradually collecting unique and special pieces instead of trying to get it done in one fell swoop. "It takes a lifetime to make a home, and I believe it takes a lifetime to develop your own personal style as it is always evolving."
For Alli Addison and her family, California is and will always be home. She says it's an extraordinary feeling to raise her children on land, and in an area, where their ancestors were raised almost 200 years ago. "The history of the land surrounding us is rich, and I look forward to continuing to build a home with pieces that echo that history.