5 reasons Lorenzo de Luca is Horse & Style's April 5* favorite
1. He's a rock star: During his 2016 breakout, Lorenzo de Luca solidified his rock star status by winning five 5* classes at the Dublin Horse Show, earning the cover shot for the Sept/Oct issue of H&S, and working his way up the Longines FEI rankings (currently 11th).
2. He's got a great sense of humor: Anyone who was lucky enough to witness de Luca in a blonde wig and surf skins in the Pro-Am for Charity presented by Hyatt at the Longines Masters of Paris last December knows he is a man who enjoys the fun aspects of the sport as much as he does the serious ones. With one flip of his blonde wig as he sailed over an oxer, de Luca had the crowd both cheering and laughing.
3. He's kind. To his horses, to the people around him and even to strangers. If you've watched him at the back gate, with several of his horses he enters the ring with his feet out of his stirrups. When asked why, de Luca said those horses are quite sensitive and letting his legs hang while walking in helps keep them at ease. He also took time out of his busy schedule at the World Cup™ Finals to do a meet and greet with his adoring fans in support of a non-profit.
4. He's Italian: And what's not to love about Italians? Different sections of the Italian military each support different Italian athletes and the Italian Air Force supports de Luca. This is why, when he competes, he wears the blue uniform that represents their branch. It is a honor to his family to be representing his country every time he enters the ring.
5. He's good for the sport: In addition to being a great rider and horseman, de Luca is the type of rider you can believe in. He has worked hard to get where he is, now riding for one of the top European farms, Stephex Stables, and working alongside German rider Daniel Deusser and several other top 5* riders. However, de Luca will be the first to tell you how grateful he is for the opportunities that have allowed him to get to where he is today. His talent is obvious, but it's his infectious positive energy and overall charming demeanor that make him a rider to root for.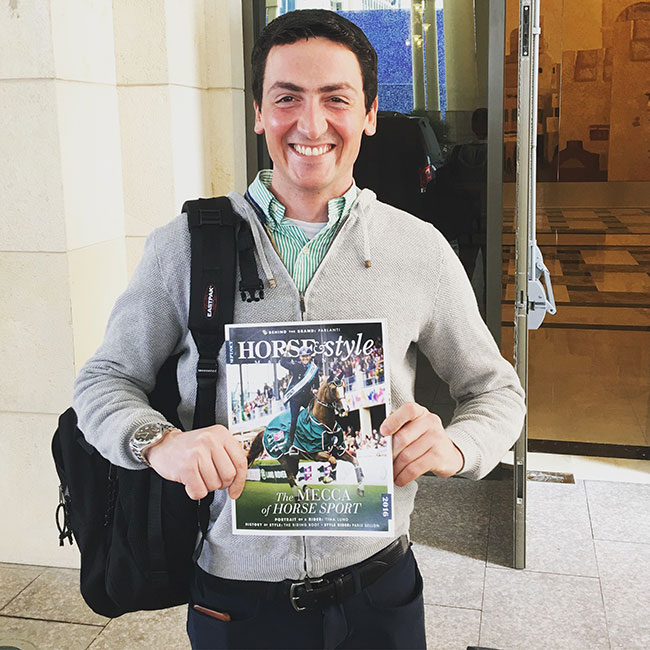 Feature photo of Lorenzo de Luca at the 2016 Dublin Horse Show © Ashley Neuhof