Photos by Phillip Ennis of Phillip Ennis Productions
Our latest installment of Horse & Style Home takes us to the Hamptons, that posh enclave and popular summer vacation locale at the north end of Long Island, New York. If you've never been to the Hamptons, add it to your bucket list. With its stately, private homes, exquisite restaurants, and classic East Coast charm, it's the place to see and be seen from June through August.
Luxury Without Conjuring Opulence
We are mixing things up a bit for this issue. Rather than interviewing an individual homeowner, I'd instead like to introduce you to the noted interior designer, Patrik Lonn of Patrik Lonn Design, whose background as a horseman is evident in his impeccable equestrian-inspired style. This beautiful home in the Hamptons was a yearly show-house, and Lonn was asked to work his magic within. At the end of the show, the house was sold to a private owner.
Lonn knew early on that he wanted to be in the interior design business. "It all started in Stockholm when I worked for the renowned NK Interiors and Svenkt Tenn," remembers Lonn. "In my early 20s, I relocated to New York to pursue degrees in interior design and business at the Fashion Institute of Technology and the Pratt Institute. My professional career in the US started with the world famous Peter Marino Architects. I moved on to an architectural firm doing Saks Fifth Avenue department stores, and then continued in-house for Ralph Lauren before I started my own studio in 2007. It has been an amazing journey. It was always my end goal to run a practice, so when an opportunity was presented to me, I jumped on it!" Lonn now focuses on luxury residential interiors primarily on the East Coast, but he is looking forward to a project that's taking him to London this fall.
Known for creating spaces that are sensual and comfortable, Lonn's signature style is of the modern classicism variety. "My mantra is 'luxury without conjuring opulence.' I really love to integrate art in my spaces, as that is the most challenging and rewarding way of making a space dynamic and interesting." Lonn also notes that he works with unexpected pieces and features that make spaces visually pleasing.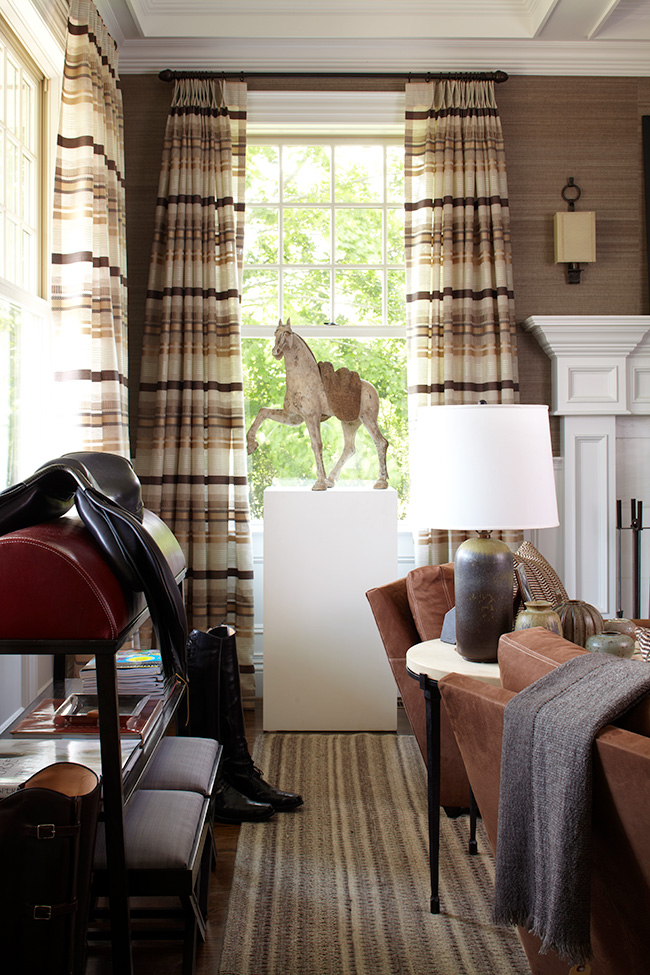 Subtle, Understated References
Lonn did not grow up with horses. In fact, it was his professional life that led him to what would become one of his greatest personal passions. "I got inspired to take up riding when working for Ralph Lauren. Everything was equestrian-themed, so it made sense to explore the sport. After many lessons, and barn trials and errors, I finally found my way to Cedar Crest Farm, a farm certified by the British Horse Society, in Pine Plains, New York. A tough Irish military-trained instructor taught me the basics and after many years of flat work, I was ready for simple jumping – my dream come true. Starting as an adult at age thirty was a challenge, but I was determined to learn."
Like all equestrians, it's no surprise that Lonn's love for the horse began to seep into his work as an interior designer. While he does not label himself solely as an equestrian interior designer, he is skilled at capturing the classic, traditional style that is so congruous with the horse community. The equestrian lifestyle encompasses all aspects of a rider's life, so having touches of this passion inside the home is not uncommon.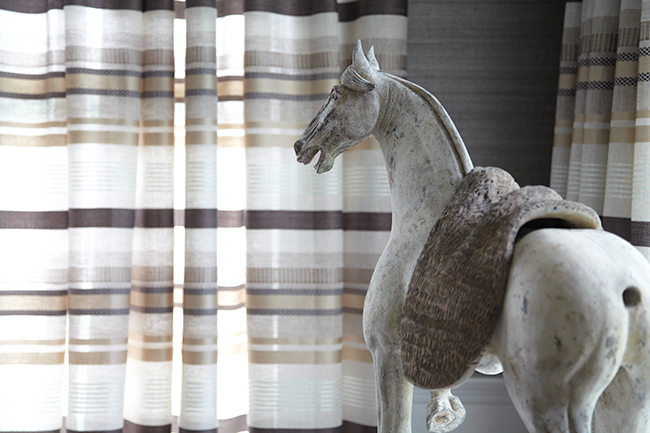 When working with an equestrian client, however, Lonn takes the road less traveled. An understated look is best. "I always base my designs on a concept. It is important not to make it themed. I usually start with very subtle references. For an equestrian interior, it may be the saddle stitching, a particular color of tack leather, the tail of the horse, or many times I draw inspiration from equestrian fashion. I just completed a house in Wellington for a talented globetrotting equestrian amateur. We made sure not to use the conventional horse photography for the house; instead, I found a wonderful 16th century drawing reproduction that we framed for the space. The concept was based on the client's love for driftwood, and I added contemporary light fixtures and pieces in oil-rubbed bronze – a reference from the beautiful hardware and light fixtures found in the stables of Versailles. This made it a modern and exciting, yet comfortable and casual, house – exactly what's needed to come home to after a long day of horse showing!"
A Hamptons Country Home
As mentioned, our featured home resides in the Hamptons and was a project completed for the Hamptons Designer Show House organization, which benefitted the Southampton Hospital. Lonn notes that the overall look was a casual summer residence that was dressy enough to entertain both private and public events. "The sitting room had refined references to the many equestrian sports that take place in the Hamptons. One of my favorite features was the hand-painted wallpaper I created that was inspired by an equestrian scarf by Hermès. I made the club chairs in leather with saddle stitching, and the vivid equestrian photography by Bob Tabor made the space dramatic. I featured Tang horse sculptures and used an earth-toned color scheme perfect for a quiet sitting room/library setting."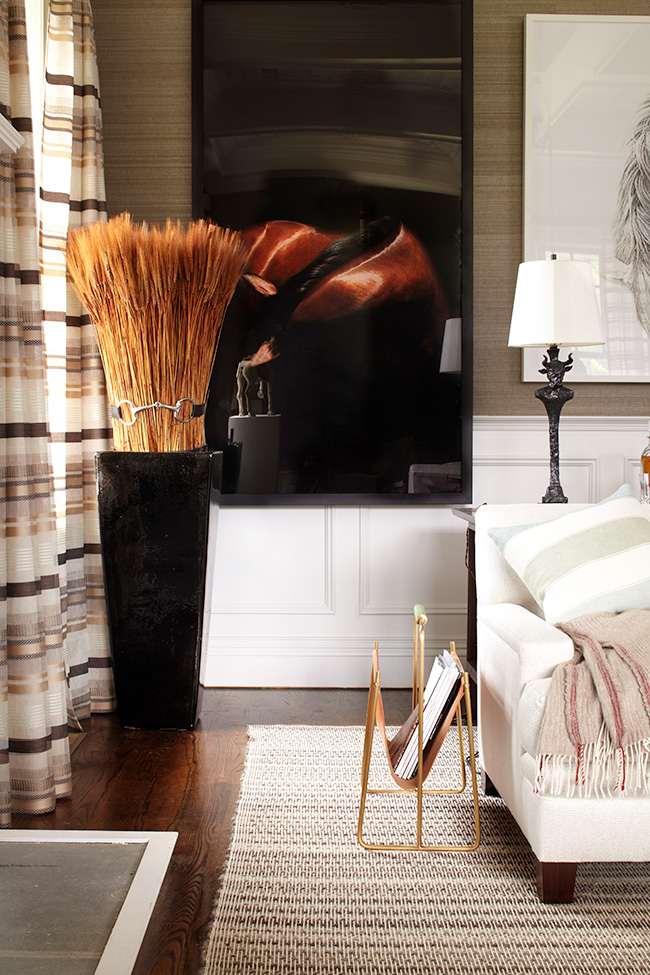 One of the main focal points is the fireplace, which is flanked by large windows festooned with neutral plaid treatments. They draw the eye up to the ornately-patterned coffered ceiling delicately detailed in the same earth-toned shades. Elegant equestrian touches such as a saddle, black field boots, and a vase embellished with a snaffle bit, tell a subtle tale of a life with horses.
If you live the equestrian sporting life and want to revamp a room, giving a nod to your greatest passion, Lonn has some seasoned advice to share. "I would look for unusual art, perhaps use horsehair fabric for upholstery or incorporate some of the tack hardware in furniture pieces or custom pillows. A well-earned ribbon can be beautifully-framed in a shadow box, but I would not decorate with lots of trophies or equestrian knick-knacks. That would create a very conventional equestrian interior design." With Lonn, less is more.
Joy and Balance
When asked to describe his equestrian style in one sentence, Lonn replies, "Subtle references to the exciting world of the equestrian lifestyle." And what an exciting world it is. "I am so fortunate to be able to share time with such a powerful animal as the horse. The connection I have is also rather therapeutic. My every day stressful life is filled with meetings, clients, and the many daily challenges of living in New York City. There is nothing more calming yet thrilling than to be back on the farm with my horse or competing at the many shows we frequent. It gives me much joy and balance in life."
And as we've seen in the Hamptons Country Home, Lonn also recommends having that same joy and balance within your house, understated equestrian touches and all.
Website: patriklonn.com
Instagram: @patriklonndesign
This article was originally published in Horse & Style's July/Aug '17 issue. Read the full issue online here!