My trip to Montage Palmetto Bluff, a property nestled along the May River in the Lowcountry between Hilton Head Island, South Carolina, and Savannah, Georgia, felt like a homecoming in a way. My dad grew up in the south, and though he tells wonderful stories about the food, culture, and hospitality of the southern states, we never visited any of them. However, I always suspected that his southern roots were the reason why he has exceptional manners and is always concerned that guests in his home are happy; and why people always remark to me, "your dad is just such a gentleman." My trip to Montage Palmetto Bluff confirmed that suspicion. Each person I met had the same warm southern charm as my dad. Each was kind, generous, friendly, and a gracious host – and each played a part in making for an incredible vacation.
Perks of the Property
The winding, four-mile drive into Montage Palmetto Bluff was the perfect way to begin my time at the resort. With every mature Live Oak that I passed and every bird that swooped by, I began to leave my fast paced city life behind and embrace a slower way of life. Once in awhile, as the woods passed by, I would see the corner of a well hidden house, or a natural wood sign indicating the way to the golf course or the pool. Otherwise, I felt like I was taking a leisurely drive through the forest, which is why I was surprised when we popped out at the circular driveway of the stately Montage Palmetto Bluff. From the moment they opened my car door and took my luggage, the staff of the facility was incredibly attentive, and I quickly realized this was not just a resort in name, this was resort living.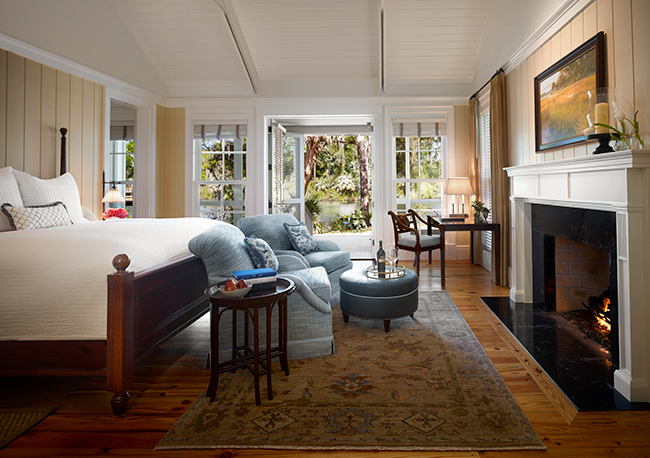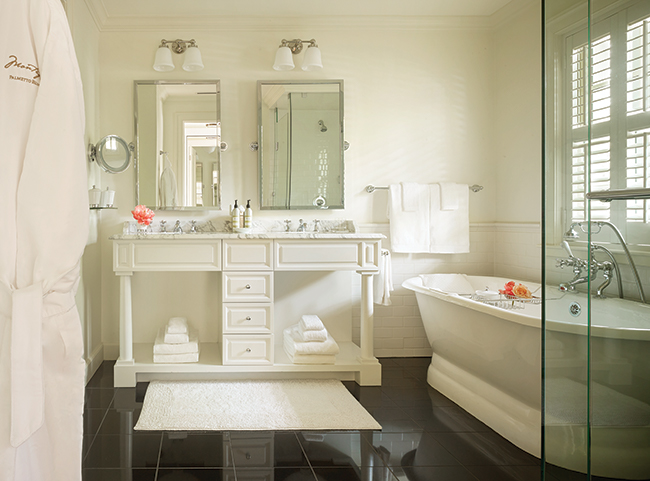 I was shown to my room which was as luxurious as they come, from the bathroom to the bed. The other 200 guest rooms – in the resort, nearby cottages, and guest houses – all had the same design, feel, and accommodations. The property also had parcels of land for sale to build private homes, or private homes already built for sale. Within the community, Montage Residences Palmetto Bluff, are tasteful new constructions with charming southern design elements. The benefits to being a Montage Palmetto Bluff Resident homeowner are undeniable. Besides 24/7 security (great for vacation homeowners), residents have access to all the perks offered at the resort: concierge service, housekeeping service and in-room dining. But the best perks were those offered outside the rooms and residences – golf, guns, May River trips, the spa, and so much more. (Palmetto Bluff also has an unbelievable equestrian facility, but that story will have to wait for its own "Barn Envy" story in the next issue). After a perfect night's sleep, I joined the group to experience the perks myself.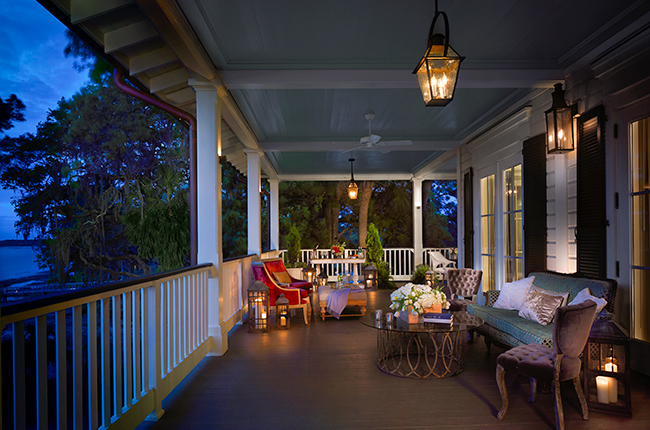 A Hidden Green Gem
The first morning, we got the chance to meet Greg, the Head Professional of the May River Golf Course. Greg was warm, inviting, and so enthusiastic about golf it was contagious. He proudly explained that in designing the 18-hole Jack Nicklaus Signature Course, the most important value to the team was to keep it environmentally friendly and to respect the wildlife. During the tour, Greg pointed out that to do this, the course had been constructed with respect to the land's features. Upon a second glance, I could see the design in action. The course is curved to accommodate a wondrously large tree, incorporates the nearby May River bank, is devoid of concrete pathways, and has no plastic signage. As with so much at Montage Palmetto Bluff, the golf course was a gem hidden amidst the natural beauty of the South Carolina landscape.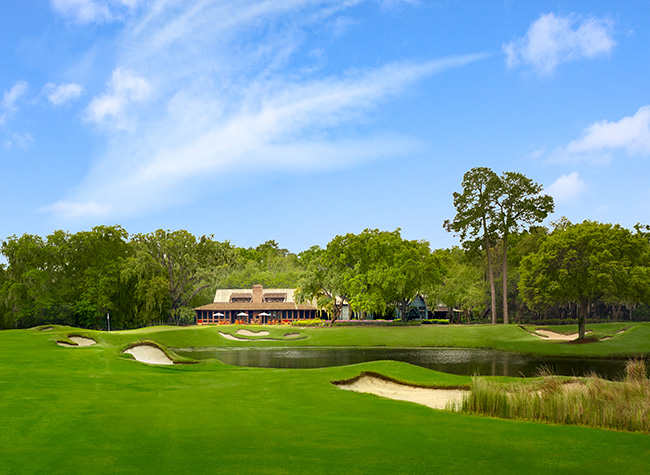 As Greg gave us a putting lesson, he explained a bit about how the Montage Palmetto Bluff Conservancy was responsible for the course's environmentally friendly design. From the beginning, the onsite Conservancy has played a role in all planning and construction efforts at Montage Palmetto Bluff. The Conservancy helped to establish over half of the property's 20,000 acres as protected area, never to be developed. Of those developed areas, the most scenic and beautiful views are saved for public areas so they can be enjoyed by everyone. The Conservancy has an archaeologist on staff so any artifacts that are found can be accurately researched. A wildlife expert monitors all the wild animals on the property, ensuring they are happy and healthy. I am eager to report that I can attest to that truth – Greg pointed out all the giant alligators happily living in each of the course's ponds. Balls lost to those ponds are balls I would NOT be chasing!
Shots Fired
I now know that I am a full fledged city slicker, thanks to my exciting trip to the Montage Palmetto Bluff Shooting Club. I had never fired a gun; only held one a handful of times, and was admittedly and embarrassingly quite unknowledgeable about them. But the team at the Club was happy to change all that! After winding through the forest a short distance (as with everything at Montage Palmetto Bluff, the Shooting Club is well blended into the natural beauty of the land), we popped out at the 40-acre site, complete with 15 shooting stations. There we found three smiling staff members, waiting for our arrival, each with a shotgun in hand.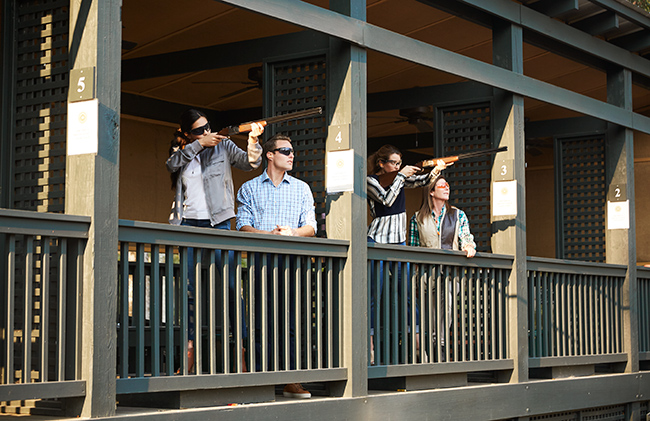 The expert marksmen greeted us warmly, and gave us a thorough but easy to understand safety talk and gun tutorial. Their easy way with the guns and respect for the sport made me feel right at home. After the introduction, we walked up to the elevated and covered five-stand station. We each took turns working with one of the experts, and I worked with Sarah. She was wonderful! I was in the first group of three to go, and Sarah and I were face to face when someone in a stall behind me fired the first shot of the day. I jumped about a foot, scrambled forward, and practically climbed into her arms. She sweetly wrapped her hands around my shoulders, gave a sly smile, and said, "Yes honey, you ARE at a shooting club. There will be shots fired." I laughed at that, finally relaxed, and let Sarah guide me through the shooting. We progressed from her standing behind me doing pretty much everything, to her helping with my trigger finger, to me shooting all by myself.
After everyone in our group had had a chance to shoot, the three experts showed us how it was really done. They shot upside down, sideways, from above the shoulder, and lying down. I even think they shot backwards at some point…any trick you could imagine, they performed! The experience was wild, and really made me realize that any member of the Montage Palmetto Bluff Shooting Club – from newbie to seasoned competitor – could learn something from this team. While shooting was for me up until that day at least, a once in a lifetime experience, I know it could not have been any more enjoyable thanks to Sarah. The Montage Palmetto Bluff staff certainly knows how to craft an outing into an experience!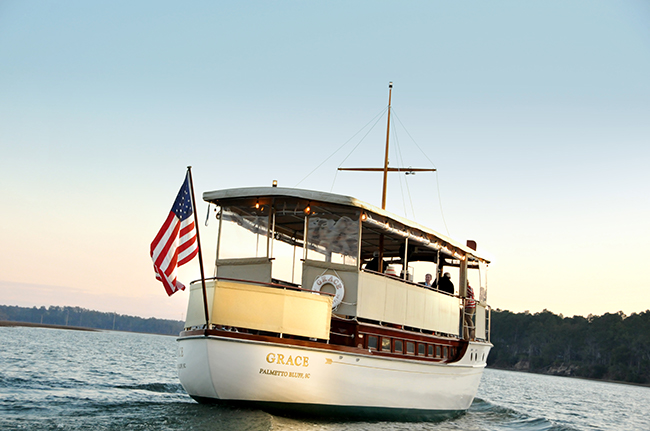 A Trip to Bluffton
A trip to Montage Palmetto Bluff would not be complete without an evening spent in Bluffton, the nearby town that is just a short boat ride across the May River. As we waited at Wilson's Landing for our boat captain to arrive, we got the chance to see the other fun natural water sports available at the resort – fishing, shrimping, crabbing, paddle boarding and kayaking. Even better, all necessary equipment was included in our stay. Just as we started making plans for sunrise kayaking the next morning, our captain arrived and we boarded our boat. As we enjoyed the beautiful sunset and amazing water breeze, our captain stopped to point out some of the waterlife. Trout, yes. Redfish, flounder, even turtles – yes, those too. But I wanted to jump into the water – dress, heels, makeup, and all – when a baby dolphin and its mom swam up to our boat. And there were more pairs everywhere! It was my inner-six year old's dream come true.
After the baby dolphins finally swam away and we had all composed ourselves, the boat continued on to Bluffton's shore. From there, we met the friendliest bike taxi "drivers" who took us on a guided journey of the quaint town. We saw historical landmarks like the Heyward House, enjoyed an oyster shooter from the Bluffton Oyster Company, and perused the downtown area shops that feature art, wine, and artisan foods. The sweetest part of the trip was talking with our "driver" who explained how he and his family moved to Bluffton about two years ago from the Washington, D.C. area. They were looking for a slower and cheaper way of life, one focused on community and friendships, and found it in Bluffton. It was a believable story – all the people in Bluffton were so friendly, I felt right at home too.
Never Went Hungry
The entire trip, I did not feel a single hunger pang. The food was wonderful, filling, plentiful, and so…southern, that I hardly had time to recover from one meal before we were sitting down to the next. After our oyster shooter in downtown Bluffton, we stopped at FARM, a farm-to-table style restaurant dedicated to responsibly sourced meat and produce for all of its fabulous dishes.
Back at the Montage Palmetto Bluff, there were so many delectable meals it is hard to choose just a few to highlight. But as I must for the sake of my journalistic duty, here it goes… The biscuit bar at Buffalo's blew my west coast mind. I had no idea you could put things other than jam or gravy on a biscuit, but Buffalo's showed me the way. To top your biscuit, they offered perfectly cooked sausage, ham, cheese, caramelized onions, homemade apple butter, and the list went on. Buffalo's also deserves a mention for its great lunch and cocktail menu. Another restaurant, Cole's, wowed me with southern favorites such as spicy fried dill pickles, patty melts, signature fried chicken, and the Smokehouse BBQ Platter. The relaxed lounge atmosphere and full service bar gave this amazing dining experience a very relaxed feel. Another bonus was that it was attached to a bowling alley, so after dinner we grabbed our drinks and enjoyed a few rounds. Such a fun way to end the night!
Hands down, my favorite meal experience was our exceptional private dinner at Jessamine. Our group was shown to a beautifully decorated private room that overlooked the resort's grounds, and as soon as we sat down, the friendly staff ensured there was never an empty plate or wine glass at our table. Our family style meal started with cheesy grits, grilled shrimp, and ahi tuna poke with watercress. The main course was grilled steak, chicken, and whitefish, with sides of grilled asparagus, mashed potatoes, and bread rolls. It was all deliciously well prepared with a southern twist, and paired with the perfect wine, thanks to resident sommelier, Jesse Rodriguez. Jesse found incredible and unusual wines from around the world for us to taste, and he always gave the tale behind the wine he was pouring. He was incredibly approachable and happy to answer any question we may have had. I also love a somm who asks if I want to "revisit" my tastes, which Jesse did with each bottle. He made it so easy to say "yes, please!" each and every time.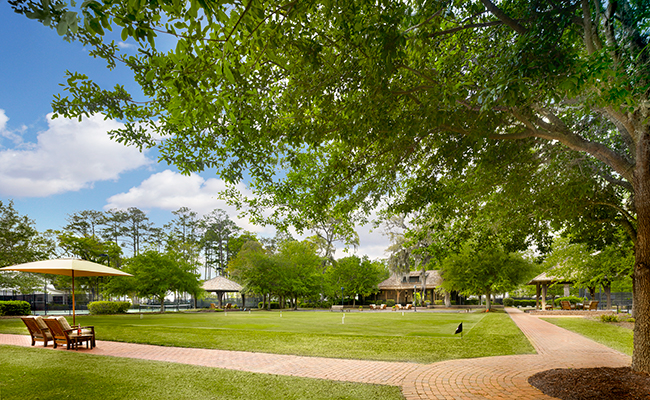 Workout then Wind Down
Considering all the eating I was doing, it was wonderful that Montage Palmetto Bluff had so much to offer in the way of activities. At the resort, bicycles are available and there are miles and miles of scenic trails to explore. The River House Pool is a great place to swim laps and a state-of-the-art Fitness Center makes working out alone or in one of their spinning, yoga, or Pilates classes, a pleasure. The Wilson Lawn and Racquet Club includes eight Har-Tru tennis courts, two bocce courts, four courtside shelters, and a full pro-shop and pavilion. During our visit, we were scheduled to play Bocce. What started out as an easy, pass-the-time-before-dinner activity, quickly turned into a serious tournament, thanks to our Bocce instructor, Carol. With her instruction, we quickly learned the strategy behind the game, how to perfect our form, and how to solve disputes. By the end, we were making bets, cheering on teammates, and yelling for Carol to help referee. It was great fun, and built a real sense of camaraderie within our group – just another example of the staff at Montage Palmetto Bluff turning an ordinary experience into an exceptional one.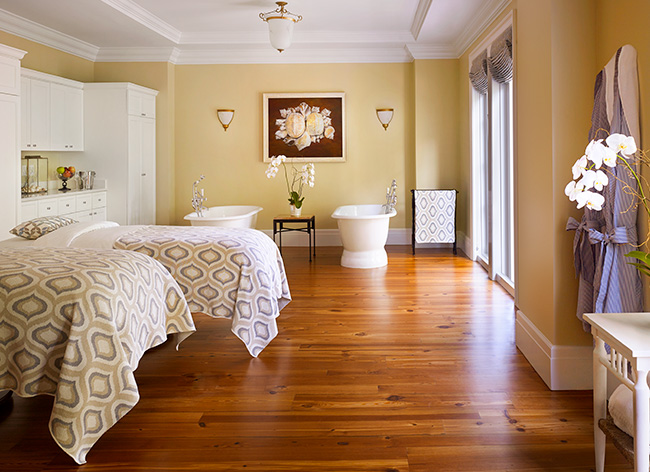 What better way to wind down, and enjoy some calming time, than at the spa. Spa Montage, located within the main resort, offers an array of the traditional spa services – nails, facials, hair cuts and treatments, body therapies, and massages. As I entered the spa, I was greeted by two smiling faces and given a quick tour so I could enjoy the amenities while I waited for my appointment. I slipped into a signature soft, fluffy robe and headed to the whirlpool and sauna. Soon I was invited to start my treatment, and I headed back to my private room for the Palmetto Body Bliss massage. First, I was dry brushed, a practice I had read about (and honestly felt skeptical about), but never experienced. It was amazing! My skin felt warm and alive – it was so invigorating. The follow up full body deep tissue massage was the perfect counterpart – it loosened the muscles underneath my tingling skin. As with everything during the weekend, what really made my treatment special was the Montage Palmetto Bluff employee performing the massage. She was so sweet and funny – we talked about our kids, our families, our hopes, our dreams, the future of the world, you name it. It was another Montage Palmetto Bluff experience that left me feeling like I had made a great friend.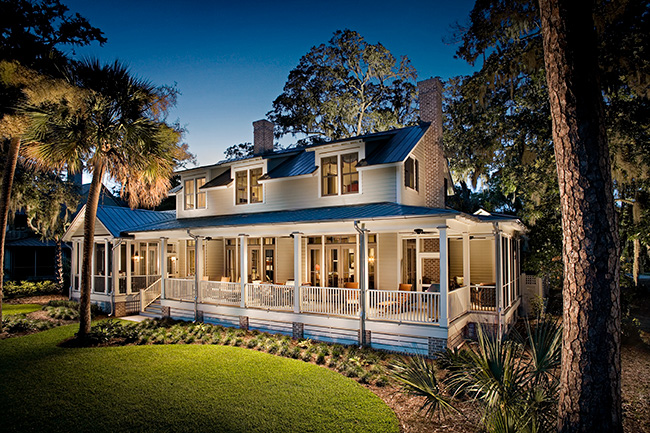 Feel at Home, Make it Your Home
During our introductory meetup, the team at Montage Palmetto Bluff told us that they sell the majority of houses on the property to people who are on a vacation, somewhat as an impulse purchase. Despite the beauty around me, I was a little taken aback hearing that fact on the first night. But by day four, if I had had my husband with me (and we were in the time of life for a second home), I would have been signing on that dotted line for sure. The scenery, the food, the nearby town, the water, the activities, and of course, above all else, the wonderful people, make Palmetto Bluff a place you want to call home.
Photos courtesy of Montage Palmetto Bluff
–––––––
This article was originally published in Horse & Style's Sept/Oct '17 issue. Read the full issue online at issuu.com!