photos courtesy of RIATA Designs
---
RIATA Designs was founded in 2014 by Jill Slater and has since taken the equestrian world by storm.
---
It's no secret that those in the horse world have long coveted and valued products that are both functional and fashionable, and RIATA sun hats are that perfect combination. These large, customizable RIATAS provide stylish sun protection whether you're ringside at a horse show or working outside at home on the farm.
An Instant Hit
Jill jokes that she, "literally fell into this business." In 2014, she was asked by her trainer, Liz Hutchinson of Avalon Hunter Jumpers, to decorate a few sun hats for clients who were heading to Thermal. Jill, a professional floral designer, was a natural fit to accommodate this special request. Little did she know that these would be the very first RIATAS to make their way into the horse world, and they were an instant hit. Just like that, a business was born.
No stranger to creativity, this new business bloomed under Jill's direction. "Being creative comes naturally to me as I owned and operated a flower shop in the busy Stanford Shopping Center, Palo Alto, for more than 20 years. I was also the "Good Gardener" on ABC 7 News, San Francisco. Much of my time was spent traveling the USA showing TV viewers and radio listeners how easy it is to decorate with flowers."
After their initial debut at Thermal, everyone wanted a RIATA. Soon other riders, trainers, and boutique owners were asking for their own to wear, showcase, and sell. The flood of requests led to the creation of the business, and Jill has been busy designing these stylish pieces ever since.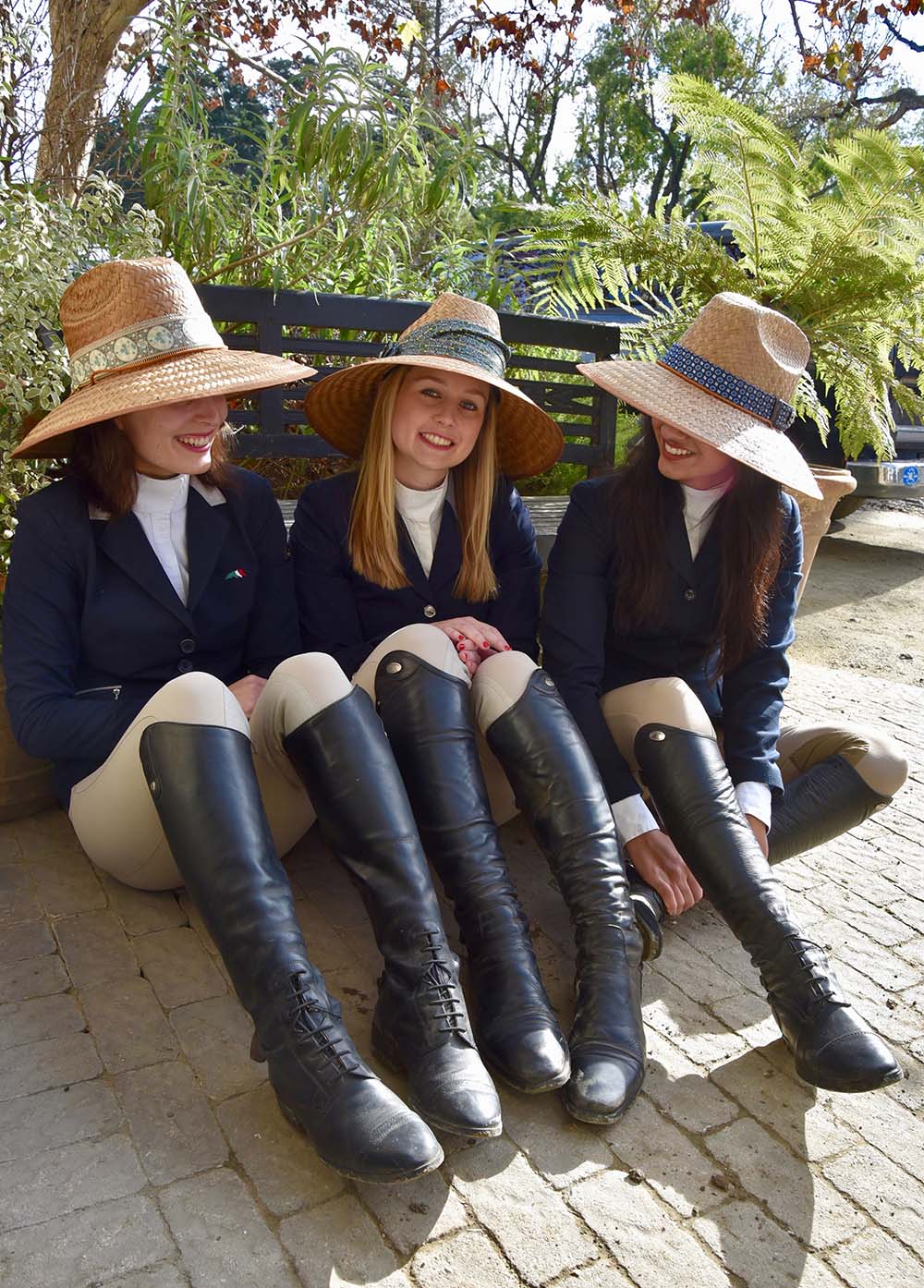 What's In A Name?
The name itself, RIATA, has an interesting story. "My wonderful husband, Steve, thought of it! I kind of wanted the name Lariat, but it sounded too much like one of my favorite brands, Ariat. Steve, or Slink as I call him, informed me that another word for 'lariat' is 'riata.' We immediately loved it. I also knew that whatever the name, the hats would be called as such. Just like we call Kleenex, Kleenex, and not a tissue – we call them RIATAS, and not sun hats. And, interestingly, RIATA has the exact same letters as Ariat, just in a different order. Isn't that weird?" Jill took that as a sign that the name was meant to be.
Their most popular styles can be purchased online at riatadesigns.com and will be in your hands within seven to ten business days. However, if you'd rather have a one-of-a-kind RIATA, you can customize yours to fit your unique style and personality. "Let's face it, most of my clients are women. And as a woman, I have an inside track to our way of thinking. When I design a custom RIATA, I ask my gals to create with me. Many have lots of great ideas and the synergistic, collaborative process is a win-win opportunity. I have made many friends along the way through this process. I'm always surprised and tickled when someone tells me they have a RIATA addiction and need to add to their collection."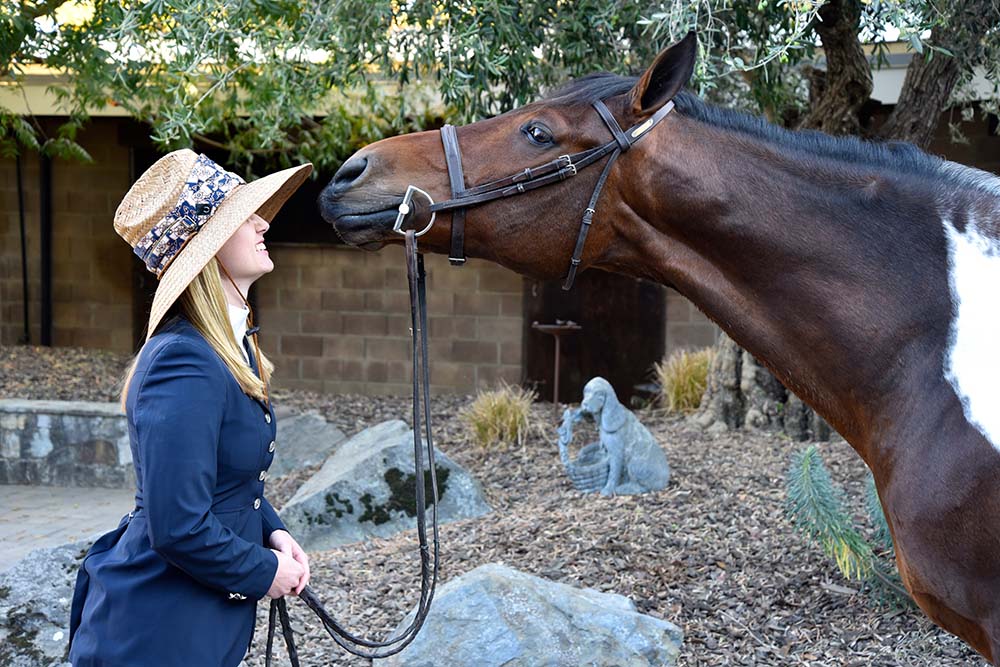 Appreciative of her past successful career in all things surrounding floral design, Jill now finds that her passion has evolved into RIATA and the values behind her brand. "Creating unique personalized styles that provide sun protection is always my goal. Every RIATA that leaves my studio is intended to be special for its recipient."
A Passion for Horses
A California native, Jill grew up in a small farming community in the San Joaquin Valley where her family owned and operated a department store. Her family roots and personal love for retail inspired Jill to tap into her design skills and her passion for horses urged her to develop something that the equestrian community would need and appreciate.
When Jill hit a milestone birthday, she decided to take a leap of faith. "I had a crazy idea when I turned 50 years old; I decided to take up competitive show jumping! I didn't really know what that meant, and it was a bit frightening, but I have never looked back. There has definitely been ups and downs in this sport, but my passion for horses and my competitive nature have brought me much joy. I treasure my accomplishments and the amazing experiences along the way." Jill looks forward to growing a partnership with her new Hanoverian gelding, Calvin. And you can always find her ringside at their shows wearing
her RIATA.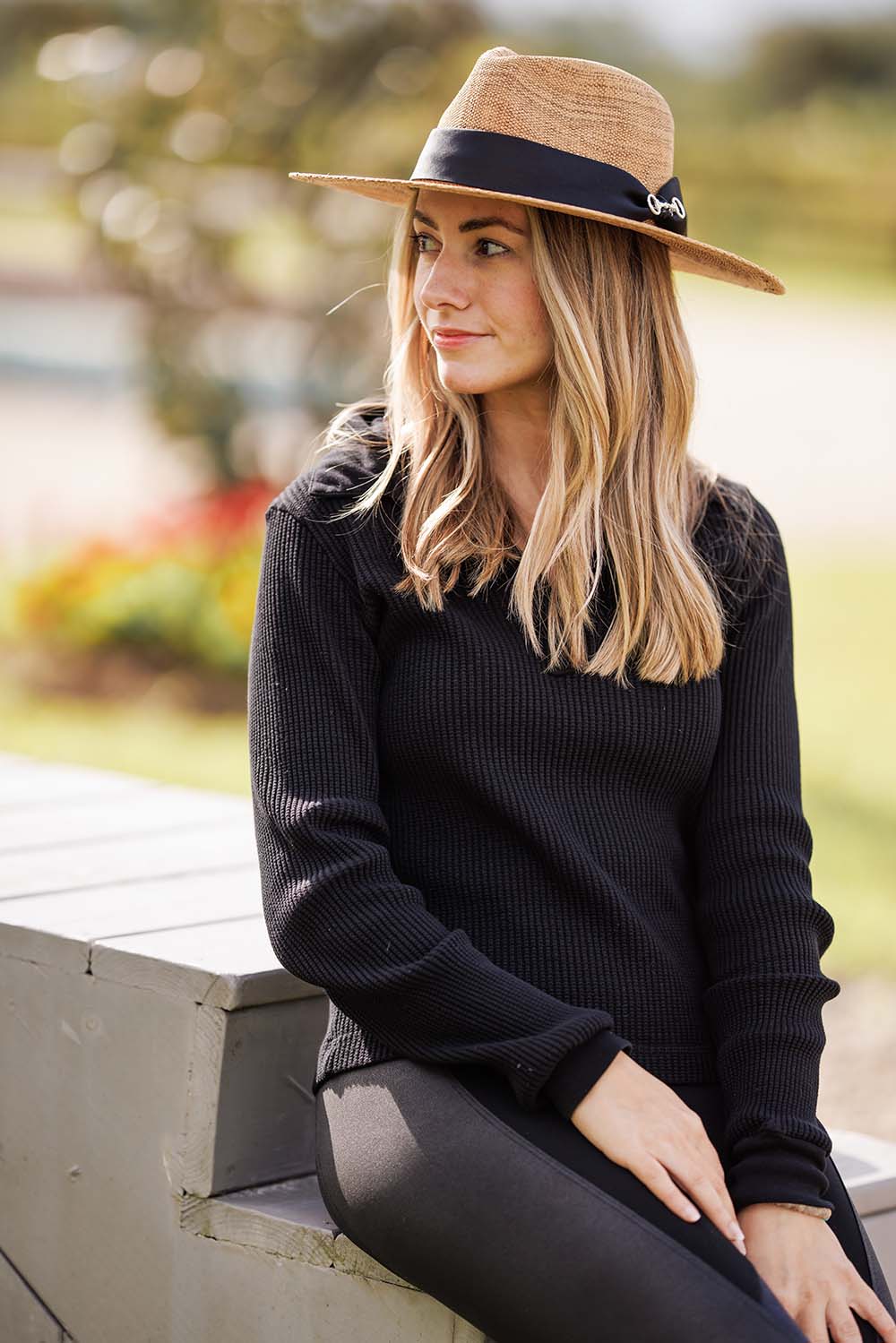 RIATA's Motto: Be You
Jill has taken the competitive nature and drive that has served her well in the discipline of show jumping and put that passion into RIATA. Sun protection is something she takes very seriously as she also works for a facial plastic surgeon. "When not creating RIATAS, I work as surgical tech. I won't get on my soapbox, but good sunscreen is a must and overall sun protection is important. RIATAS are not only stylish, but they are large enough to provide the maximum sun protection your skin will thank you for."
When asked about business challenges she's faced along the way, Jill looks on the bright side of those copycats trying to replicate her products. "I'm honored others want to copy RIATA, and I'm proud I ignited a trend in the horse world. I come from a family of retail, and we don't give up or give in easily."
With challenges also come accomplishments, and Jill's biggest one to date has been connecting with her clients. "Biggest achievement? That's such an easy answer! It's meeting all of you – the fabulous women who create the horse world, from vendors to clients and women entrepreneurs like myself. That is a true gift, a blessing. You all inspire me to be me, which is actually RIATA'S motto: BE YOU. I truly believe we are all enough and we have what it takes."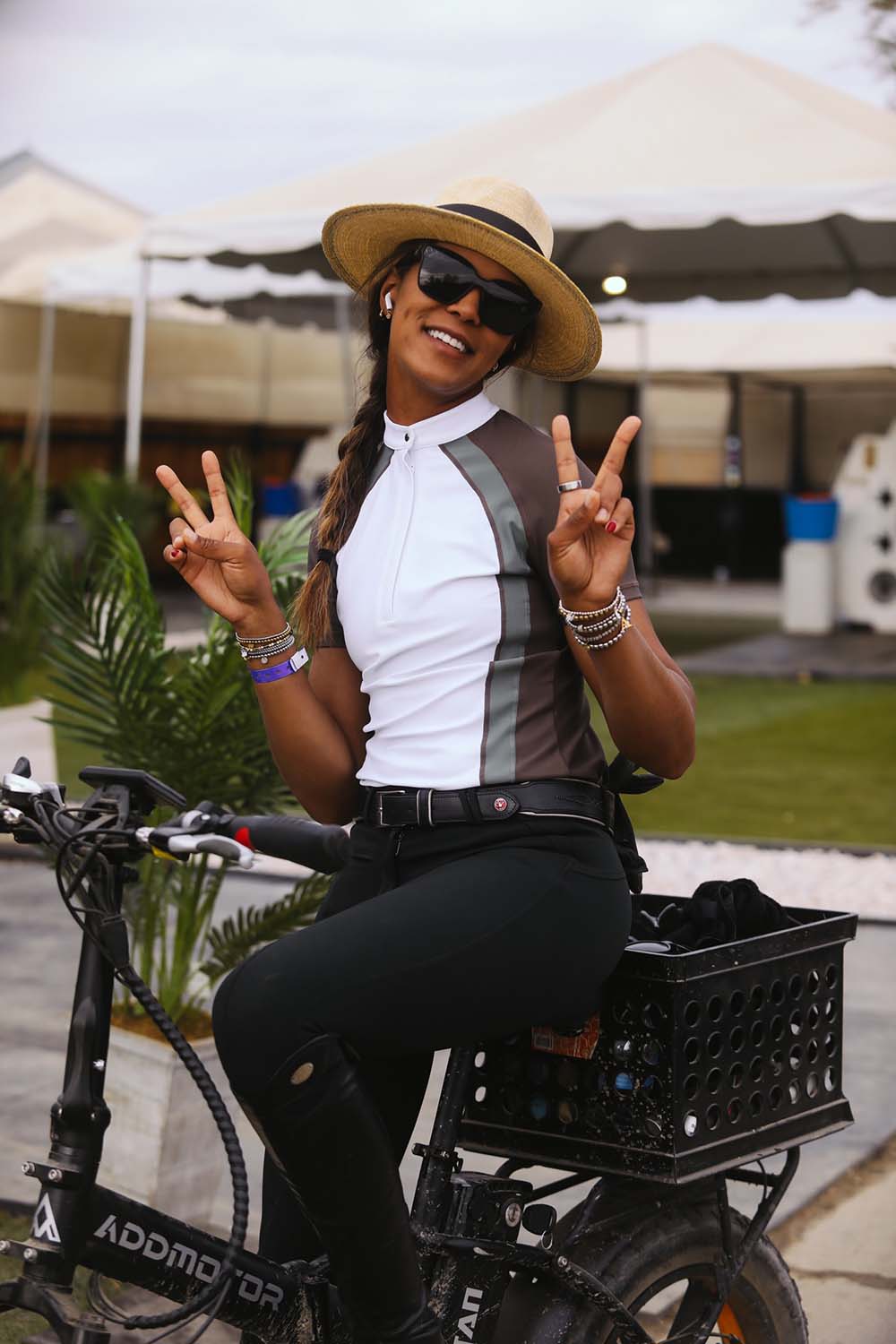 The Next Best Thing
Jill is excited for RIATA'S future and freely admits that owning and running this company is the best job she's ever had. The saying, 'if you love what you do, you'll never work a day in your life,' is certainly true for her. And she invites all her clients to keep in touch as she has some fun new initiatives on the horizon. "I'm always looking for the next best thing! The next best RIATA is constantly on my mind or on my head as I test each one prior to release for comfort, fit, sun protection, and style – so stay tuned!"
RIATA is located and created in Atherton and Petaluma, California. To learn more about Jill's beautiful, customizable products, please visit www.riatadesigns.com or find her on Instagram @riatadesigns.
This article originally appeared in 2022 Vol. 2. The full issue can be read online here.