When Mark Miness and Adam Ballard became engaged, they immediately knew that their perfect wedding venue would be somewhere special and close to their hearts, somewhere that was unique and personal, somewhere definitively un-cookie cutter.
After looking at several traditional venues in and around their home near San Francisco, CA, Miness and Ballard kept coming back to the possibility of using the Sonoma Horse Park, known more for its eight-week season of hunter/jumper competition than as a wedding venue.
Luckily, Sonoma Horse Park manager Ashley Herman is a close friend of the couple. What's more, she is known for her innovative spirit when it comes to events, and on May 24th, 2014, she was more than happy to lend use of the venue to host its first-ever wedding.
Miness, an accomplished amateur rider who grew up competing on the East Coast, trains and rides with Herman's sister, Meredith Herman, and her Burgundy Farms, which is based at Sonoma Hose Park. While Ballard is not a rider, the Sonoma Horse Park feels like a second home for the couple, and in planning their wedding, they were able to treat the VIP berm and grand prix arena as a blank slate, to truly make it their own for a day.
One hundred and fifty guests, including riders Jamie Krauss, Jules Dotoli, Sue Ellen Wright and Shannon Wright, gathered on hay bale seats and watched the couple exchange vows in the grand prix arena as the sun sank behind the Sonoma hills behind them. The reception took place on the transformed VIP berm adjacent to the arena. Guests were served a locally produced meal and enjoyed a dessert table before dancing the night away to The Rusty String Express band.
"At a certain point, we stepped back and looked at it and said we couldn't believe it turned out as well as it did," says Miness. "The fact that it was everything we envisioned, and reflected everything we are as people, was so special."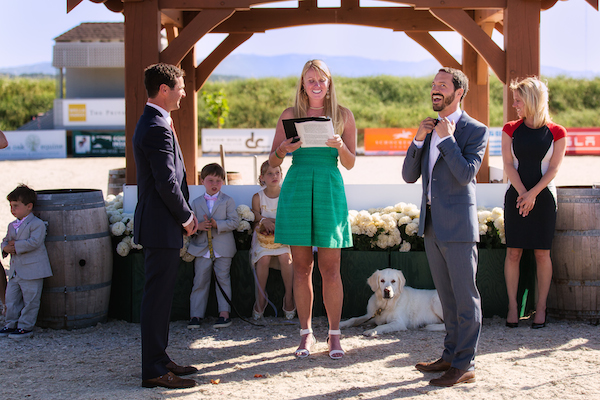 Friend of the couple Kelly English performed the ceremony, as the couple's dog Harley observed from the background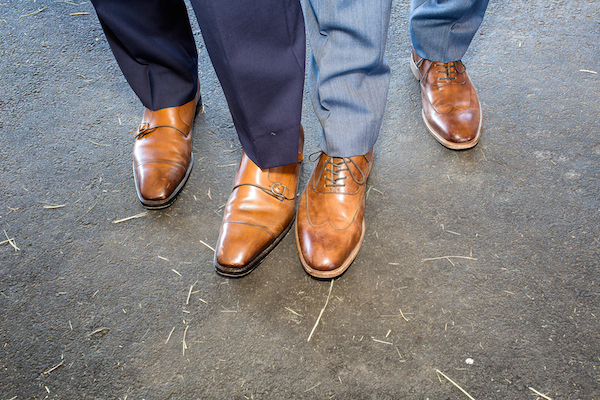 Miness, left, wore Paul Stewart double monk striped cap toe shoes, while Ballard wore dress shoes by Saks.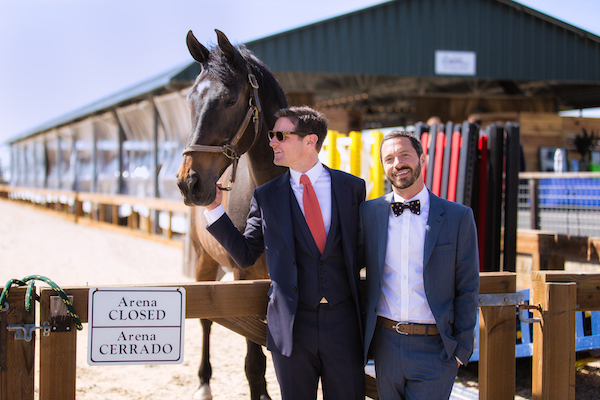 Miness' longtime Selle Francis jumper Caprice de Cene, now 24-years-old and happily retired, was brought in to stand sentry in the arena during the ceremony.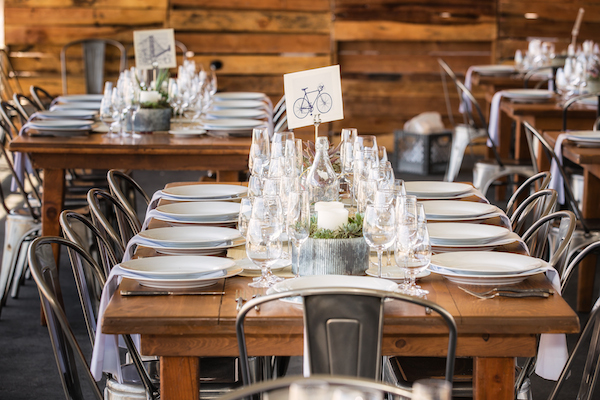 Miness worked hard to ensure that the carbon footprint from the event was light, all the way down to the flowers. They were designed by Kelly Scott of The Goods in Mill Valley, and were succulents, not cut, that were replanted after the wedding.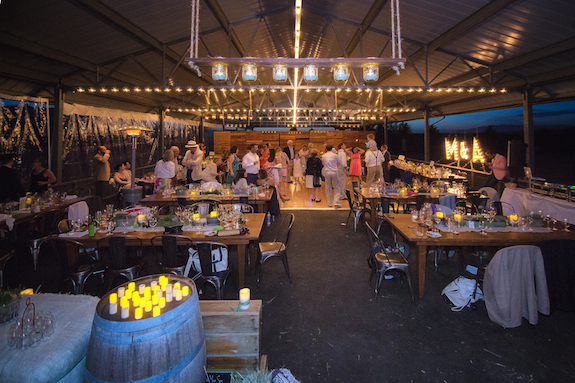 A favorite moment was when a friend of the couple sang "Saving the Good Stuff for You" by Richard Thompson; as a couple in their mid-thirties, it was the theme of the wedding
This article was originally published in the June/July 2014 issue of Horse & Style Magazine. CLICK HERE to read the entire issue online!