"There are so many parallels between riding and music," says singer Liz Hill. "Falling off the horse and getting up again is a lot like getting the audition door slammed in your face, and going back to try again the next day."
The 26-year-old amateur rider and rising pop star from Tustin, California knows a thing or two about getting up again, and about the dedication it takes to get somewhere in both worlds.
The horse-crazy kid who grew up feeding her horse addiction with riding lessons and guiding trail rides knew that what she was doing was a little bit crazy when she decided to buy a horse of her own right after high school. You see, she didn't buy just any horse, she decided to rescue a five-month-old PMU foal.
For Liz, the simple pleasure of riding has been a constant undercurrent in her life, and as the PMU foal that she named Cairo grew up, she grew along with him. As time passed, the horse that she calls a "mutt" accompanied her to college at the University of California, Davis, learned some dressage and became a solid partner (Liz and Cairo are pictured above.)
Meanwhile, Liz began pursuing a full-time career in music, moving closer to downtown Los Angeles and looking for an agent. She toyed with the idea of training horses, but her love for music runs deep in her blood. Both of her parents are musicians, and when she was signed to a label, her parents were supportive, and encouraged her to work hard.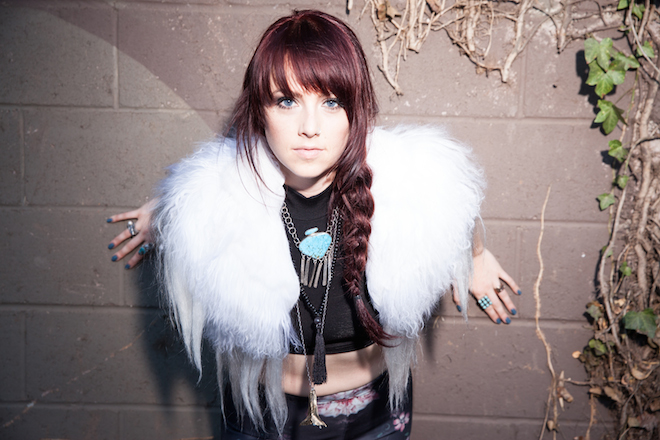 Liz – letting her inner rock star shine. Photos ©Kimberly Gifford/SweetCoraline.com
That she has. As frontwoman to the group Starling Glow, she knows that the hard work has barely begun, but then again, signing under a label has its benefits – it enabled Liz and Cairo go into full training with show jumper Edgar Pagan outside of Los Angeles in Orange. They started jumping together, and some moderate placings at an A-circuit show encouraged Liz, who was proud to place among the warmbloods and jumpers with her mixed-breed PMU horse.
All was going well, and Liz' music career was beginning to take off. But one afternoon last fall, Cairo came out of turnout very lame. Turned out, he had broken his 2nd pastern bone on his right hind leg. It's the type of injury that might cause some horse owners to simply give up, and put the horse down. But at age 8, and after seven and a half years of bonding with her horse, Liz wasn't about to give up on him.
Luckily, the break didn't extend into the cannon bone, and surgery was an option. Cairo walked right onto the trailer to be brought to the vet's clinic for the surgery.  Liz stayed with him the entire time, and has spent every day since checking in with him as he endures his stall-bound recovery. Now out of his cast and on handwalking sets, Cairo has a 70% chance of making a full recovery, and Liz is hopeful for the best.
"You hope for a career where you can have your passion, and still be able to pay the bills," she says. "Horses are expensive, and before I got signed, I wouldn't have been able to take care of my horse's surgery."
When she's not working on her career, Liz is out at the barn with Cairo, and in that way she is no different than any other horseperson who seeks quality time with their beloved horse. And she's no different than any other musician who refuses to give up. If you work hard enough, good will come of it, she believes, and if you push through the hard times, things will be better for it.
In that respect, Liz's dual passions complement each other perfectly.
"(Music) is just like a horse," she concludes. "You have to groom it, and take the time to develop it."
Watch "We Are Infinite" by Starling Glow here: