There is nothing so unshakable as the bond between a horse and his rider. Nothing perhaps, except for the steady passage of time. And so the intertwined history between equestrians and Longines makes perfect sense; the Swiss watch brand's deepest roots trace back to the timing of hoofbeats in the most elegant of equestrian sports.
When two horses set out at a dead run to determine which can race fastest, there is no more critical element than perfect timing. Long before slow motion video and instant replay, Longines entered the horseracing world with a pocket chronograph that was engraved on the backside with a jockey and horse.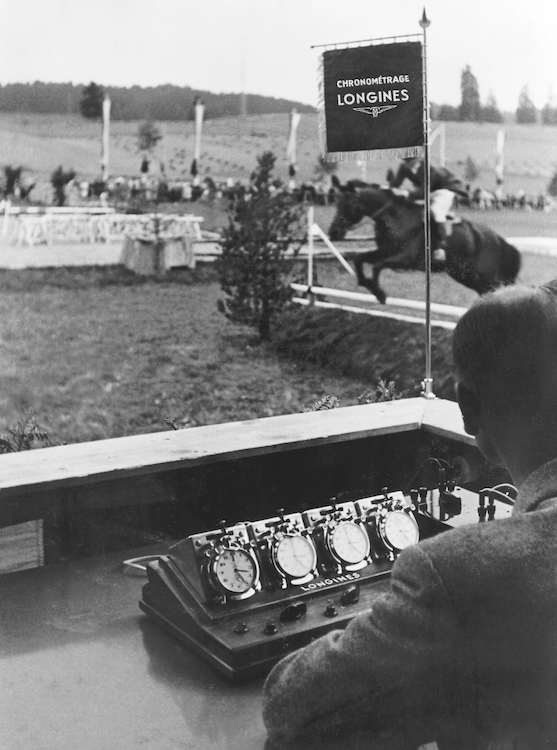 Are you familiar with that single push of the dial at the top of a timepiece? It started here in 1876, with the groundbreaking creation of Longines watchmaker Henry-Alfred Lugrin, who invented an innovative start mechanism that activated a chronograph that could measure intervals of time to the nearest second. Two years later, in 1878, the Longines chronograph was introduced to American horseracing, thus marking the brand's entrée to equestrian sports in the USA.
Today, if one is lucky enough to attend a press conference immediately following an elite grand prix show jumping competition, beside the bottles of champagne, there inevitably sits a gleaming, silver Longines watch, ready to be awarded to the winning rider. The Longines timepiece, and Longines banner in navy blue has become a regular and welcome backdrop to the most exciting and prestigious show jumping competitions around the world.
A horse show in Portugal in 1912 marked Longines' first partnership with an equestrian show jumping competition. Interestingly, 1912 was also the first time that equestrian sports appeared at the Games as a modern Olympic sport. Since then, Longines has grown with equestrian sports, supporting a long and heady list of elite equestrian competitions around the world.
It was in 2013 that Longines made its most significant step forward yet. The International Equestrian Federation (FEI) announced a historic partnership early that year, naming Longines as its first Top Partner, as well the Official Timekeeper and Official Watch.
In horseracing, the name Longines is synonymous with The Dubai World Cup, Kentucky Derby, and Royal Ascot. In tennis, it's the Roland Garros French Open.
From Chantilly, France to Bridgehampton, New York, Longines has lent its name and a higher level of elegance to the sport of show jumping. While the list of competitions that Longines supports in show jumping alone is too lengthy to fit a single page, it's no mystery that the upcoming Longines Los Angeles Masters American Grand Slam is simply one more jewel in its already decorated crown.