In a recent trip to my family's cabin near Lake Tahoe, CA, I found myself huffing and puffing up a nearly vertical climb. The cabin's water spring source sits approximately 2,000 feet straight up a mountain, and when it needs maintenance, there is no way to go but straight up. It is a challenging climb, even for those in shape, as you find portions where you have to use trees to pull yourself up to the next level, and there are no trails except those slightly worn by wildlife. I haven't attempted this "hike" in 15 years, as I climbed the hill, it became harder and harder to know how much farther I still had to go. After what seemed like several hours and about 100 ft below the spring, I started to hear the water (if only barely over my pounding heart and screaming lungs) and found a sudden burst of energy to power my way to the top, my husband not far behind.
It was strangely gratifying to make that climb. I was pretty sure I was going to die, and everything hurt. But going up wasn't the hardest part of the challenge.
The "joy" that comes with being overweight and top heavy is a very weak sense of balance (a good reason why I am not ready to get in the saddle yet). As I walked back down the mountain, I stepped on a section of rarely-if-ever traveled ground that completely gave way underneath me. Grabbing for anything I could, I managed to thoroughly scrap my arm up on a tree trunk on the way down. Now, over a month later, I still have discolored scars across my forearm. It might be a little silly, but every time I look at them I smile because they remind me that I managed to hike my fat a** straight up the side of a damn mountain.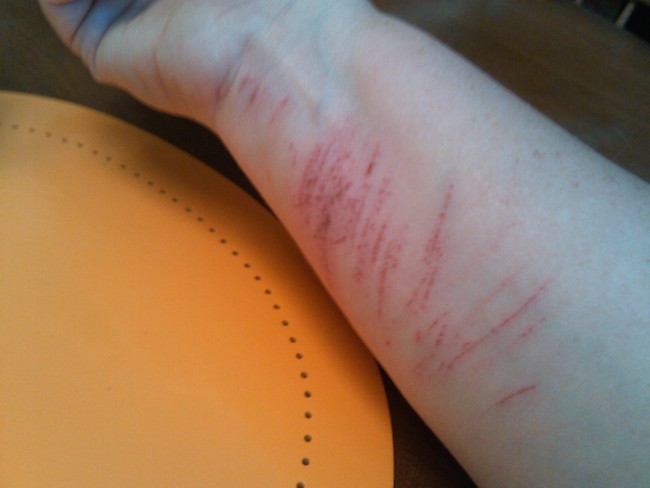 The evidence – and proud of it!
Holding Steady
Sometimes, all you can do is maintain. I made it to 15 pounds lighter a couple of weeks ago, but since then, my weight has stubbornly been at a standstill. Between horse shows, social commitments, long, long hours working, I have not been to the gym every day, and at the end of the day I'm disappointed in myself. I'm just not giving myself enough time to get in my necessary exercise, and have let the words of others get under my skin
Anyone who has ridden the weight loss train knows that you really are surrounded by people who want the best for you. But I let myself get completely derailed when someone close to me told me I "wasn't trying hard enough, and must not be motivated enough to actually lose weight," because I didn't want to diet the way they dieted. It was a fairly discouraging, reverse-psychology move intended to encourage me to try harder, and alas, it didn't work. I went home, promptly sat on my couch and ate a fairly large portion of parmesan and garlic noodles.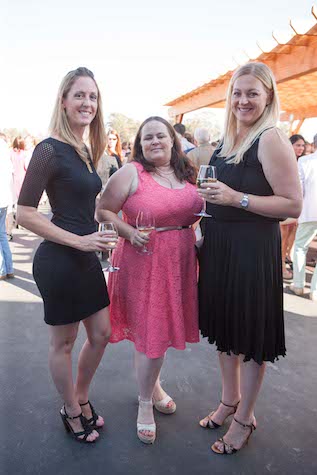 At the Sonoma Horse Park's Gucci Gala back in January. Being flanked by tall blonds in black (H&S Editor and Publisher Erin Gilmore and Sarah Appel) made me feel like 80% breast meat, %20 pink marshmallow.
Jumping that hurdle was tough. Every time I got on the treadmill, I heard it in the back of my head. "You aren't really motivated enough." OK, then I'll go home and play xBox or work on a logo. I am usually the one goading, cheering people on and pushing (forcefully sometimes) to get those around me up to the challenge, should I feel like participating. This middle of this last set of gym time has been particularly frustrating. A busy schedule is sometimes not capable of being altered, and the start of potty training with my daughter is a little time consuming as well. Which makes the desire to stay at home all the stronger! But if I can't find the time to get in a work out, how will I ever find time to go get in a good gallop and a couple fences?
Now, I'm back in the flow and on my game. I got on the scale this morning to another pound lost. The mental hurdle has always been the hardest for me. The biggest change was, that in all of my 'non-sweat' I managed to not gain a single pound. That alone is huge step as I have spent years losing and gaining the same 10 pounds over and over. I think I will head out to Leone Equestrians this week and visit an old four legged-retired buddy of mine, LDV Sir Andrew, and relive the glory days in the saddle to get a little more spark in my step!