It must be some kind of feeling to watch your competitor earn the medal that has just slipped through your fingers – and watch them do it aboard your own horse. That was how Rolf-Goran Bengtsson's afternoon concluded during the end-all, be-all Final for individual medals at the World Equestrian Games yesterday in France. Coming up fourth in the world isn't so bad, unless you're one of the four riders who the world was watching in D'Ornano Stadium on Sunday. Each of the riders had to jump a course on their own horse, and then ride three more rounds on their competitor's horses in a high-intensity version of musical saddles. The full result of each round is here.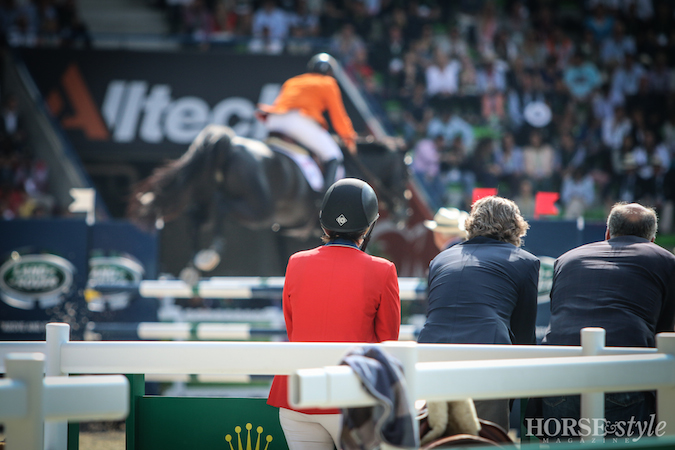 Beezie Madden, Robert Ridland and John Madden watch WEG Individual Gold Medal winner Jeroen Dubbledam warm up on Beezie's mount, Cortes 'C'. Cortes was the only horse to jump four fault free rounds, and was named Best Horse of WEG.
Dutchman Jeroen Dubbeldam clinched the individual gold medal aboard Bengtsson's Casall Ask. To do it, he rode four clear rounds, one on his own Zenith SW, and then three more on the other horses in the Top Four. When he crossed the finish timers with Casall Ask, with Rolf-Goran and about 22,000 others looking on, oh boy did he celebrate. I've never seen a Dutch rider so very excited. You couldn't help but be happy for him, even if his victory had come at the cost of a rider from your own country. With the Dutch Team Gold victory and now Individual Gold, it's more than clear who is the world leader in show jumping – at the moment. Across the street from the stadium, a sea of orange took over a local bar, and Jeroen's new Gold Medal was liberally passed around to the giddy Dutch fans, who gave the riders a rousing greeting of "HOL-LAND – HOL-LAND" as they came over to join the celebration.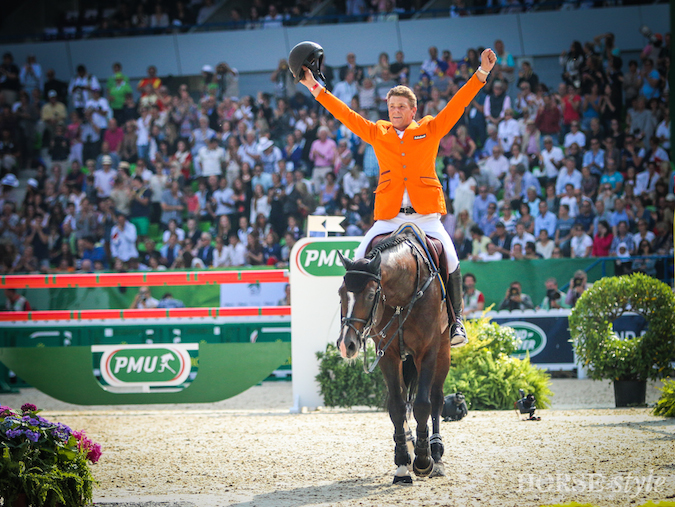 Jeroen Dubbledam celebrates
Quite a bit has been said this week about the pressure that is put on the best horses in the world to jump so many rounds. They started on Tuesday – which at this point feels like it was a year ago – and Sunday was the horses and riders' 9th round in so many days.  Is it wrong? Is it right? Yes and now. However it has to be said that the course designer was clearly listening to the chatter; he didn't set the horses up to fail. He created a delicate course for the Final that was difficult, without being overly taxing for the horses.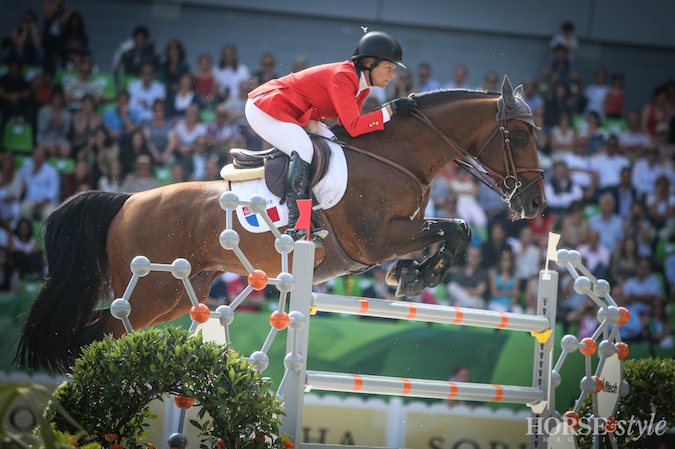 Beezie Madden rides Patrice Deleavu's Orient Express HDC during the WEG Final Four.
This year's WEG final lacked the hair raising drama of Kentucky 2010, but in a good way. It was a different kind of energy for this final than in Kentucky – the Final was held in the afternoon rather than during an electric nighttime show. And we saw four experienced professionals, and four solid horses qualify for this test. There was no wild card rider, no quirky, extra special high strung jumper in the Final Four this year (a la Al Shabartly the rider, and Hickstead the horse in 2010)
But there was plenty of close margins and also a little heartbreak. The French people – over 20,000 of them – came to D'Ornano stadium on Sunday hoping to see their hero Patrice Delaveau bring the gold medal home. And he almost had it. A single time fault earned aboard Rolf-Goran's Casall Ask was the difference between Patrice's silver medal score and Jeroen's gold. Patrice stood on the podium to accept his medal and the adoration that rained down upon him from the crowd, but it wasn't without a slight shadow that crossed on his face. He noted in the press conference that most of the people he's ever known were there in the stadium today. Silver is not too shabby, but it was clear that he wished he'd been able to stand at the top of the podium in front of his people.
And Beezie. When America goes in to battle, she always seems to be the last man standing. She always earns her place among the very best riders on the globe. She leaves France (she's actually hopping on a plane and going straight to Calgary, Canada from here for next week's Spruce Meadows Masters) with two WEG Bronze Medals in her carry on. She was America's best rider this week and she made us all proud. She suffered just a little bit of bad luck on Sunday, picking up a rail aboard Zenith SFN and then on Casall Ask, they got in a little close to the triple combination, rubbed the second element and jumped through the third for four more faults. It left her in a tight spot as she entered the ring last on Patrice Delaveau's Orient Express HDC. She had to get around with no more than one rail down to stay ahead of Rolf Goran and within medal contention. So we all held our breath as she galloped around – I was afraid to watch and couldn't tear my eyes away.
That's show jumping for you. You can be sure that the FEI is and will be hearing from all sides the advantages and disadvantages of this marathon championships. There are plenty of people who think its too much for the horses, and plenty of others who believe it to be the ultimate test of a world champion rider. I'll have more to say on that, and plenty more to say about WEG in general. But for now, I'm in Paris for the day, it's sunny and about 76 degrees outside, and my laptop and I need some time apart!
Enjoy a few more moments from Sunday at WEG~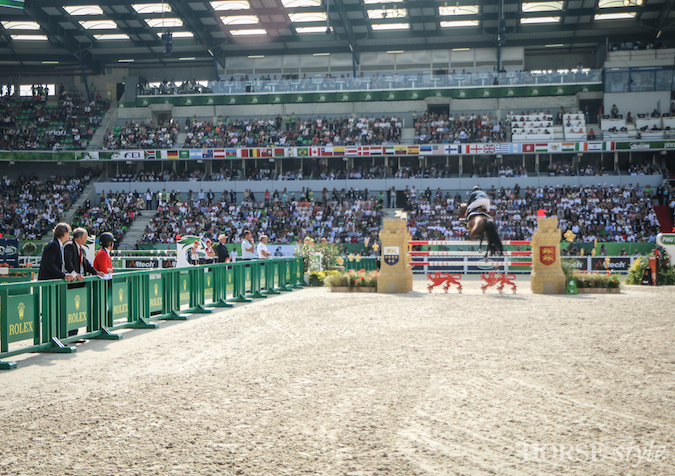 Watching from the rail as Rolf-Goran Bengtsson jumps Orient Express.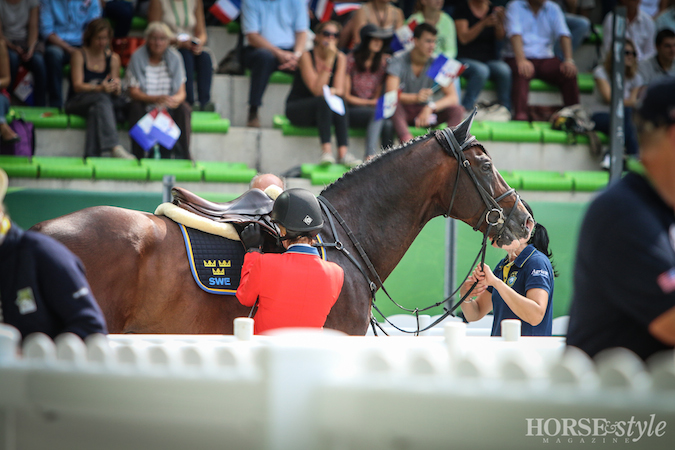 Beezie checks the girth on Casall Ask. The riders used their own saddles on each horse.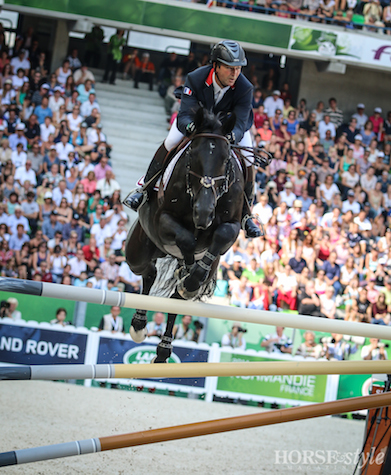 Patrice jumps Cortes 'C'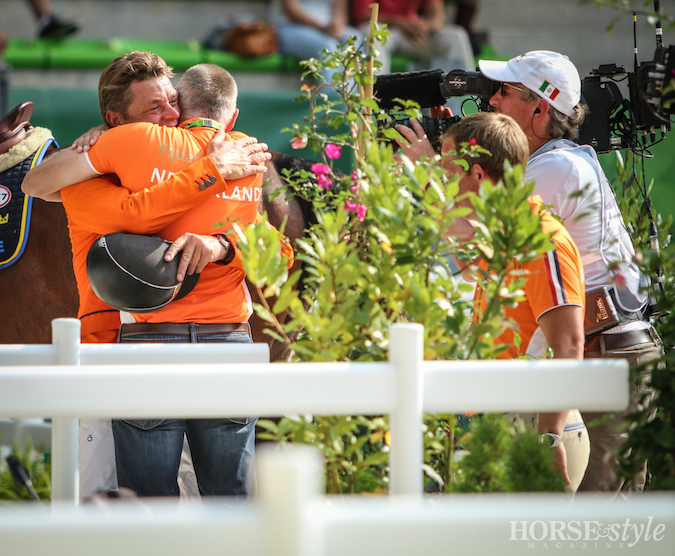 Jeroen and the Dutch coach – joyful!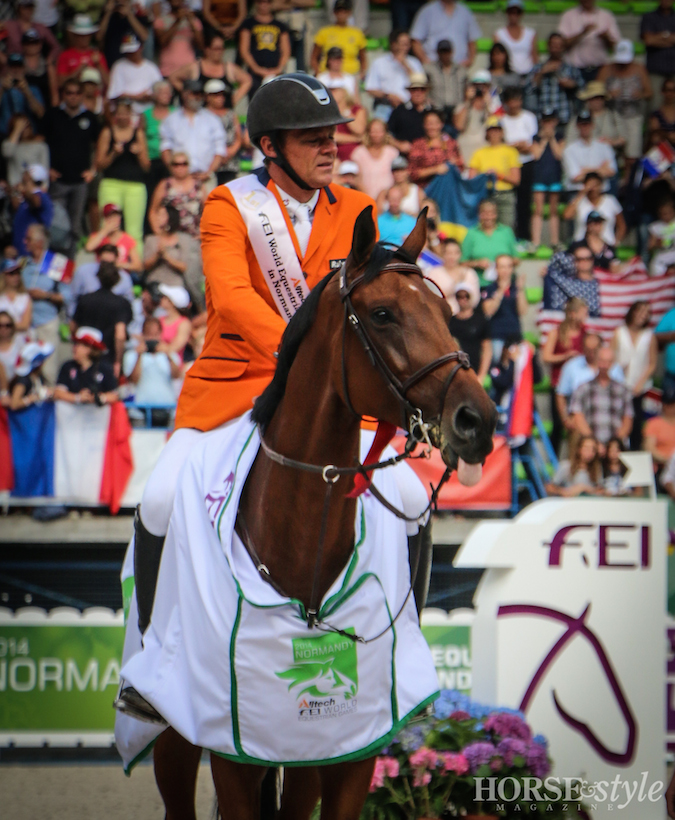 Jeroen's horse Zenith was the youngest horse in the Final Four.