Every single week of the year, a horse show is put on somewhere in the world. Large or small, glamorous or not so much, it sometimes seems there are so many that they all blend together.
Not so. For all the endless options out there, a select few horse show rise above the rest in quality, class, and location. It's those competitions that are coveted, anticipated for months in advance, and have a spot on every self-respecting equestrian's horse show bucket list.
What is a Horse Show Bucket List, you ask?
Why, it's an equestrian destination that fit all the criteria above, and then some. A string of idyllic days that contain the best of the horse world and must be experienced in person, at least once, before you die!
It began in 1896, as a simple affair on a hotel lawn; a small group of horses that gathered for a friendly competition among friends. Well over 100 years later, the Devon Horse Show in Devon, Pennsylvania has evolved into a coveted two-week competition (May 23 – June 2) that marks the beginning of summer for equestrians up and down the East Coast. Since 1919 it has benefitted the Bryn Mawr Hospital in nearby Bryn Mawr, raising over 14 million dollars to date.
It is also the oldest multi-discipline horse show in the country; while H&S went for the hunters and jumpers, we received an education about many other breeds and riding styles that we'd never laid eyes on before. Enter the Devon grounds and it's clear: you've just crossed over into the very definition of an all-American country fair. From the old-fashioned refreshments to the historic stadium painted its distinctive shade of blue, the Devon Horse Show and Country Fair is truly as American as apple pie.
Devon Blue
Why are the stadium, its surrounding buildings, and virtually every structure on the Devon Horse Show grounds painted or trimmed in that appealing shade of light blue? No one knows for sure, but a few little-known facts shed some light on the mystery.
It begins with the old Devon Hotel, which used to overlook the land where the horse show now sits. A recently unearthed color photograph of the hotel showed that its trim and its ceiling were painted the same shade of blue. And for as long as anyone can remember, the stadium was painted the same color. The first Devon shows, in the early 1990s, were held on the hotel lawn before the stadium was built. Whether construction staff had extra blue paint that they used on the stadium, or someone dictated that the two structures should match the subject of friendly debate. Regardless, the blue became an enduring symbol of the horse show, and to so many equestrians, a status symbol. Having an action shot with that baby blue backdrop is a frame-worthy honor for riders of all ages and levels.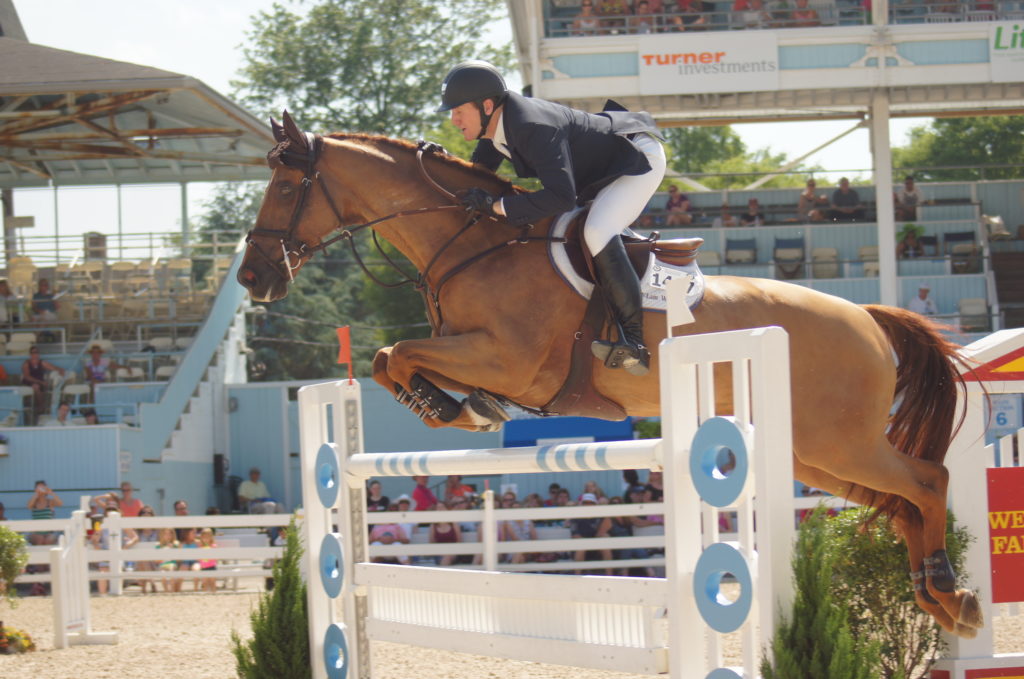 McLain Ward competes at the 2013 Devon Horse Show

McLain's Lucky Show
Some riders have a special show, where memories are made each and every year, where they can't seem to do anything but win there. Devon is that show for McLain Ward. In 2013, with Rothchild, he won the prestigious $100,000 Wells Fargo Grand Prix of Devon for the eighth time, as well as taking home the Open Jumper Championship and Leading Open Jumper Rider award. In 2012 he shed a rare tear in the Dixon Oval as he retired his famous Olympic partner Sapphire in a touching sunset ceremony, just before climbing into the saddle to win the grand prix with Antares F. He noted that of his eight wins, that one was his favorite.
For whatever reason, Devon agrees with Ward, and the famous rider who is a perpetual fan favorite always seems to have a smile on his face at Devon. It's a certain fact that he'll keep returning until those grand prix wins reach an even ten – or more!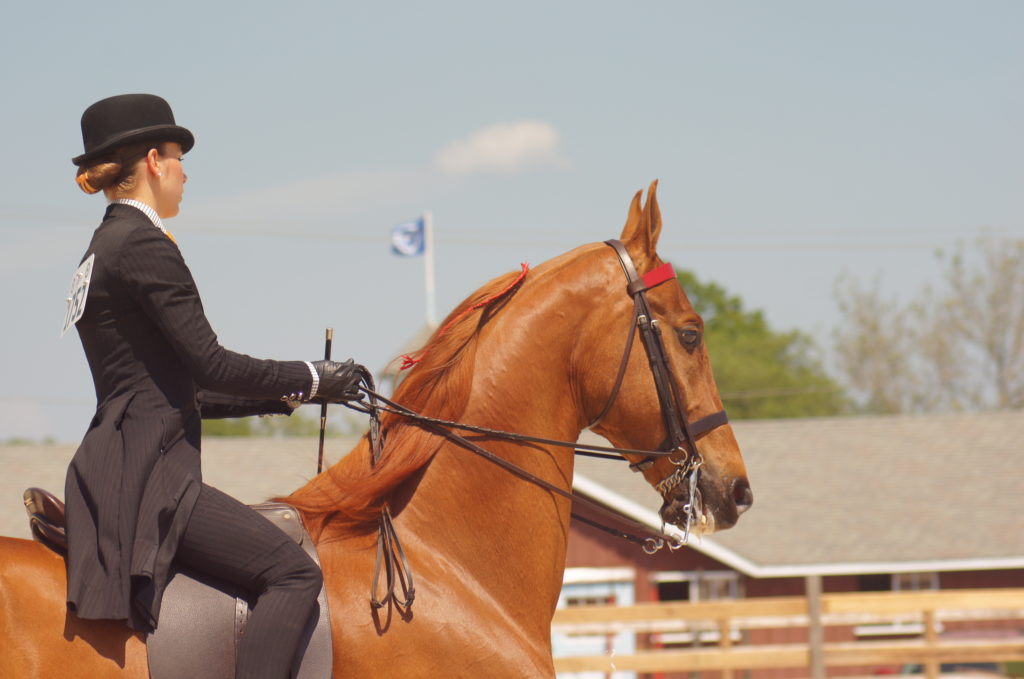 An Equine Variety Show
The main arena at Devon is known as The Dixon Oval, and for the 11 days of the show, it is a nonstop parade of equines ranging from high performance hunters to high stepping Hackney ponies, Coaching teams and wide-eyed Saddlebreds. If you've never warmed your hunter up in the same ring as a Saddlebred practicing its five-gait while a fully harnessed team waits patiently nearby, you've never been to Devon. It's an eye-opener for those of us who consider variety switching from the hunter to the jumper ring. In 2013, organizers took the equine variety to a new level, inviting a group of top hunter and jumper professionals to compete in a Five Gaited class on borrowed Saddlebreds. You haven't lived until you've seen McLain Ward at the reins of a high-stepping Saddlebred. The popular class returned to much fanfare at the 2014 show.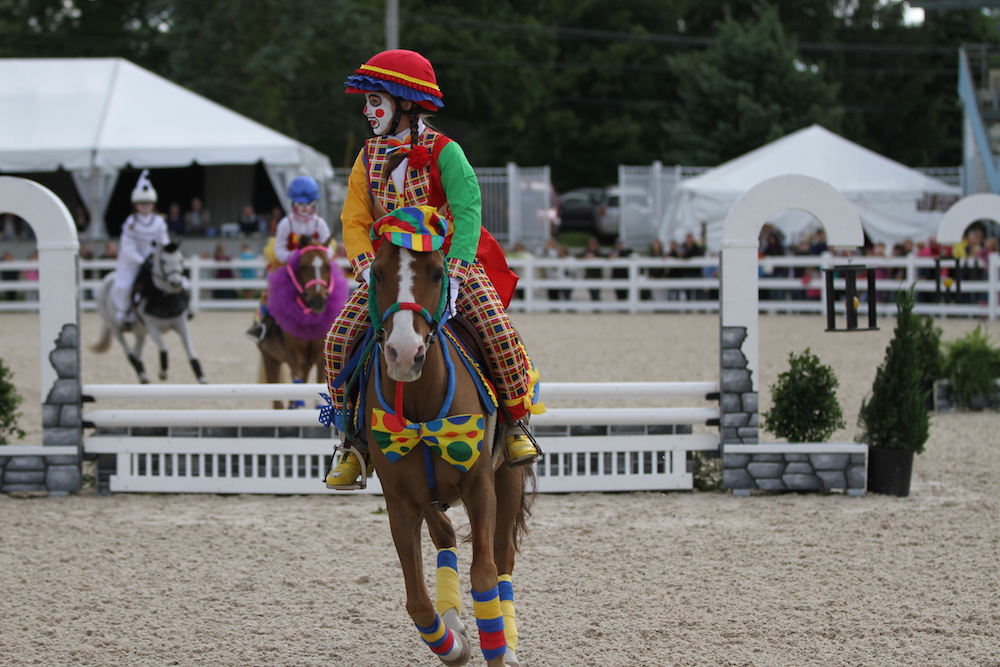 Pony Hunt Teams
Ask anyone what their favorite part of Devon is, and there's a good chance that they'll respond with the Pony Hunt Teams. Any kid will jump at the chance to dress in costume and play with their ponies; and the Pony Hunt Teams class has embodied that joy to create a full-fledged afternoon of entertainment on the second week of the show. For months in advance, teams of three plan their costumes and practice riding together; the class is judged on costume and the successful execution of a tandem jump. In 2013 a trio of bees, three Christmas elves, and these brightly colored clowns all made appearances. Can you think of anything cuter?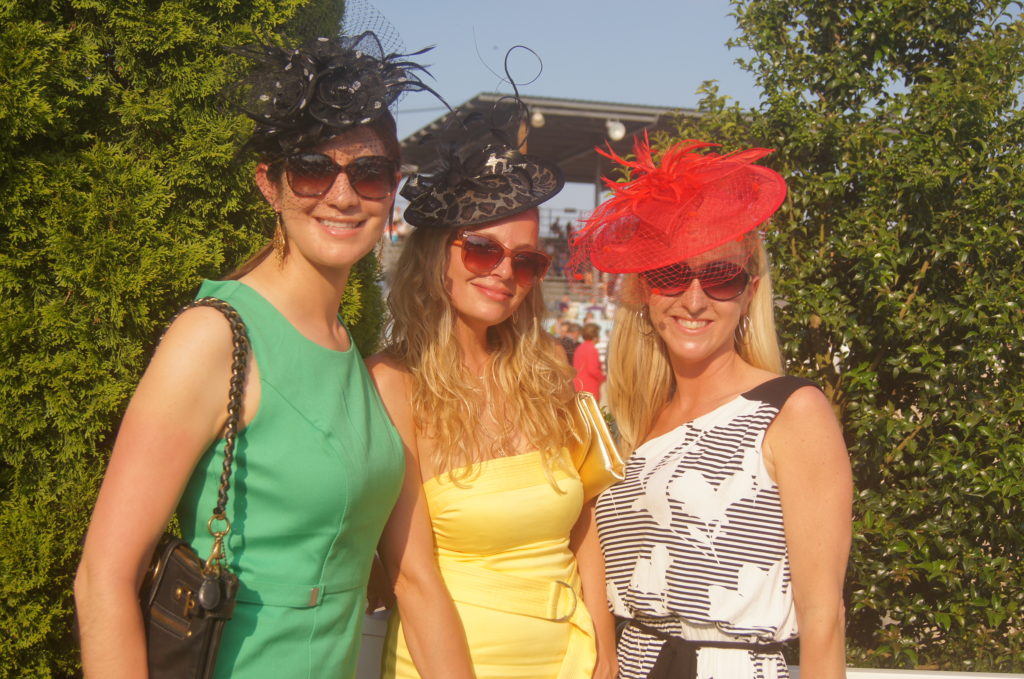 The Style of a Lady
The Ladies Day Tea on Wednesday of Devon week is a popular gathering of well-heeled women that kicks off one of the most glamorous days at Devon. Ladies wearing hats are granted free admission, and the annual hat contest attracts eye-popping, yet tasteful creations that add to the unmistakable style of Devon. It's hard for the average bystander to take it all in on Ladies Day; between the over the top hats, and the sidesaddle over fences competition in the main ring, the day is a fitting tribute to the style of a lady from "back in the day."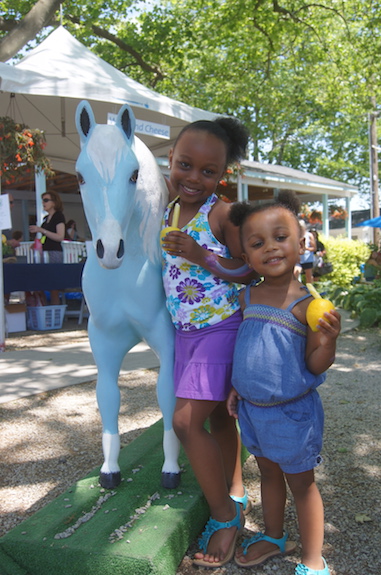 You've Got to Try The ________!
Devon fudge. Tea sandwiches. Those lemon sticks! The food of Devon has become nearly as trademarked as that Devon Blue. It's a step above fair food (of which there is plenty) and simple in its presentation, yet oh-so-addicting. One wouldn't think that a triangle sandwich with the crusts cut off could inspire a wrap-around line of customers, but partaking in the Devon treats is as much a part of the experience as watching the grand prix. And as these picture perfect sisters pictured above could tell you, nothing beats an afternoon of play at the horse show with a sugary lemon treat in hand!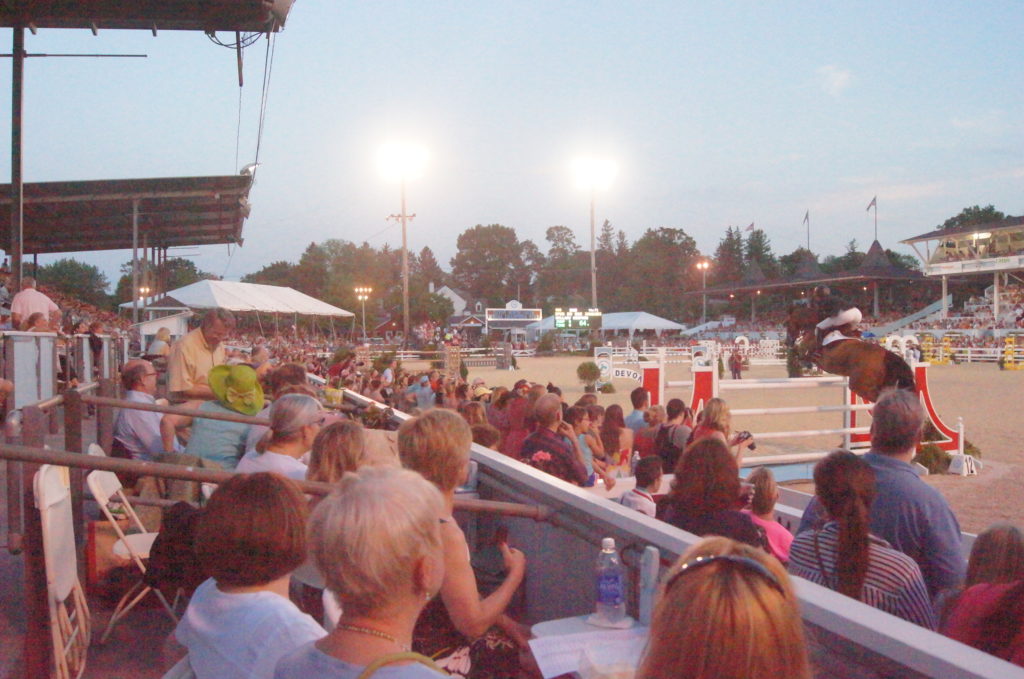 An Electric Atmosphere
McLain Ward accurately describes the crowd on grand prix night as electric. Where else do people gather six and seven deep at the rail, wait all day long, saving their favorite spots in anticipation of the evening's class? Horse shows in the United States don't often get to enjoy the energy of such a crowd, but Devon brings it in each and every year. With all attention on them as the main attraction, the riders respond by galloping a little faster, their horses jump a little higher, and the spectators cheer them on over each and every fence.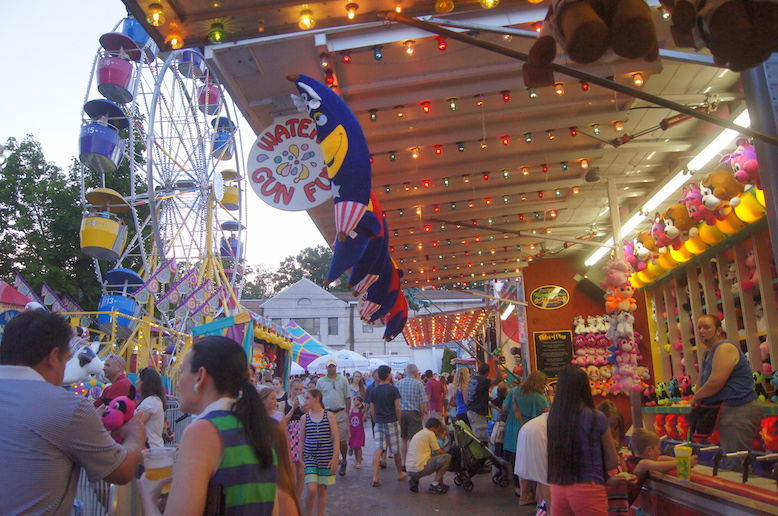 A Slice of Fair Fun
Tucked away on a corner of the grounds between the shops, stadium and stables, a single row of carnival lights, games and that iconic Ferris wheel are a bright distraction from the neighboring equine activities. Responsible for half of the event's name, Devon's "country fair" is a fun accompaniment to the horse show activities, and helps to attract locals who might not otherwise attend an equestrian event. While the fair could possiby be held responsible for the questionable timing of band cymbals during a hunter round, riders across the board love the atmosphere that it contributes to the horse show.
 This article was originally published in the June/July 2013 issue of Horse & Style Magazine. 
Find out more about the current threat to the longstanding tradition of The Devon Horse Show & Country Fair in this December 19, 2014 article: Group of Devon Horse Show board members calls sudden meeting to oust president, chairman.