How rider Pat Bennett turned ALS into a diagnosis for not giving up
No one knows how long they have.
That's what Pat Bennett's doctor told her as she sat in a quiet medical office, staring straight ahead as the careful explanation of her diagnosis washed over her. Next to her, Bennett's trainer and longtime friend Laura Gerst gripped her hand and listened silently. It wasn't quite a death sentence, but it certainly felt like the end of something.
"When they said that I had ALS, I thought, they have to be wrong," Pat said. "All I'd heard about was the horrible reality of it, that it is a terrifying disease because you waste away but your mind stays the same. I thought my life was over."
But for months, Bennett had known that something wasn't right. At 58 years old, she had recently retired from her job at pharmaceuticals company Roche, where she had worked in human resources for 28 years. She returned to the office once a week to help with new hiring, but found that she easily tired, her speech would falter and people would have a difficult time understanding her.
At Windy Hill Equestrian, where she's been riding for almost 15 years, her barn mates were becoming seriously concerned that she might have a drinking problem – after drinking one glass of wine at social gatherings her words would slur badly.
But Bennett most definitely did not have a drinking problem, and she wasn't suffering from chronic fatigue. Early symptoms of Amyotrophic Lateral Sclerosis, commonly known as Lou Gehrig's Disease, can be exhibited in speech. Upper affects speech, and lower affects breathing. When Bennett was diagnosed with ALS in November 2012, her speech problems suddenly made sense. She was also diagnosed as having breathing problems attributable to ALS.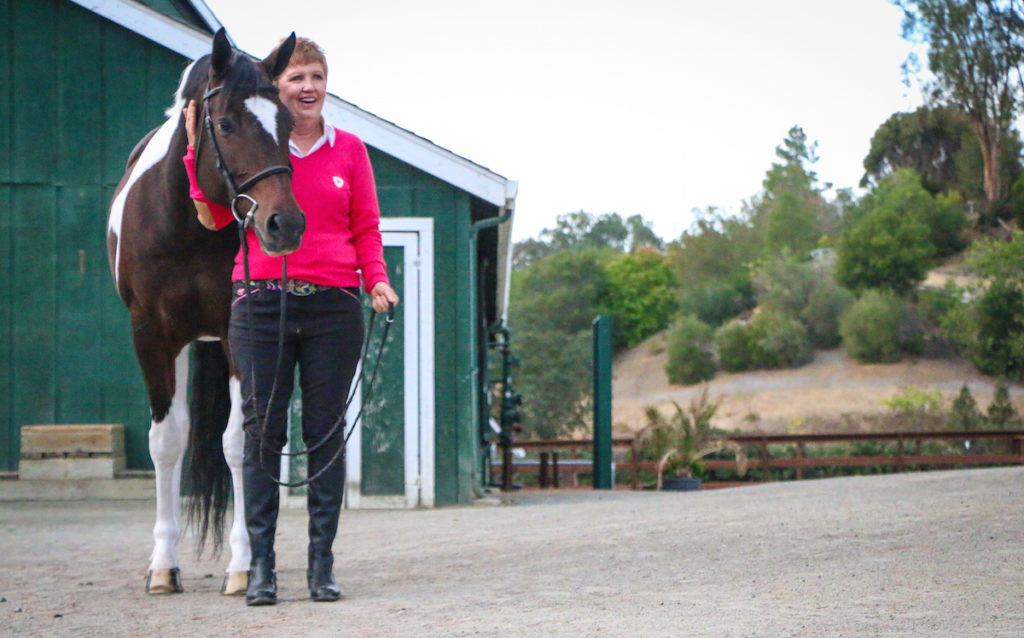 Pat at home at Windy Hill with Elle
Life is Too Short
As a child – growing up in Los Altos, CA, Bennett rode at Fremont Hills Stables, where Windy Hill is based today. But when she graduated from college and entered the "real world," a horse wasn't in the cards. It wasn't until 1999 that she happened to ride a friend's horse and was hooked again. "Life is too short, and I knew I needed to ride again," she said.
Bennett went out on her own to look for a horse, and found Izzi, a five-year-old, green broke Appaloosa. She worked her way up with Izzi, doing some 2'6" jumpers and taking lots of trail rides through the Los Altos Hills near Fremont Hills. She began training with Gerst, and barn life quickly became the center of her everyday routine.
But when her diagnosis coincided with Izzi's retirement, Bennett fell into a depression. She tried to come to terms with the fact that she probably shouldn't get another horse. Fifty percent of those with ALS typically don't survive more than three years past their diagnosis, and Bennett didn't want to leave another horse behind to an uncertain future.
"I was really scared to ride another horse, and I didn't know how long I would be able to ride," Bennett explained. "I had fallen off Izzi right before I was diagnosed. I didn't know what was wrong with me, but I knew something was very wrong."
With family concerned but not living in close proximity, and never having married, Gerst became Bennett's closest confidant, accompanying her to all of her doctor's appointments. And as Gerst sat by Bennett's side through the second opinions, speech pathologist appointments and assessments, she knew that Bennett had to keep riding.
ALS causes weakness of the muscles, progressively causing them to become weaker until they eventually atrophy. It's a terrifying disease for those who have it, because while the body continues its slide downhill, the mind stays sharp and aware. However, the more physically fit a person is, the longer they can fight the effects of the disease. Bennett was already in great shape – she ran every morning, and through riding her legs were fit and her coordination strong.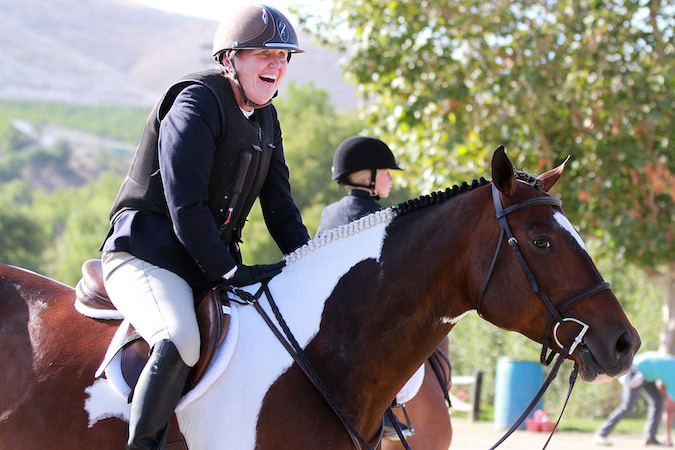 Pat at a 2014 horse show in Southern California. Photo ©Cathal Phelan
But, what she needed, was a safe, comfortable horse to continue her riding with. Gerst found that horse for Bennett in a dramatically colored, 12-year-old Warmblood-cross with a kind eye and little desire to spook or run. The brown and white paint mare was originally named Tiger Lily, but Bennett had trouble navigating those words, so she renamed the mare Elle. She bought the mare only with the promise from Gerst that Elle would always, always have a home at Windy Hill.
"Elle is slow and quiet, and actually, my legs have gotten even stronger since I've had her," Bennett says. "When I'm riding, I'm not sick. It takes my mind away from it. And at the barn, they make me work and don't baby me!"
More Than a Barn
For Bennett, Windy Hill Equestrian is so much more than the place where she keeps her horse – it's her community. Trainers Maja Lindemann and John Wohr work alongside Gerst in the busy training operation that includes riders of all levels, from juniors to adult/amateurs. Long before Bennett was diagnosed, she served as unofficial social coordinator for barn gatherings on the road and at home. She helps to arrange the rental houses for the barn at shows, and it's a role she relishes, and continues today, even if she leans on email more now than phone calls to rally the group.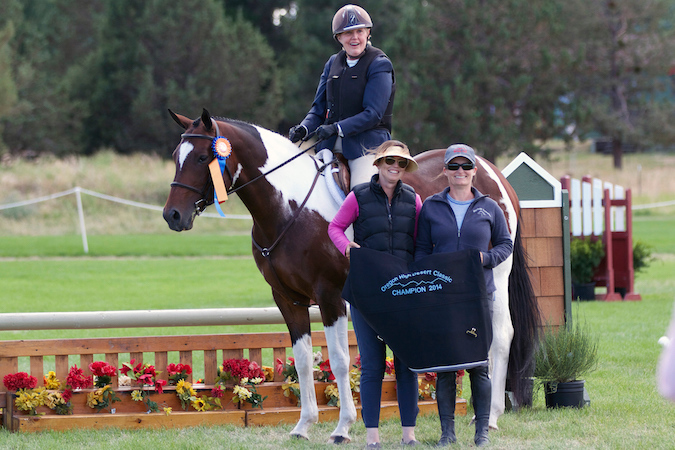 Bennett aboard Elle in the show ring at Bend, with trainers Laura Gerst and Maja Lindemann. Photo ©Cathal Phelan
"She's always been such an asset to our barn; she coordinates so much of the social stuff and is such a positive influence," says Gerst.
Bennett has also been able to continue showing, and never misses a show with the barn. "Anything that has classes for me I'll go to!" she says. "If they have flat classes for me I'll go."
The most noticeable changes in her riding since her diagnosis are the addition of a safety vest, and the desire to compete in the 18" crossrail division.
"I know I'm not as strong as everyone else, but in the same way that I would never drive a car without a seatbelt, I won't ride anymore without a vest. It gives me peace of mind," Bennett explains.
Her favorite part of showing is being able to ride Elle around the grounds, something that she's always confident to do with the mare. And Lindemann makes sure they always achieve their number one and most important goal: to have fun. Bennett showed with the barn at the High Desert Classic in Bend, Oregon over the summer, and was named circuit champion in the crossrail division (awards picture above). She's already looking forward to competing at HITS Thermal 2015, and going back to next summer's show in Bend.
Something else changed in the summer of 2014. Bennett had taken to bringing a pen and paper with her to write her communication out when she went to run errands or stop by the deli for a sandwich. Her speech has been severely affected by ALS, and unless you know her as well as Lindemann and Gerst do, it can be difficult, if not impossible to understand her speech.
The World Knows ALS
What's more, people generally didn't even understand the disease that Bennett is suffering from. That is, until a little thing called the Ice Bucket Challenge went viral around the world last summer. Now, when Bennett goes out and wears her button that says, "I have ALS" people immediately understand where she's coming from, and try harder to help her. It's a change that she describes as simply incredible.
Bennett's doctors continue to be amazed at how well she is doing, over a year after her diagnosis. Gerst still accompanies her to all of her appointments, and while seeing the speech pathologist, pulmonary specialist and others are critical, one appointment that Bennett doesn't need is with the physical therapist.
Riding is her therapy, and rather than counting down her riding days, Bennett is making the days count.
"I want to do this as long as I can," Bennett says. "We won't know how long I can ride, but it's really important to have something to look forward to. ALS doesn't take away your brain or personality. It doesn't take away who you are."
This article was originally published in the Dec/Jan 2014/15 issue of Horse & Style Magazine. Go here to read the complete issue, and don't forget to subscribe to H&S so you don't miss a thing!