Jami Heidegger spent years as an intrepid horse show mom. Ever the iconoclast, she says that "before sunscreen caught on, I was the one out there wearing my favorite ugly floppy anti-UV hat, my face slathered in zinc oxide. People always thought I was a little out there. Now everyone is finally into floppy hats."
Jami is mother to riders Hannah and Nicoletta Heidegger, and founder of the eponymous cosmetic line Kiehls. Her most recent venture is Retrouvé, a new line of skin products. The upscale "essential skincare line" consists of four concentrated facial products for women and men. According to Jami, "The Nutrient Face Serum is the foundation of the line and our philosophy—it also happens to be the product that is most universal," Jami explains. "The Intensive Replenishing Facial Moisturizer is the one I focused on for myself, for its anti-aging effects."
Retrouve was born out of the Heidegger family's nostalgia for a cosmetic line of their own. Their family business Kiehl's was sold to L'Oreal over a decade ago. Nicoletta, now a graduate student at UCLA and high school student Hannah longed to have cosmetics to give to their friends. That was the impetus for Jami to start working with a chemist to create the fragrance free line derived from plants harvested on their Malibu farm. Jami and her husband Klaus are believers in the tenets of permaculture, which is a belief that the sustainability of the environment can benefit from ecological engineering. Jami is a stunning example of the benefits of her product line. Her skin is flawless!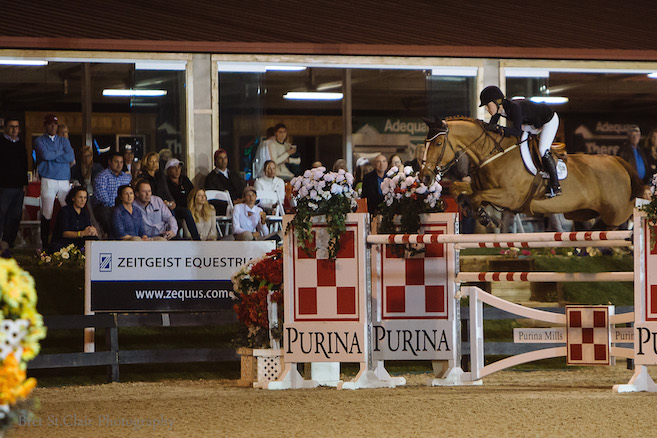 I met Jami at HITS Thermal where 17-year-old Hannah rode to an impressive second place finish in the CSI 2* W FEI Grand Prix on Saturday, February 22nd.. 
I can testify to the extraordinary properties of the Nutrient Face Serum. Stuck in traffic after a long, sun-parched weekend at the horse show, I daubed a tiny amount of it on the wrinkled Sharpei-like folds of my face and my skin magically rehydrated for hours and hours.