With a pop of color and a flashy grey horse, Australian-born rider Olivia Brown turned heads and gained new recognition in 2014 for her results on the West Coast grand prix circuit. It was her husband, trainer Harley Brown, who paired her with Cash, a nine-year-old New Zealand Sporthorse gelding, and sent her to the grand prix ring early in the summer. With his hot temperament and tendency to clear fences with many inches to spare, Cash and Brown were eye-catchers from the start, and as Brown produced clear round after clear round out of the slightly quirky horse, the two became a favorite to watch. For her efforts in their first year competing at the grand prix level in the West, Brown earned the title of 2014 Pacific Coast Horse Shows Association Rookie of the Year.
Read on to find out how Brown, who works in partnership with her husband at their Harley Brown Equestrian in Menlo Park, CA, built a strong bond and successful partnership with Cash, why Harley is her greatest supporter, and how she relaxes before a big class:
Horse & Style: What is your head-to-toe riding outfit?
OB: In the show ring, I wear Parlanti Passion boots. I love them, they are comfortable and fit like custom boots. I wear Animo breeches, shirt and hunt coat. When I am in the jumper ring, I roll back the cuffs on my hunt coat, as they have a bright pink lining and it gives my outfit a fun pop of color. I wear a Samshield helmet. I have multiple linings for it, so it is always fresh. I can wear it all day at a show and not even know it is on.
H&S: Do you wear anything for good luck?
OB: No. I try not to attach luck to any material thing. I am superstitious and I feel that if I start to rely on something for luck, that if I one day don't have it, then my luck will run out. I believe we create our own luck with proper preparation and practice. One thing I do like to do though is braid my horse before a big class. When my day has been really busy, it gives me time with my horse and time to get in the right frame of mind.
H&S: What are your favorite equestrian brands?
OB: As far as clothing, of course I love Animo. They make the best breeches and hunt coats in the latest high-tech fabrics. They are fashion forward and have lots of fun detailing and colors. They offer riding clothes in conservative cuts that are suitable for the hunter or jumper ring, or as much bling as you want. My horses also wear Animo bonnets and saddle pads.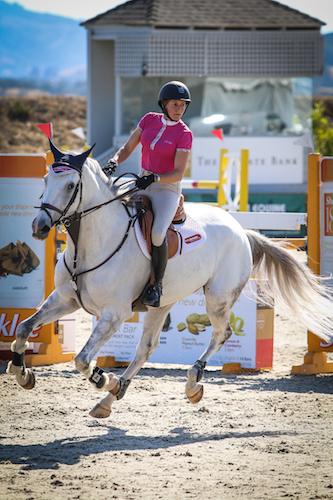 Above and top, Brown sports head to toe Animo while competing with Cash at the Sonoma Horse Park. Photos ©Erin Gilmore
For saddles and tack, you can't go past Stubben. I have three Stubben saddles, two Zaria's and one Portos, however I only ever seem to have two in my possession, as people are always trying my saddles and falling in love with them and then don't want to give the saddle back! They also make quality bridles, breastplates and girths that my horses all wear.
H&S: How would you describe your non-horse show style?
OB: I own about 20 different pairs of skinny jeans in all different colors! I always wear a pair of these with a drapey sweater or a t-shirt and either flats or boots. I have a lot of different boots, both with heels or flat. If it is cold I will throw on a leather jacket and a scarf. In summer I wear basically the same thing, but just change up my shoes for some sandals. However, lately I find myself only in riding clothes. In fact, just the other day on a day off, I put on jeans and boots, a jacket and a little makeup and both my daughter and my husband asked me why I was getting so dressed up. That is really sad!
H&S: What did it take to bond with a quirky horse like Cash, and find so many consistent rounds during your first year together?
OB: Most people don't know, but we bred Cash. My husband Harley competed his grand sire, Blue Diamond, successfully at Grand Prix level. I was very involved with riding him (I did most of his flatwork). We then bred Cash's mother, who I rode before she was sold to a client of ours. When Cash was just broken-in, he was actually my horse and I did the first year of work on him. When I became pregnant, Harley took the ride over from me, as I was constantly getting bucked off him and it was no longer safe for me to keep riding him. Even though Harley was competing him, I did most of the work on him at home, so taking it a step further and riding him in the ring was not difficult for me. We already had a rapport from the years we have spent working together and it was just a matter of finding a bit that I felt comfortable riding him with in the show ring. I think one of the reasons he jumps so well for me, is that he and I have such a great relationship and he really wants to try for me. I have never had a horse like him that I have such a strong bond with.
H&S: If you weren't a rider, what would your dream profession be?
OB: I don't know if there is something I consider a dream profession, but I was three quarters of the way through a Public Relations degree before I came to America, so it is likely I would be doing something in that field. I was an intern in Melbourne's biggest fashion/lifestyle PR firm and I really loved working there, so I guess that is where I would be. From what I have learned running a successful training business, I think I could take these skills anywhere and use in any profession. Being a trainer is so much more than just being a good rider/horse person.
I would also love to be a stay at home mom and spend the days raising my kids! However, I believe that by running a business and being passionate about what I do, I am setting an example for my kids and hopefully instilling in them that to be successful in life you need to work hard and love what you do.
H&S: Who has been the most influential in your riding career?
OB: That is easy, my husband Harley. I wouldn't be the rider and trainer that I am today without his help. He is so great at instilling confidence in me and with his help, I know I can get the best out of any horse I ride. Sometimes when I am having trouble with a particular horse, he will have me change one small thing and it makes all the difference. It is great having him in the warm-up, between me feeling what is going on as I am riding and him watching, we are able to get the best possible jump out of my horses. He is also great at matching riders with a suitable horse and it was his decision to have me start showing Cash earlier this year. He is very supportive of my riding and I know that with him in my corner, I will be able to achieve great things.
Another thing I like to do and I am always telling my students to do the same, is find riders you like or find a rider that rides a horse that goes in a similar way to yours and watch them. I watch a lot of videos on YouTube and try and emulate what I see. Visualization can be such a great learning tool and we are very lucky now with the Internet that we have access to so many fabulous rounds and riders.
H&S: What is the one thing you never go in the ring without?
OB: Apart from my horse?! I guess it would have to be spurs. I can't ride without some kind of a spur. I collect spurs like people collect shoes. If I see a pair that I don't have, I have to buy them! My favorite for in the ring is my big rowels. I am not that tall or strong, so when I put my leg on, I want my horse to respond! I find that with rowels I can be subtle with my leg, but when the jumps are bigger and my horse starts to look at something, I can put my leg on and know that they will gear up and listen. That is important!
I would also never go in to the ring without a solid plan about how I will ride the course. Of course, there would be many variations of my plan, depending how my horse is jumping, but I know that with a solid plan, things will turn out. Cash can be a little quirky, so I usually have to have a plan A, B and C for any given line, that can be a little tough at times!!
This article was origionally published in the February/March issue of Horse & Style Magazine. Go here to read the entire issue online, or subscribe.