I have yet to meet a horse-obsessed child who doesn't spend her time away from the barn doodling horses and perfecting the art of translating her beloved equine companion to paper. Every art assignment. Every binder cover. The work proudly covers the walls of her bedroom, affectionately hung beside the countless ribbons won and photographs taken. I was this child. I doodled my equine thoughts and daydreams to the point of exhaustion. I was relentless in my quest to be an equestrian artist, along with the countless other equestrian pursuits I had planned for my adult years. Truthfully, my parents encouraged the idea with statements such as "this is fantastic!" or "you have a real talent, dear!" as any parent naturally would. And I thought I did have inherent talent, as I believed that art was in my blood.
I grew up surrounded by stunning equine portraiture produced by the truly talented hand of Milton Menasco, my great uncle. Countless works spanning his lifelong career hung in the homes of my parents, aunts and uncles, grandparents, and my great aunt. I spent my days (and holiday dinners, gatherings and birthday parties) studying the pieces, soaking them all in, and developing a passion and appreciation for his classical eye.
Who is Milton Menasco? The facts are that he was an American painter and art director, born in Los Angeles in 1890, who began his art career in the early days of Hollywood. He had a rich and full career as an artist in various fields – art direction, set direction and advertising – spanning the country from California to New York before he exclusively devoted his talent to equestrian art. In 1948, Menasco left a successful career with a New York advertising agency and moved to Kentucky where he did what many of us would love to do – he bought a small horse farm with a little studio and surrounded himself with animals. It was there that he began the journey that would come to define him.
But becoming an exacting painter of horses who can reflect the sound and basic knowledge of the animal does not just happen overnight. There has to be keen interest in the animal and a familiarity with the subject. Menasco's understanding of the horse stemmed from a childhood spent in Southern California. Not the California as we all know it today, but a rural era where ranchos reigned supreme and the lifestyle of its inhabitants echoed the atmosphere of their earlier Spanish owners. Milton Menasco was fortunate enough to have lived in Sierra Madre, adjoining one of the great Thoroughbred breeding establishments of the West Coast, the Baldwin Ranch. It was on this property, in 1906, that the Arcadia track was erected, now home to the Santa Anita race track. So naturally, the artist-to-be absorbed a lifelong enthusiasm for racing and for the Thoroughbred.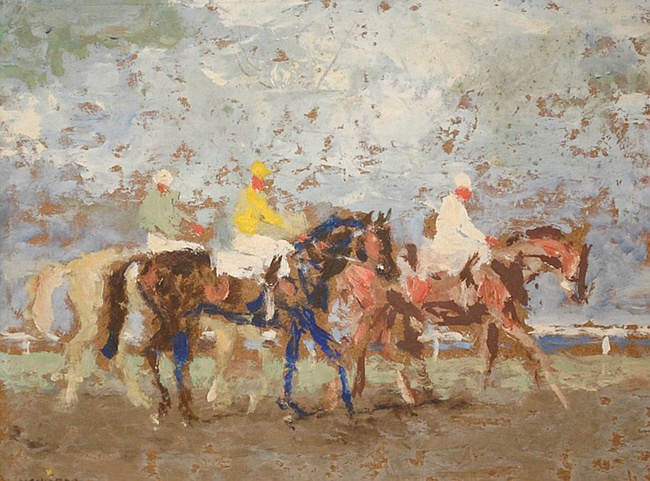 During the 1950's, Menasco's career in equine portraiture flourished and his client list for commissions grew. It was during this time that he established himself as one of the foremost equestrian painters in the country. A soft color palate, classical composition and a sound understanding of horse anatomy best characterize his work. He became well known for his group portraits representing upwards of eight horses in a single piece. One commission included nine horses at Calumet Farm originally painted for Lucille Markey and later used for the Governor's 1994 Kentucky Derby poster. Menasco was skilled in his depiction of skies, landscapes, and backgrounds characteristic of the stud farm and track for which he painted.
Milton Menasco passed away in 1974 from a heart attack in his home in Kentucky. Having died 10 years prior to my birth, I never had the opportunity to meet my great uncle. But I was fortunate to be able to spend my childhood with his wife, Florence Potter Menasco. After his death, she moved back to California and spent her remaining years in a quaint white board and batten farm style home with rich green louvered shutters. Her home smelled of antiques, flowers, and mustiness. It was classically furnished with a style one would find on the East Coast, in Kentucky, or in old town Pasadena, CA. She had floor to ceiling white library shelves filled with dusty old books. She possessed an equestrian-inspired trinket treasure trove that kept me entirely engrossed (and quiet) for hours on end. And the art, oh the art! Her home, though tiny, was filled corner-to-corner with beautifully and expertly framed original pieces from Menasco's lifetime of work. They were so stunning and they graced the walls with such style that I will never forget them. It was amazing to gaze upon the layers upon layers of various sized art in a variety of mediums – oils, watercolors, charcoals, pastels – all created by the same artist. It was, by far, the greatest 'gallery' I have ever laid eyes on. I knew that then as a child and I know that now.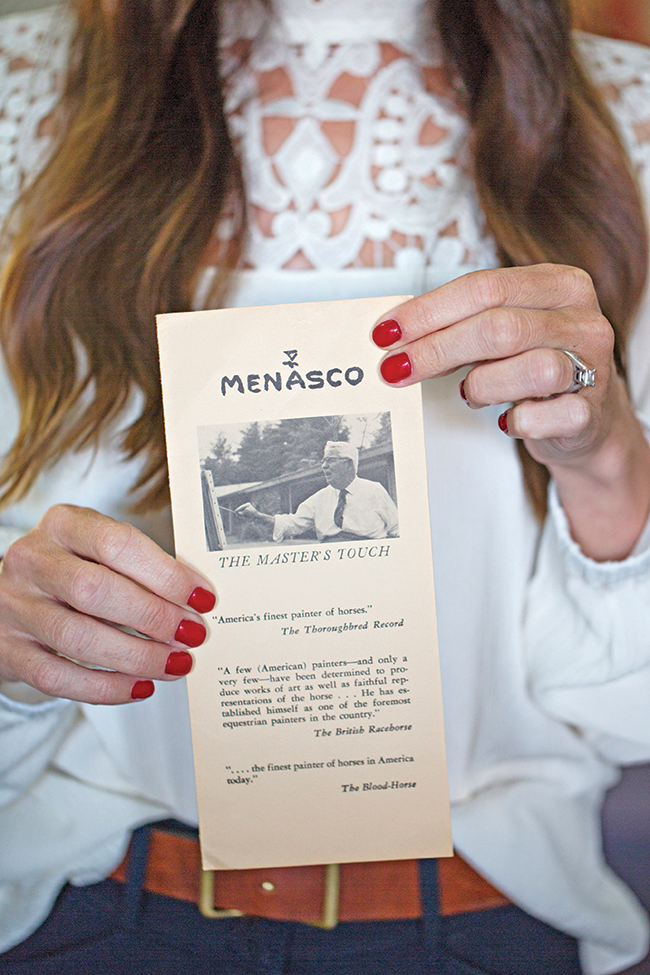 Pieces by Milton Menasco still exist today in the form of original paintings, sketches, limited production prints, and vintage books from Walter Farley's The Black Stallion series. They can be found in galleries, art auctions, antique stores, and every once in a blue moon they can be found on eBay. To acquire them, one must be willing to hunt. @MiltonMenasco was originally created to share his classical and traditional pieces with a younger audience, and inspire a new generation of art connoisseurs.
What is @MiltonMenasco? Well, it is my grown-up version of horse doodles, horse thoughts and daydreams. It is a curated collection of the works of Milton Menasco, inspiring works of both modern day and classical equine artists, and of an equestrian lifestyle, both past and present. It gives a snippet of insight into the horse-loving life I lead – hunter jumpers, ranching, California lifestyle, family, design and art. Instagram has afforded me, in a very convenient and accessible format, a digital design, inspiration, and storyboard. @MiltonMenasco is a platform that allows the ordinary to look amazing and a space that keeps my equine fever burning hot.
I never became an equestrian portrait artist with that same exacting skill set Menasco possessed. But because of his influence I grew into an art lover, a collector, an equestrian tastemaker and a designer. That same horse-obsessed little girl is now a horse obsessed thirty-something. I fill my home and the homes of my clients with equestrian art, sculpture, books and trinkets. A home, be it contemporary or traditional, always has room for horse art – it adds beauty, interest and warmth. One day I imagine myself becoming that same little old lady, in a quaint white board and batten farm house with rich green louvered shutters, surrounded by classical equestrian art, trinkets and pictures representative of an equestrian lifetime. But until that time arrives, and for now, I have my budding collection of hand-me-down heirloom family art and I have Instagram.
---
Photography © Taylor Rea
Art print images © Sporting Art Auction Catalog
This feature article was originally published in our July/August 2016 issue. Read the full Horse & Style July/August issue for free online!