story by Laurie Berglie
photos by Tracy Emanuelstyling by Dana Miller of Chagrin Saddlery
Even though she is only 12 years old, pony rider Sofia Roberts has already mastered the art of finding balance in her life. Her days are chock-full of school, riding lessons, exercising ponies, and enjoying time with family and friends, but Sofia is an "old soul," and juggles it all with ease.
Sofia was seven years old when Mindy Darst first worked with her on a pony named Hunter. That was five years ago, and Sofia hasn't looked back. Instead, she continues to forge ahead, and with her drive, talent, and a level of maturity well beyond her years, she is a star rising steadily in the ranks.
But success hasn't appeared overnight, nor has it been handed to her. Her accomplishments are the results of hard work, dedication, and a structured, balanced schedule. Plus, she truly has a passion for ponies.
Balancing School with Time in the Saddle
During the school year, a typical day for Sofia begins early. She hits the books until three o'clock in the afternoon, and then it's off to the barn where she spends the rest of her day riding. She lessons with trainer Patty Rogers on Wednesdays, Fridays, Saturdays, and Sundays. On non-lesson days, Sofia focuses on what she's learned while exercising both her green and her show ponies.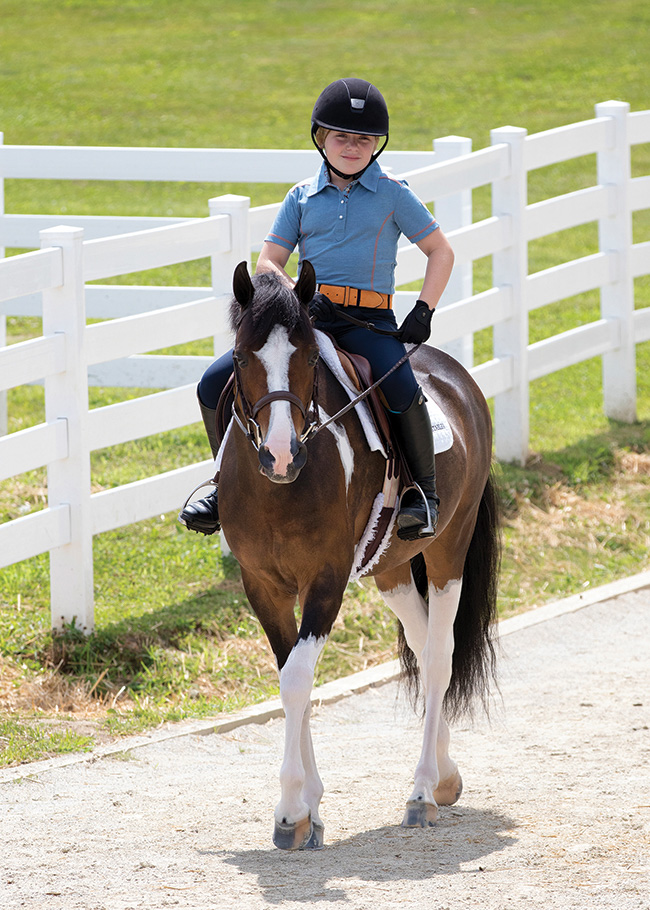 During the summer months when school is not in session, a typical day for Sofia still begins early as she likes to ride before it gets too hot. She still lessons on the same days, but enjoys this time of year because the longer, non-school days allow for even more time in the saddle!
For the Love of the Sport
It may sound a bit like Sofia's life is all work and no play, but it doesn't feel that way to her. The old saying, "love what you do and never work a day in your life," is very applicable to the aspiring equestrian. Not only is Sofia your typical horse-crazy girl who loves to be with her ponies, her pony friends, and at the horse shows; but she's also passionate about all the aspects of the sport, including the devotion and reward of training her green ponies.
"Sofia's biggest goal is bringing along the young ponies, watching them progress, and seeing their accomplishments," says Patty Rogers, Sofia's trainer. "We love watching the green ponies develop, and Sofia is a huge part of their training on a daily basis."
When asked about her most memorable win, Sofia does not mention a big win at a prestigious show. Instead, her answer confirms her status as a true horsewoman in the making. "The biggest win to me is when I'm least expecting a green pony to go around the ring, and he or she will end up having a superstar round. That is so exciting to me! It makes me feel like we are a team, and everything is finally clicking."
A Mature Perspective
Sofia's level of maturity differentiates her from her peers. "To us, she has always been an old soul," says Jennie, Sofia's mother. "We've always kind of treated her a little older than she is because of how she's acted. We've given her more responsibility because she's shown us that she can handle it. If she weren't so responsible, she wouldn't have the privilege of horse showing. Sofia understands that it's a privilege and takes it very seriously."
Patty echoes Jennie's thoughts on her daughter. "Sofia's incredibly mature for her age. She is able to handle a lot of pressure very gracefully, and she's really able to balance everything. She can walk out of the ring after a not-so-great trip, and still be positive and go and have a happy day. I believe that's why she wins so much – because she can put it in perspective."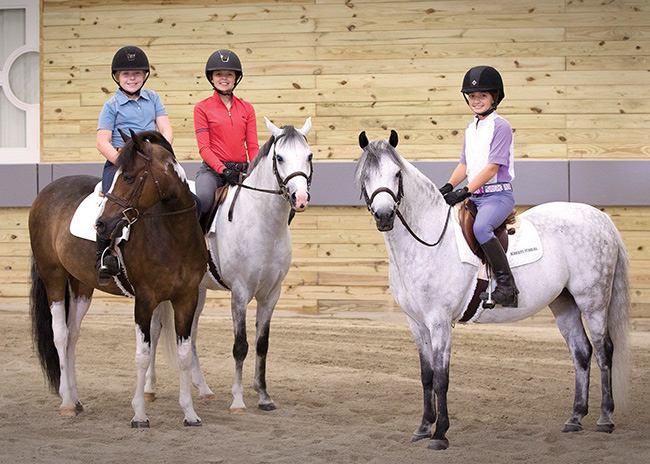 Riding for the Journey, not the Destination
Sofia's list of accomplishments continues to evolve. In 2015, she qualified for Pony Finals in the small and medium pony divisions, as well as Pony Medal Finals. This year she qualified for Devon and is competing in all four divisions at Pony Finals and Pony Medal Finals. Plus she is planning on competing her ponies at Indoors.
But if you ask Sofia, the journey is more important than the destination. "For me, it's not about the ribbons. It's about coming out of the ring knowing I did the best I could do. Sometimes I know I could have done better, but that's why there's always a next time to try again!" It's the work that's done every day in the training ring, not the show ring, which excites Sofia.
Always Looking to Learn
Like any 12-year-old, there are professional riders Sofia admires. She named Beezie Madden and Todd Minikus as two examples, and she aims to continue on to horses, competing in the hunters, equitation and jumper divisions, ending in the Grand Prix ring. But she knows she won't get there without the help of those around her. "I'd like to be my own kind of rider, so I'll take advice and criticism wherever I can get it."
Sofia understands she has much to learn, and is clear about her commitment to the hard work ahead. Patty feels the two of them are on the same page for the most part. "Working with Sofia is a pleasure," explains Patty. "It's easy, it's fun, and we have the same goals. I would love to see her at the top of her sport in the junior hunters, and I know she would love to see herself in the high level jumpers."
Like any good "pony mom," Sofia can't pick a favorite from her stable. "I love all of the ponies for different reasons. I appreciate each one for their differences and challenges that they bring." She does admit that she looks for ponies who are willing and people-pleasers, and especially loves "the ones who like to jump!" When asked about a horse she would aspire to ride, Sofia once again brings up Todd Minikus and his sensitive mare Quality Girl. Sofia picked this horse knowing she would be a challenge and would teach her valuable skills.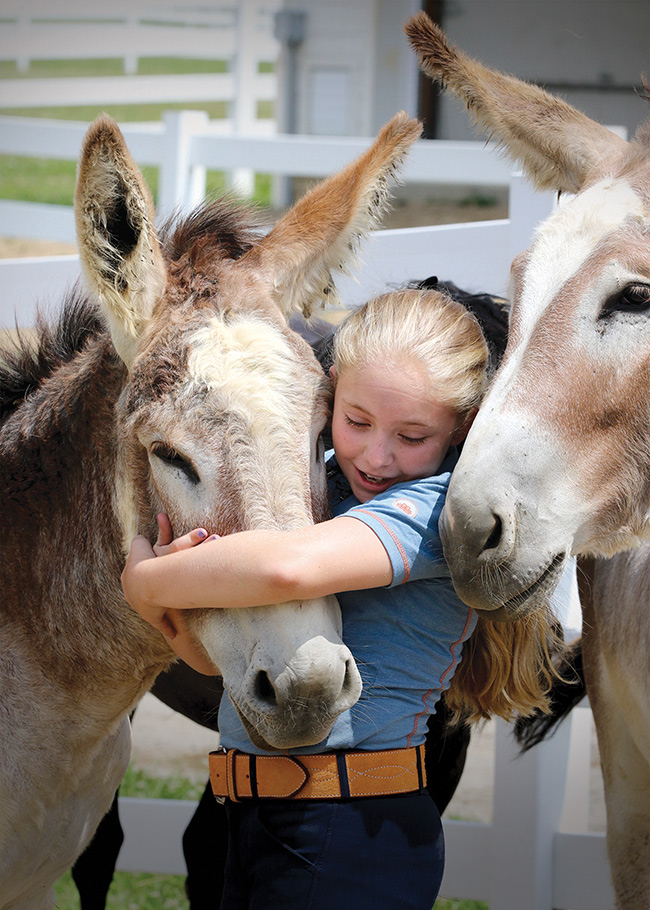 Jumping into a Bright Future
For Sofia, now a seasoned pony rider with big goals, life continues to be a wild ride that she continues to take in stride. As with any sport, it's important to occasionally take some time away, and Sofia does just that. When she's not riding, she likes to swim, boat, Jet Ski, and go to the movies with her friends. She also loves to read and is currently enjoying the Percy Jackson and the Olympians series by Rick Riordan.
She also has a circle of close friends with whom she shares her adventures. "Sofia likes to share with other kids and make sure her friends have fun right along with her. That's something that's very important to her," states her mom, Jennie. "You can teach your children manners, but you can't teach them empathy. And Sofia has that. Watching her interact with others makes me realize how lucky I am to have her as my daughter."
Sofia will take that empathy and sense of maturity with her for the rest of the year as she continues her jam-packed show schedule. After Kentucky Summer and Pony Finals she will wrap up summer and head straight into fall competing at the World Equestrian Center Fall Classic and the World Equestrian Center Invitational, and the Pennsylvania National Horse Show at Harrisburg, which happens to be her favorite show.
When asked, if you could choose another riding discipline, what would it be and why, Sofia simply states, "I couldn't imagine doing anything else." Sofia's pony passion is intact and is paving her path to a bright future.
---
This feature article was originally published in our Pony & Style Summer 2016 issue. Read the full Pony & Style Summer 2016 issue for free online!