Illahe Vineyards – Willamette Valley, Oregon
What is more enjoyable than heading out for an afternoon of wine tasting? Heading out for an afternoon of wine tasting AND ending up at a winery where two of the "winemakers" you meet are beautiful and sweet Percheron horses!
Family owned Illahe Vineyards in the Willamette Valley of Oregon employs these two horses, affectionately called Doc and Bea, to work their fields. With their help, Illahe Vineyards maintains an entirely hand-picked and horse-powered winery. Illahe's focus on historical winemaking extends to their use of dry farming (no irrigation saves water and fossil fuels), native fermentation (natural yeast), and solar power. Illahe's goal is to make small lot wine as naturally and as sustainably as possible.
Horse & Style had the chance to taste Illahe's 2014 Percheron Pinot Noir, and the exceptionally warm Oregon summer that year meant a long harvest resulting in ripe and developed fruit in this wine. The wine's acidity and soft tannin structure provides a backbone to its wonderful expressions of blue and red fruits, baking spices, and earthiness. Whether in the tasting room at the farm or elsewhere, one sip and you are whisked away to a time a where life moves a little slower and to a place where the Earth's natural beauty is the style profile for the day.
Sipping the Pinot is made even more enjoyable by imagining the wine's journey from vine to bottle. First, the grapes are meticulously picked by hand and are then transported by horse-drawn cart to the next step where the juice is moved from wood tanks to barrels with a bike-powered pump. Finally, the juice is canoed to Portland for bottling. Has sustainability ever been more fun?!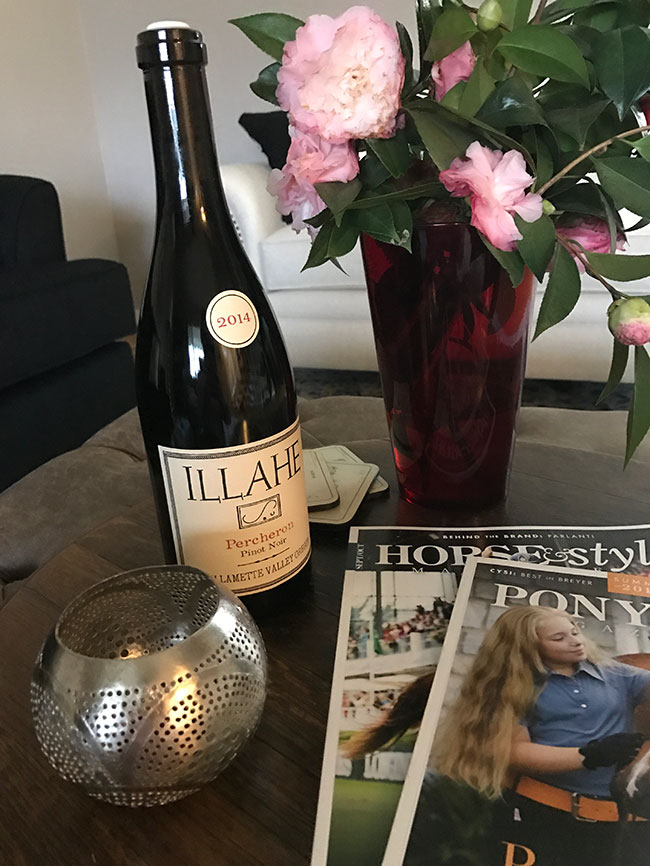 Illahe Vineyard's wine list does not stop at Pinot Noir. Their 59 acres of vines include a wide array of varietals, and their current offering list includes Tempranillo Rose, Viognier, Pinot Gris, and more. Winemaker Brad Ford works hard to ensure his grapes end up as wines that are hand-crafted instead of factory-made by using old-world techniques such as fermenting in acacia and clay. We can assure you that his hard work is worth it and that his results are tasty!
So if you are fortunate enough to be on a wine tasting trip in the Willamette Valley, definitely put Illahe Vineyards on your to-visit list. And if you cannot get there, you are in luck! Illahe will ship your wine order right to you. Better yet, you can join their wine club! Either way, plan an afternoon to hang up your breeches, put away your boots and get your horse fix by drinking an Illahe Vineyards wine.
[email protected] | 503-831-1248
3275 Ballard Rd. Dallas, Or. 97338