Taking Life by the Reins
Photos courtesy of Free x Rein
What if every woman could have effortless equestrian style? What if every woman could be equally comfortable in the saddle and on the streets? And what if every woman could step out in confidence, knowing she looks polished, tidy and ready to conquer the world? What if 'what if' were no longer the question?
A new brand hit the streets earlier this year, taking the modern equestrian from the city to the stables with sophisticated transitional ease. And in its short six months on the market, this newcomer has managed to grab the equestrian apparel sector by the reins, redefining what it means to be comfortable and confident in and out of the ring. Introducing Free x Rein.
We caught up with the brains behind the operation, equestrian enthusiasts and boss babe powerhouses Andrea Hippeau Vogel and Dana Schwartz, to learn more about Free x Rein, their ah-ha moment, the journey towards their success and what's new for the season.
Horse & Style: Free x Rein launched earlier this year with an outstanding lineup of offerings. Describe in a nutshell what Free x Rein represents.
Free x Rein: The collection is designed for both the avid equestrian and the everyday woman, a crossover collection of bodysuits, pants and leather accessories that was inspired by the eternally-polished equestrian uniform. But a more transitional approach was needed. Women should have the freedom to move with ease and impeccable taste, whether they are going to school, work or the barn. So we designed our collection for the modern woman, whether she is conquering the show ring or her busy day.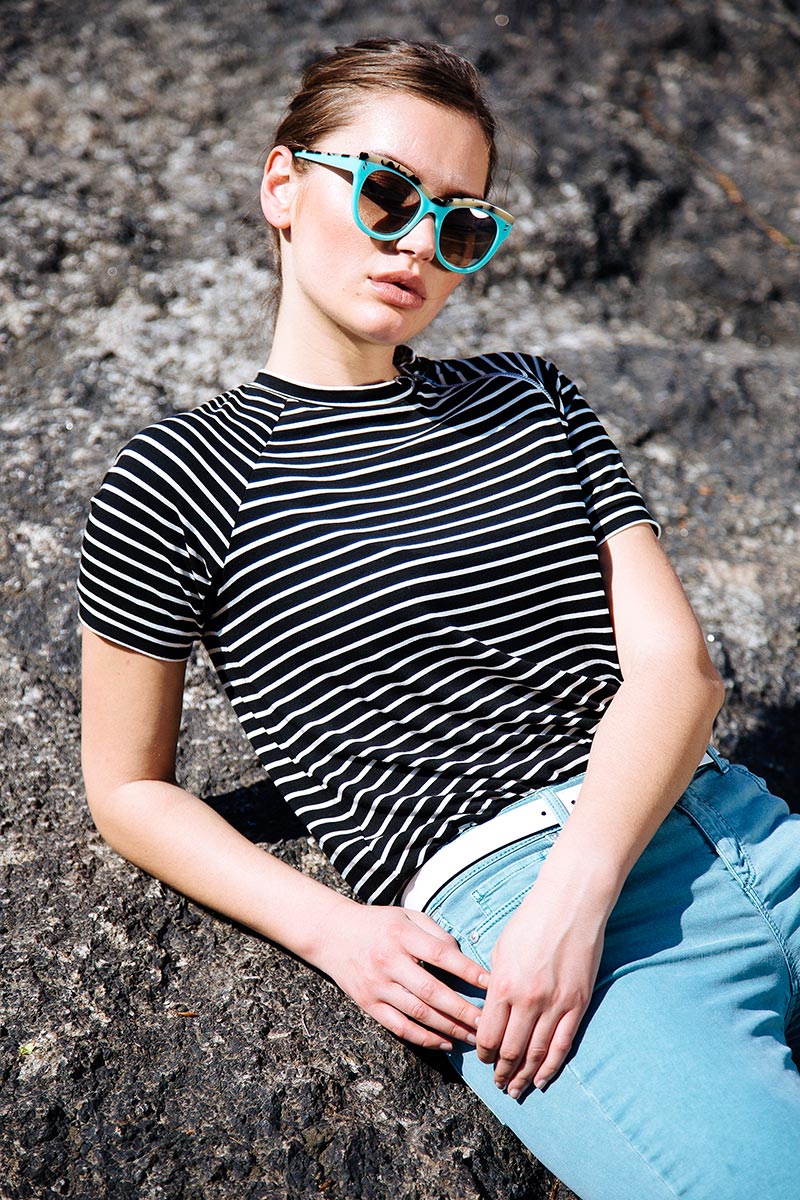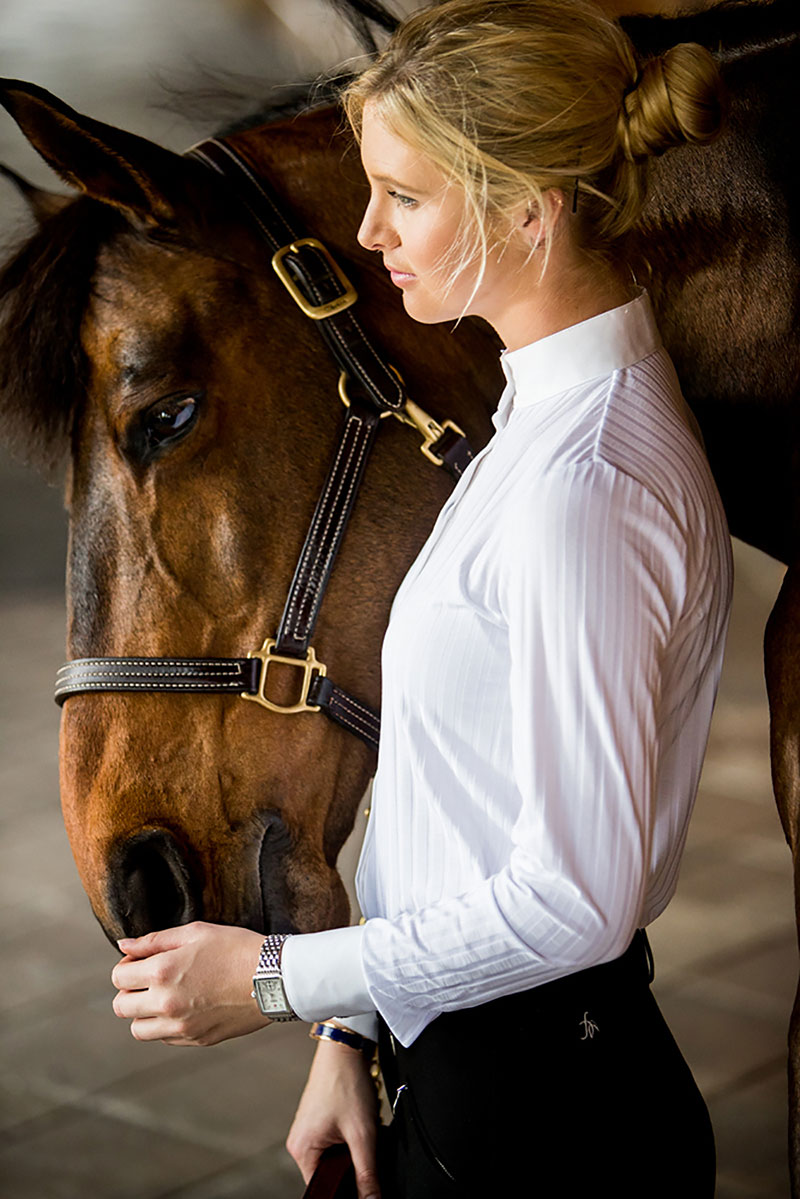 H&S: Before we dive into the collection offerings, let's begin with your background and your clearly shared passion.
FxR: We both began riding as children, beginning with the typical summer pony camps, competing as children and juniors, and then eventually moving on to compete in college. [I took a break in college, interjects Dana, but couldn't stay away for long.] Each of us wound up moving to the city [New York] but found that we needed a taste of the countryside, we needed riding to survive, to breath and to escape. To fulfill this necessity, we both ended up riding at Oxridge Riding Club. This is where we met and came to discover that we actually lived in the same building in the city!
H&S: Such a small world, but sounds like the foundation of a great friendship.
FxR: We became good friends, and this is where Free x Rein was born. We saw a void in the marketplace, a frustration if you will. But it really all began with Spanx.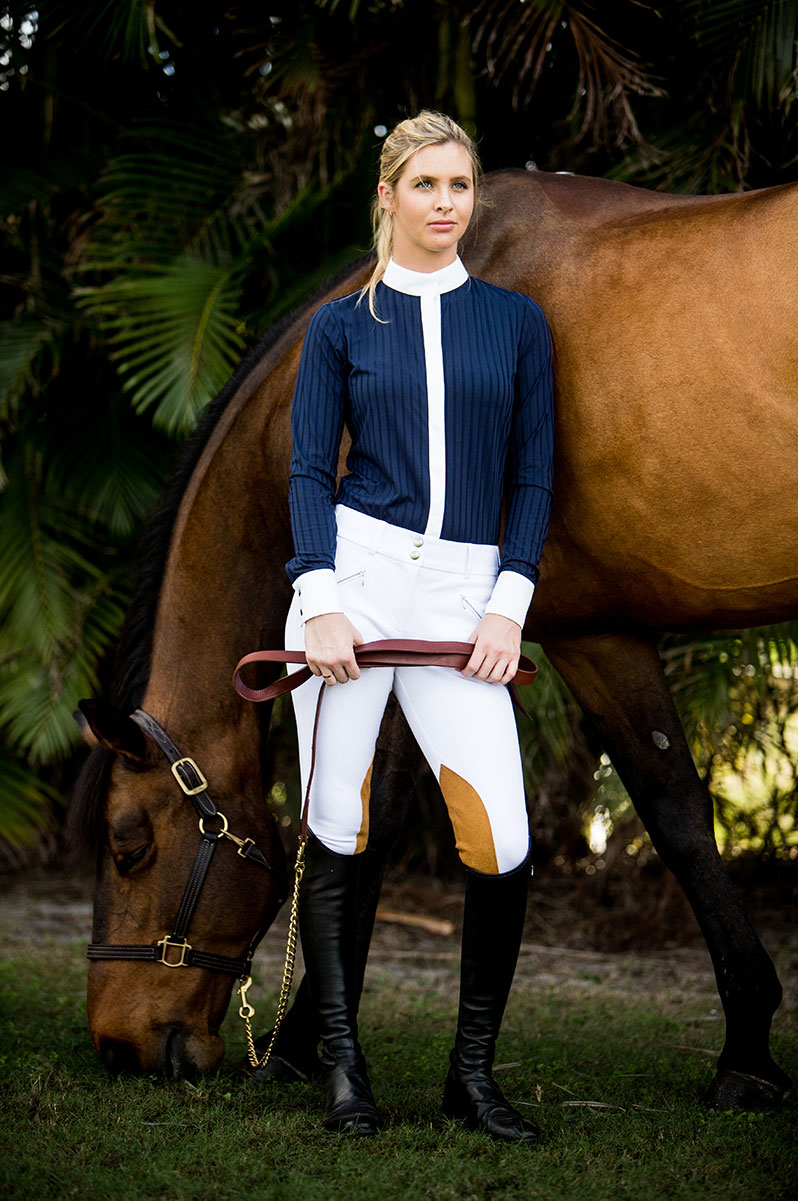 H&S: How does Spanx fit in with this story?
FxR: We met this woman while riding who had two kids and was lamenting to us how she had to wear Spanx underneath her breeches just to feel confident, secure and pulled together. We knew there had to be an alternative. This was really our ah-ha moment, a turning point for us, and the beginning of a two year journey. Meeting this woman and hearing her story gave us the steam to break out and do something about it. We first considered incorporating shapewear into riding pants, but instead decided to focus our efforts on material and cut. We wanted to keep that classic, feminine aesthetic, all while not appearing too costumey. From this, our figure sculpting breeches and performance enhanced bodysuits were conceptualized.
H&S: Designing and establishing a new apparel brand – even more niche: a new equestrian apparel brand – is no easy task. How did this early stage process go?
FxR: Neither of us have a fashion background. But that didn't deter us. We sought to create a product to first solve our own problem in and out of the ring, and it turned into something so much more. We worked with a shapewear designer first, poring over fabric and cut samples. We tested so many different fabrics, sourcing materials from around the globe. Everything is made in a great factory here in New York City. So we can manage every step of the process.
H&S: Tell us more about the breeches.
FxR: We offer two different riding pant styles; our Derby Riding Pant and our Signature Ponte Riding Pant. We consider these the ultimate breeches for hunter jumper riders. The Derby Riding Pant is the most flattering pair of breeches you will ever wear. They absolutely fit like a glove, with a structured four-way stretch that creates the perfect silhouette. The cotton blend fabric is lightweight, flexible and durable, while the mid-rise wide waistband helps you feel stabilized. The Signature Ponte Riding Pant is composed of a thick cotton knit, and the pant we feel to be the most versatile. The material is thick, yet soft. And the four way stretch is designed to offer total movement, all while maintaining its shape. This is the ultimate crossover pant, and a style that we've found a lot of success with, both in the saddle, and for non-riders on the streets.
H&S: And now, onto one of the most intriguing offerings from your collection: The Bodysuit. Do tell more.
FxR: Yes, our Equestrian Bodysuits are the first ever on the equestrian market. And these were really created from our frustration with our shirts coming untucked from our breeches.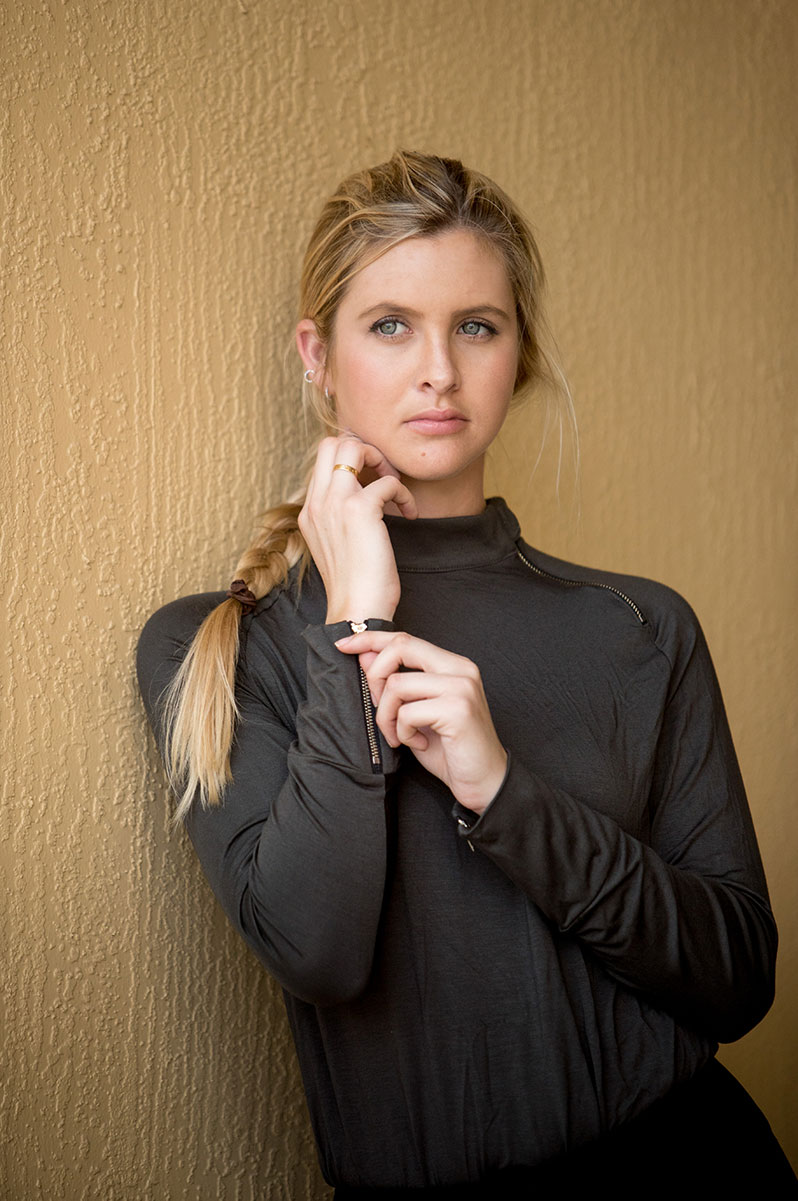 H&S: But this is not a leotard, correct?
FxR: Correct. The major difference between a leotard and a bodysuit is the snap closure at the base of the suit. And no, our crotch snap closures do not hurt while riding. We designed the snap gusset at the front of the built-in thong. This is further forward than your traditional bodysuit near the pant fly, so it functions the same but doesn't interfere with your seat. You do not sit on it.
H&S: And the built-in thong?
FxR: The built-in bodysuit thong is made of a 4-way stretch breathable material, with a mid-rise fit, so it doesn't pinch or sag or ride up. We worked tirelessly before our launch to make sure these bodysuits would be comfortable, dynamic and polished. You truly forget you're wearing a body suit.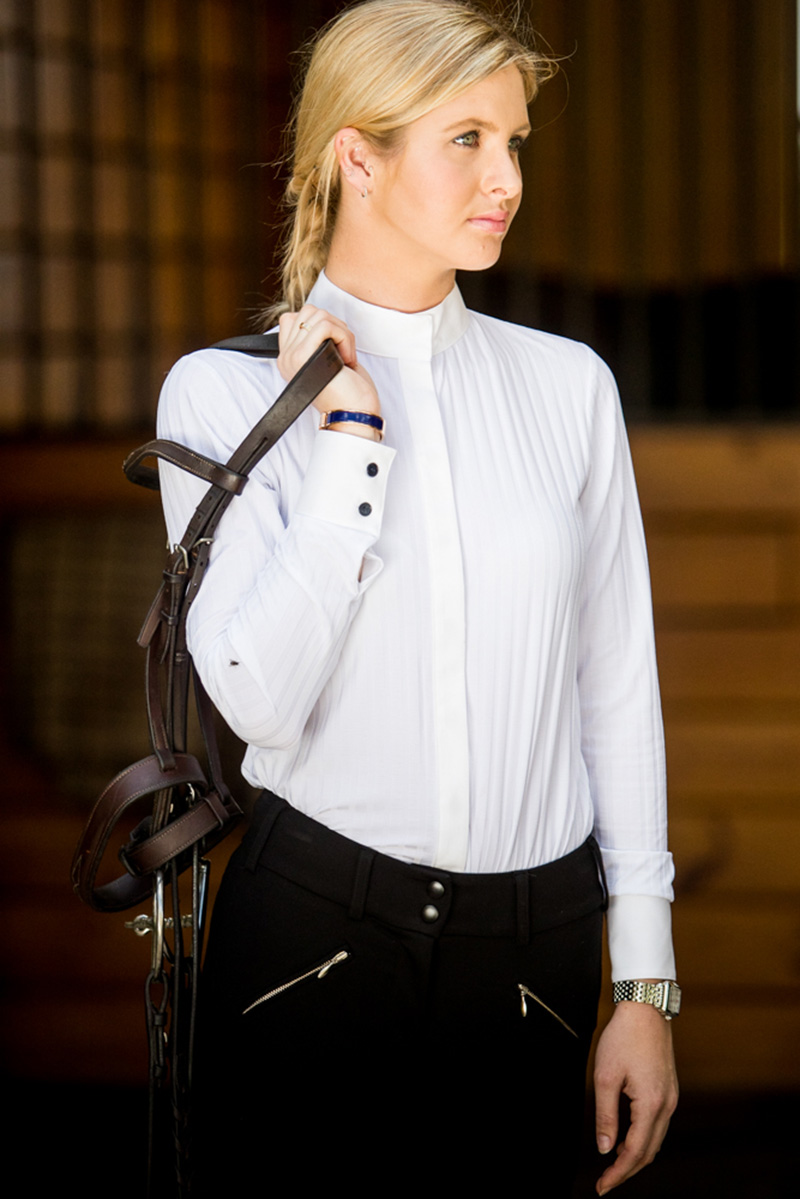 H&S: You initially launched the brand with three different bodysuit styles. Can you expand upon these styles?
FxR: The Elite Equestrian Bodysuit is what we call our competition bodysuit. It's light, breathable, flattering and features an elevated elegant ribbed fabric. We designed this bodysuit with a blousier fit, rather than the trending skin-tight show shirt. It's just as equally suited for the show ring as it is for the office, making it an ideal crossover apparel item. Our Moto Equestrian Bodysuit is our edgier offering. With it's chic silhouette and exposed hardware, this bodysuit has an effortless stable-to-street vibe. The next bodysuit in our initial collection is the Sportfit Equestrian Bodysuit. We designed this jersey-blend breathable and dynamic style with the equestrian athlete in mind. It's fun, clean and sleek.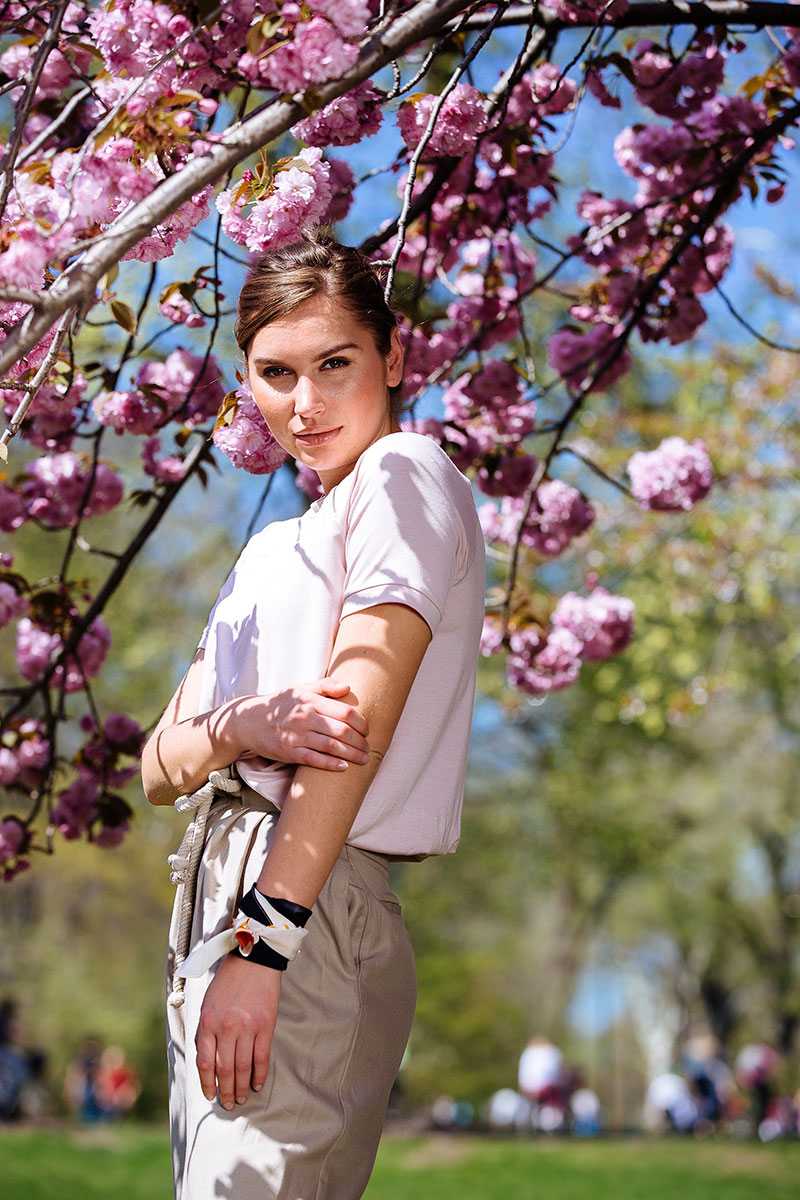 H&S: What's new for the upcoming season?
FxR: We launched Free x Rein in December 2017 with our fall/winter line of long sleeves and neutral colors. Coming up is our new collection comprised of short sleeve bodysuits with a lighter color palette that still fits in with the classic Free x Rein aesthetic: we are introducing a blush pink as well as a nautical stripe. We adapted our popular Moto Equestrian Bodysuit from the first collection for the spring line so it still has our signature zipper detail. We've designed a new short sleeve ribbed henley-style suit with buttons in red and black called The Henley Bodysuit. And we are also introducing our first non-bodysuit shirt, The Moto Shirt, in a beautiful navy.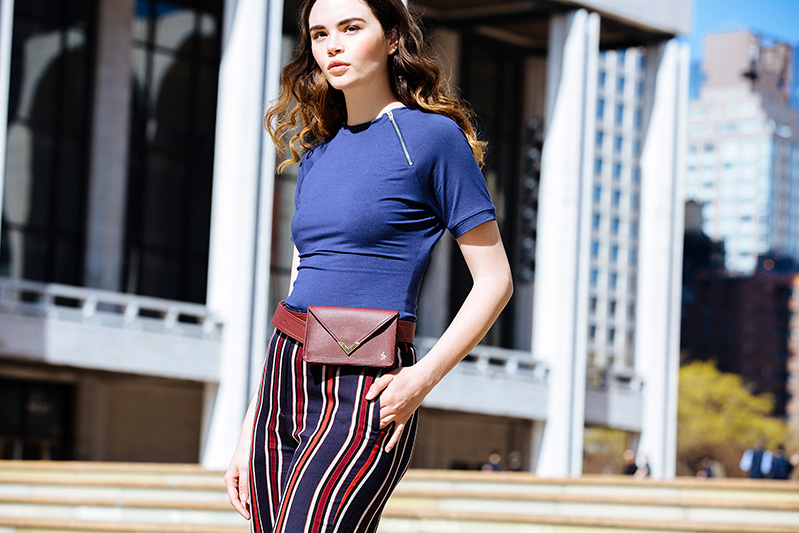 H&S: And we've heard you are expanding into leather goods.
FxR: Yes. Perhaps what we are most excited about this season is our first leather accessory: an equestrian inspired hip bag. It is a hip bag and belt that can either be purchased separately or as a ensemble which solves the issue that every equestrian has: where to put your phone when you are riding. Perfect to wear around the barn or horse show, and roomy enough for your phone, a treat for your horse and a card slot to put a credit card or some cash for coffee. It's equally as functional and stylish when you are not riding, and just want to go hands free. The hip bag is available in two colors: a classic black and a brownish red called Cremisi.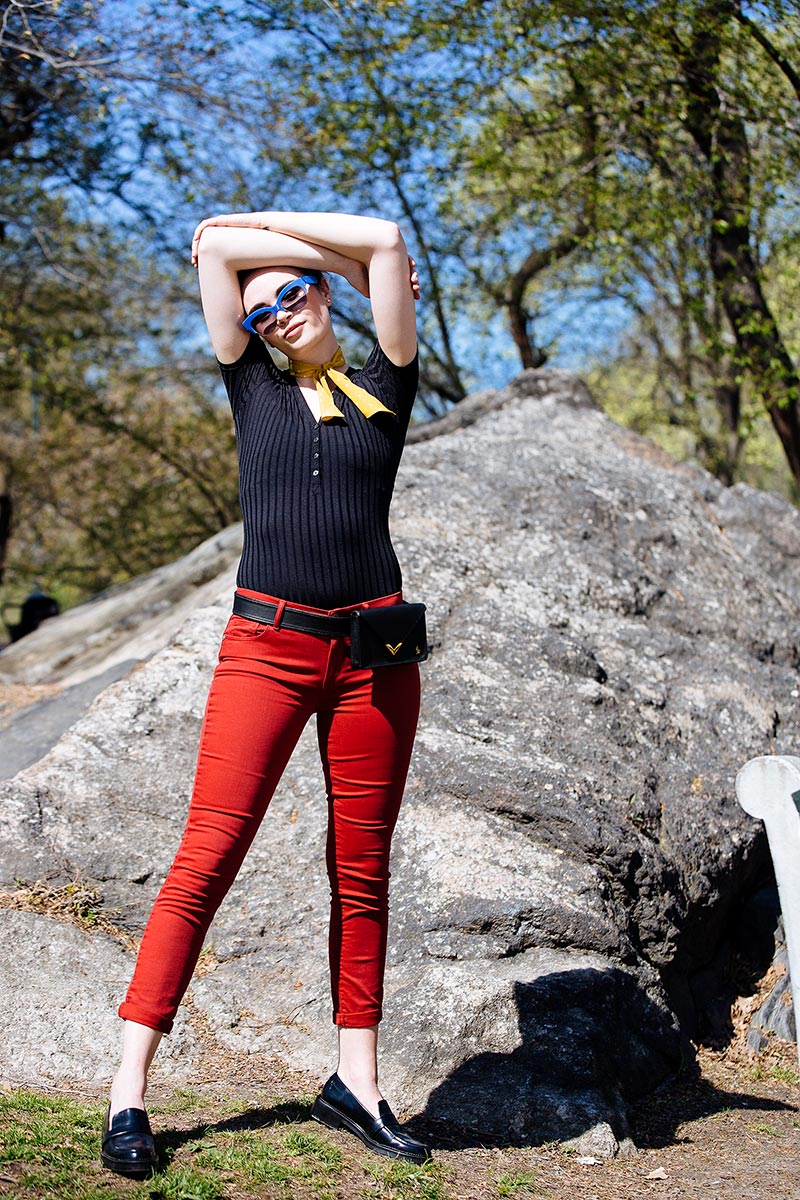 H&S: What's next for Free x Rein?
FxR: We just wrapped up two weeks at the Old Salem Farm Spring Show, which was incredible. So now we are focusing on summer, and planning events in the Hamptons and NYC, including a two week pop up in Soho in the beginning of August. It's been a whirlwind since we launched not too long ago. We've been pulled in a million different directions – more than we ever could have imagined, and we are trying to take advantage of every opportunity that comes our way. But in doing so, we are also staying focused on our core market; the modern, busy equestrian woman. We've made this brand and crafted this collection with love. It is truly for equestrians and by equestrians.
Learn more and shop the Free x Rein collection online at freexrein.com. | @xfreerein