A Breakthrough Saddle Makes its Debut
Photos by Alison Green
Can you feel it? A wave is gaining momentum as the eventing and jumping worlds discover the revolutionary new saddle proudly unveiled on May 1st by Bates Saddlery! Prior to its official launch, the Bates Advanta had an immensely successful teaser campaign that culminated in previews at the Kentucky 3-Day Event in the U.S., and the Sydney International Horse Trials in Australia. Event attendees were able to view the saddle, learn about it, and even book a test-ride. Bates retailers around the world have held exclusive preview events and rides during the entire month of April, prompting accolades from the riders.

Bates Saddles opened its doors in 1934, but it wasn't until 2001 that they were launched here in the United States. When thoughts of developing a purpose-designed cross-country and jumping saddle began to take shape, Bates Saddles advocate, top-level eventer Allie Sacksen, was their first choice to provide feedback during the development of the Bates Advanta.
Meet Allie Sacksen
Allie was intrigued with the idea. A Pennsylvania native, she had done summer internships at Bit of Britain Tack Shop in Chester County, and had enjoyed working on product development for the brand Nunn Finer. She enthusiastically agreed to test-ride a prototype, lending her firsthand experience to suggest changes and tweaks to improve performance. She competed in the Bates Advanta prototype at the Rolex Kentucky 3-Day Event in 2017, on her gray 15.3 hand Connemara/Thoroughbred cross, Sparrow's Nio, who is a crowd favorite. "Nio is a horse full of personality; you always know what he is thinking. He's the king of the barn and does not let anyone forget that. I think he's a crowd favorite because he's a lot like the little engine that could."
Allie began eventing as a Pony Clubber, achieving the rare "A" rating at age 18. She knew then that her future would be in horse sport. Her partnership with Nio began in 2010, when she bought him following the heartbreaking death by lightning of his half-brother Marshall. Nio was seven, and he's now almost fifteen. "He did his first event with me," she says. "I've really enjoyed the process of bringing him along. You can forge so much better a connection, a trust, that way. To get around a 4* course, you have to have absolute trust in each other."
For the Comfort of the Rider
One of the changes to the design of the Advanta in which Allie was most instrumental, is the development of the most forward flaps that Bates has ever manufactured. "I'm 5'10," and I have struggled for many years to find a saddle that fits my long leg, but Bates has finally done it! Eventing requires the rider to be able to move around in the saddle while on course, and this saddle has managed to allow that without interfering with my position. I've had some of my students ride in my saddle as well, and have seen incredible transformations in their positions."
Allie believes that one of the keys to jumping is the proper heel-hip-shoulder alignment. "Many people don't realize that an ill-fitting saddle makes riding so much harder. My students vary in height, and because of the adjustable FlexiContourbloc®, I can shape the flaps to work for any length leg." The saddle features two movable FlexiContourblocs® that are anatomically contoured to the leg, one at the front and one at the rear. They can be moved to adjust to any rider, and then secured with two screws under the flap. In addition, the stirrup position can be changed with the Adjustable Ergonomic Stirrup Bar, enabling a wide variety of riders to customize the support and position offered to them in the Bates Advanta.
"I still do a lot with Pony Club, and I can recommend this saddle for children. It can change as the child grows, and can be adjusted for a different horse." Bates saddles also feature the EASY-CHANGE Fit Solution, coupled with the CAIR Cushion System, to ensure a comfortable fit for the horse. While the EASY-CHANGE Fit Solution is simple enough to be done by the rider, Bates always recommends the advice of a good saddle fitter.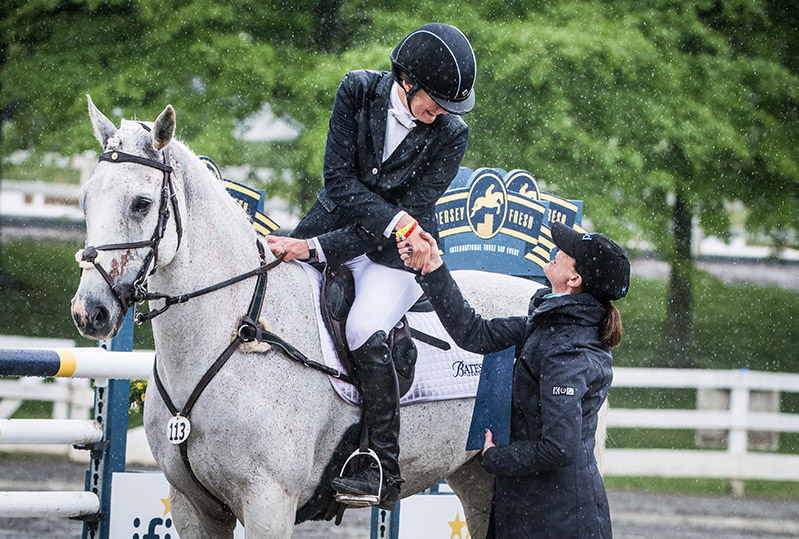 For the Comfort of the Horse
Unlike other saddles, which are stuffed with flocking that can shift, the CAIR system in Bates saddles, introduced in 2001, is unique, in that it fills the pockets with air, resulting in a saddle that provides fluid cushioning that moves with the horse's working muscles. "I have a variety of shapes and sizes of horses in the barn and we can make my saddle fit any of them," Allie tells us. "I have also noticed that with the CAIR Cushion System, none of my horses suffer from sore backs or discomfort."
All Bates saddles are designed for ultra-close contact, with luxurious double-lined leather renowned for its super-soft, natural, and grippy characteristics. The innovative mono-flap design ensures unrivaled close contact, and for that reason, Bates recommends only a thin saddle pad to keep the rider as close to the horse as possible.
Working Together
Allie's husband Sam travels with her to competitions; he's her calming aura, she says. No stranger to pre-competition nerves, he is an Olympic Pentathlete, now a veterinarian doing his internship. Together, they run Von Sacksen Eventing in Landenberg, Pennsylvania, 15 minutes from Fair Hill, where she does all of her fitness work on the beautiful rolling hills. The family now travels as a threesome, since the birth of Anastasia (Annie) early this year. One of their first journeys together was to the trade preview of the Bates Advanta on January 26th, where she saw, for the first time, the final iteration of the saddle. "It was pretty incredible," she says.
On a recent outing with her new Advanta, Allie competed at the Jersey Fresh International, which always falls on Mother's Day, where she received the Philippa Humphreys Memorial Sportsmanship Award, an outstanding achievement. It is presented in memory of a rider that died at Jersey Fresh from a cross-country fall in 2016, leaving behind an infant daughter, Millie. The award goes to a rider who "demonstrates fairness, respect and responsibility; selfless equine management; passion and commitment for the betterment of eventing; and outstanding mentorship and relationship skills." It was particularly meaningful and a bit emotional for Allie, a new mother herself. "I couldn't help thinking about Annie." As part of the award, a donation was made in Allie's name to Millie's college fund, a meaningful legacy.
When we spoke with Allie, she was on her way to teach a clinic in Chattanooga, TN. "It will be my first time away from Annie for more than a couple of hours." Theirs is truly a family business, housed at her parents' farm; Allie's mom is Annie's full-time nanny. "We're doing what we love; we look forward to getting up in the morning. If a bad thing happens, as it inevitably does, one smile from Annie puts it into perspective. I am so lucky!"
batessaddles.com | IG: @batessaddles | FB: @batessaddles