Photos by Sophie Kuller
Annie Heise is a bit of a Renaissance woman. Equal parts equestrian, actor, and now designer, Annie is no stranger to the perpetual search for creative outlets. Funny, focused and down-to-earth, her dedication to each of her crafts is palpable. In her latest role as founder and CEO of recently launched Two Bits Equestrian, a collection of tailored equestrian athleisure, Annie has managed to seamlessly blend a lifelong love of design with her devotion to riding.
While her film and TV credits include NBC's The Blacklist, ABC's Madoff and 
a number of independent films, Annie has a newfound appreciation for the freedom and agency her latest endeavor affords her. "What's been really fun about [the collection] is that it's something really creative that I have control over. Unlike acting, my destiny isn't a question mark dependent on directors, producers or casting people. This is like my baby. When this idea came, I kind of just ran with it because, similar to indie movies, I like very engaging, creative projects."
As a lifelong equestrian, Annie caught the horse bug as many girls do. However, after her first pony, her family moved away from supporting the high-priced sport. She stayed in the irons on friends' horses and catch rides, and rode for an eventing trainer during and after college.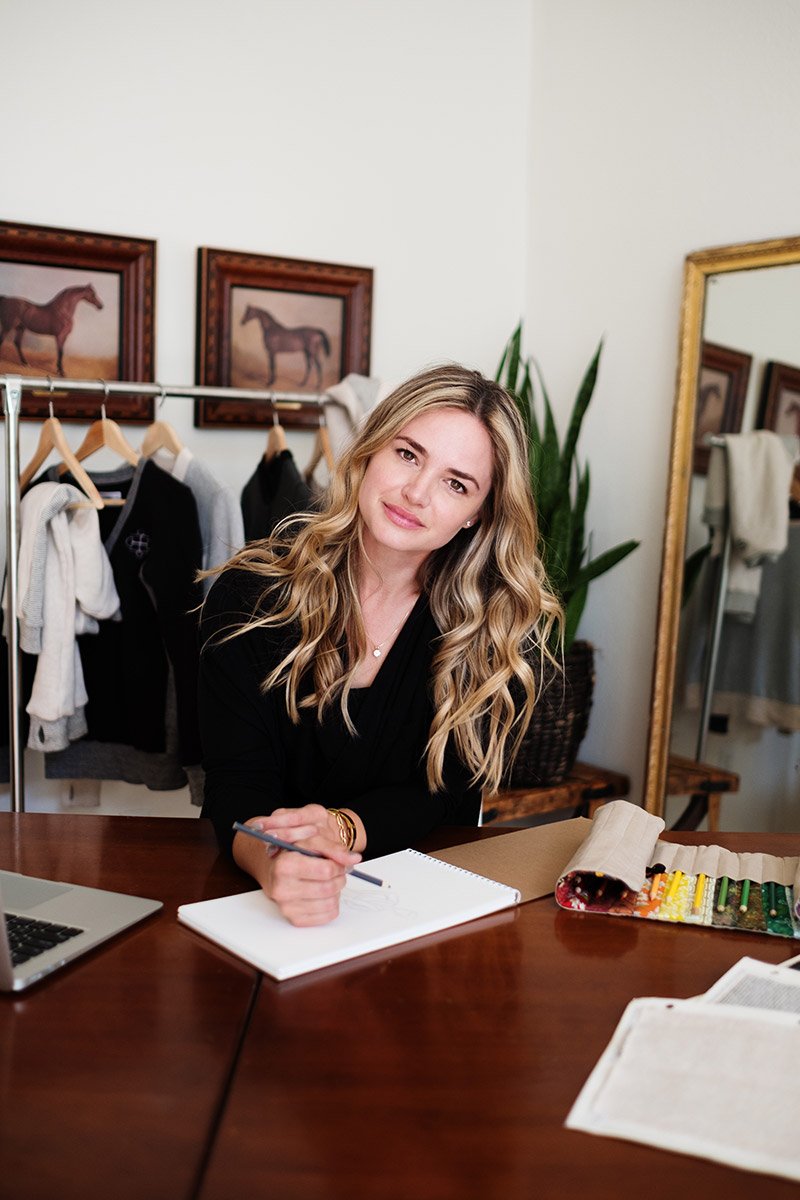 Recently, as she transitioned back to the hunter jumper show circuit, Annie noticed both a gap in the market and the creative opportunity she had been looking for. She thought about the amount of time she and fellow equestrians spend in their riding clothes – at the horse show, running to and from the barn and to other commitments, but couldn't find comfortable and stylish athleisure options for that crossover lifestyle.
"As horse people, we don't often change out of our riding attire, so we don't want to feel like our clothes are limiting us. I was having a lot of trouble with this, and pulling from other brands that were either literal sportswear, or looked too much like mismatched streetwear. I asked myself, 'Where's the happy medium here?' It was something I couldn't find…so I made it!"
Two Bits Equestrian was born out of Annie's passion for all things aesthetic as well as a philosophy to create and consume consciously. The collection of quality staples includes bomber jackets, pullovers and hats designed and produced sustainably and ethically in Los Angeles to enhance a capsule wardrobe. In addition to meeting a need, Annie also sought to change attitudes and behaviors around clothing consumption. With a "quality over quantity" approach, she prioritized creating timeless pieces meant to be well-loved and utilized – coveted, but not necessarily collected.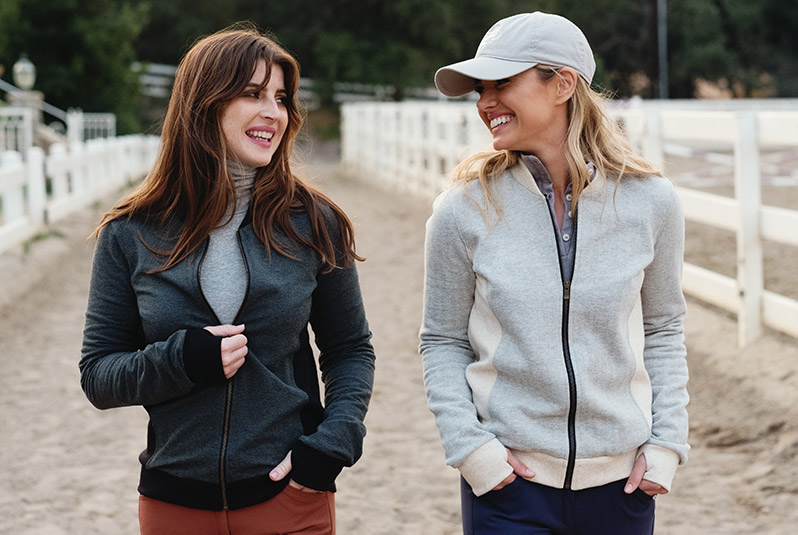 As horse people, we don't often change out of our riding attire, so we don't want to feel like our clothes are limiting us.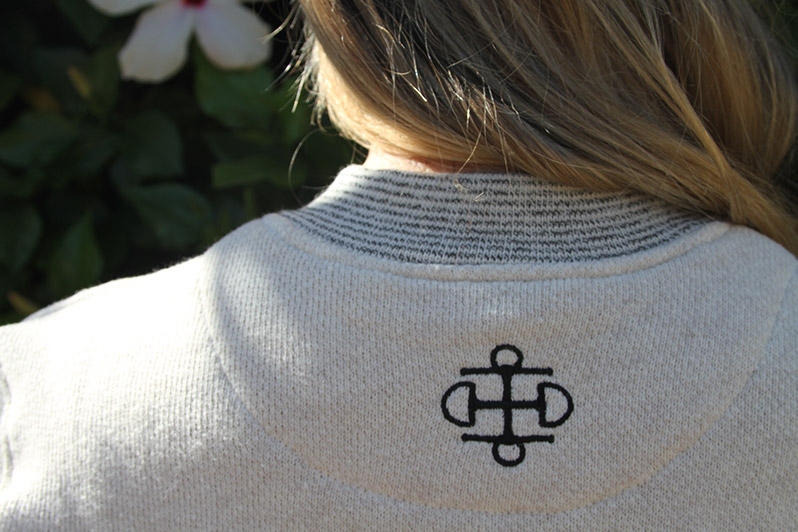 "I think we're a very wasteful culture, inherently. We no longer keep and repair items that we love. I've been struck in the last five or so years by how we'll buy a t-shirt, and after a few washes it has a hole in it, so we just throw it away. What really went into making that shirt? What if we could instead pick items that have more longevity to them by design and are made of materials manufactured with quality?"
This minimalist attitude is a decision that Annie believes can become a personal expression. "I like that legacy idea – you can be proud of the things that you own because they are a clear representation of who you are and what you're about. Investing in a smaller number of thoughtful specialty pieces tells a story about the wearer." The intention is evident in each detail and choice incorporated into the inaugural collection.
The line is composed of flattering neutrals – greys, creams and charcoals in rich fabrics that are designed to drape, hug and support any silhouette throughout days spent equally in the saddle, in meetings, or out on the town. Thoughtful details such as classic equestrian embroidery, contrasting ribbing and premium zippers afford the line a sophisticated feel. "I chose to do a lot of neutral colors because I wanted people to be able to look stylish but not have to think really hard about it. It lives right in between a zip-up and a leather jacket – something you can put on when you're leaving a workout that makes you look relatively dressed up, but still comfortable."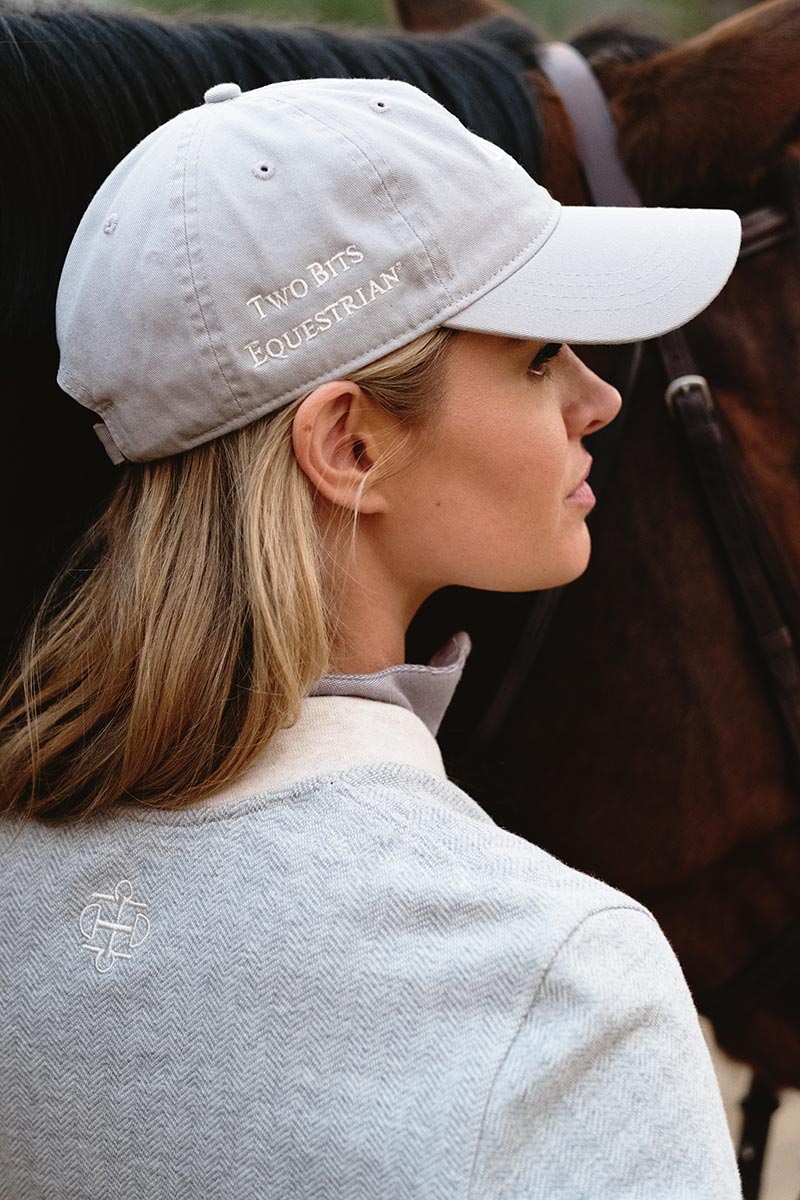 The collection's signature bomber jackets are made from ethically and sustainably sourced fabric and are designed to be lightweight, warm and comfortable. Available in oatmeal terry, charcoal bamboo and the ever-popular grey herringbone, each jacket has a slightly different fit, fabric and function. "The herringbone is the dressiest and to me, the easiest to pair with anything. The bamboos are the most technical, really stretchy, breathable and great for riding and moving between temperatures. The large loop terry pieces are just really yummy – so soft and cozy with a nice weight to them."
Both the bomber's herringbone fabric and the pullover's large embroidered crest are drawn from inspiration in traditional riding habits. The integrity of the collection acknowledges that in recent years, riding apparel has moved largely toward sporty, technical fabrics; however equestrian heritage remains in tailored clothing. Annie cites the traditional hunting textiles and silhouettes of vintage Ralph Lauren as inspiration, but adds an updated twist – breathable, nontoxic and naturally antimicrobial fabrics. The modern equestrian has a lot more than their ride and dinner plans to contend with, however. Ample amounts of time spent in the sun and dirt: working, training, spectating often make for sweaty, smelly and stained attire. Two Bits pieces naturally combat odor, are nontoxic and easily machine washable.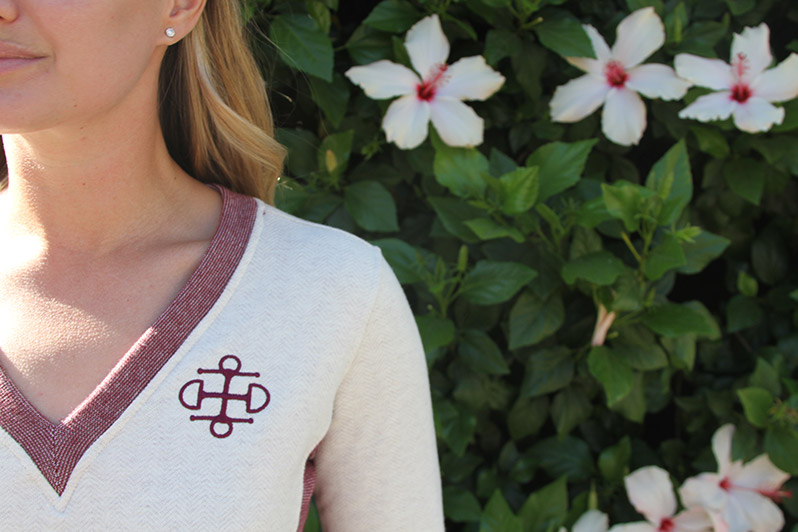 To make people feel they're beautiful while wearing things that will function for their lives, it's very rewarding.
Concerns about the physical waste and ethical issues surrounding fast-fashion were another motivator for Two Bits to do things differently. The fast-fashion industry is notorious for exploiting overseas workers and creating countless pounds and gallons of textile and water waste. Many consumers are also usually unaware that many fast-fashion garments are made with petroleum-based fibers that do not readily decompose. Fabrics used by Two Bits have a Global Recycle Standard (GRS) Gold Level Certification, which ensures that the fabric's weavers have met standards similar to those of the Global Organic Textile Standard (GOTS), wherein companies must disclose the amount of harmful resources and processes used (chemicals, energy, water consumption, waste water treatment and sludge disposal.) This certification also prohibits use of certain chemicals, requires that waste water be extensively treated and pays careful attention to workers' rights. Two Bits textiles are also Oeko-Tex Standard 100 certified, meaning that they make no contact with harmful and illegal substances throughout all stages of production. Annie notes, "The more that we can support the use of sustainable and nontoxic fabrics, the more it will become the norm."
As a first-time apparel designer, the journey from conception to launch has been a fast and furious one for Annie. "It's taken a lot of calls and emails. I'm a very communicative person, and I like to have other people enthusiastic and engaged in the process. It was important to me that the pieces were USA-made. The LA fashion district is booming and I wanted to be very close to the process, so that if there was an issue, I could learn about it, understand it, and be right there to fix it."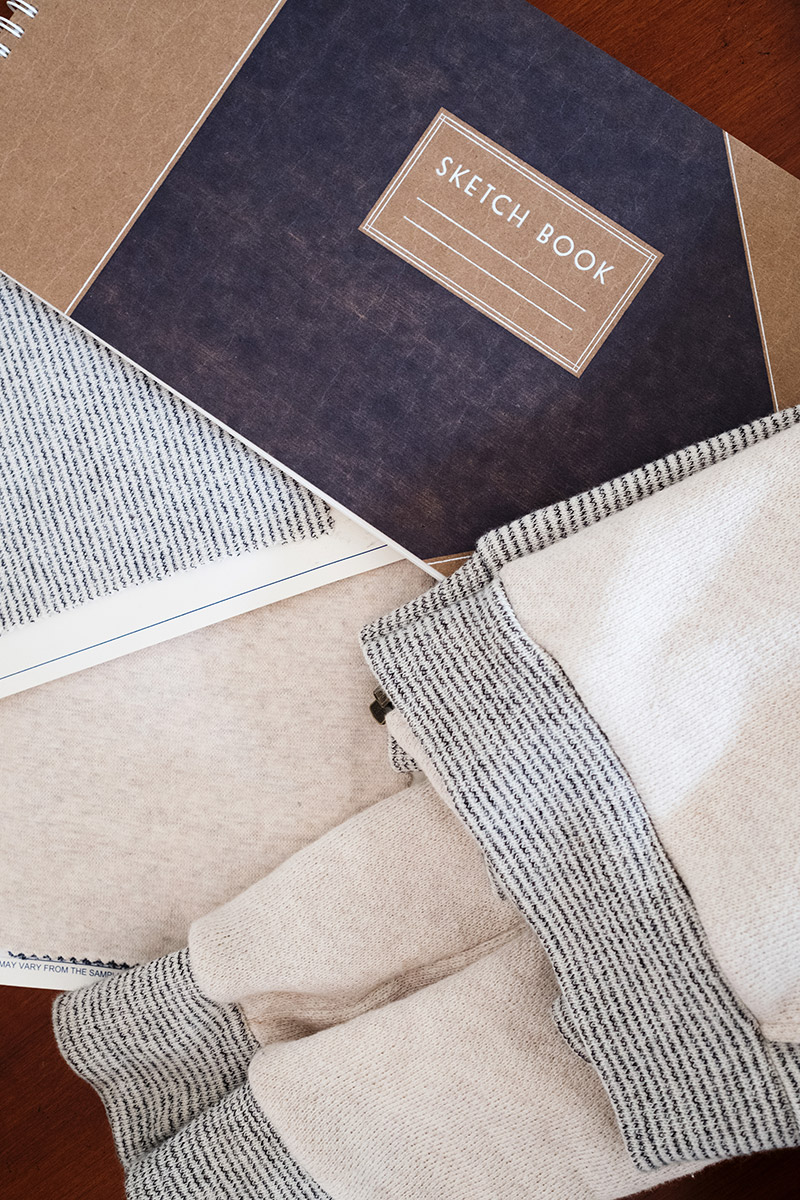 Choosing similar-minded local patternmakers and manufacturers is only one of the many conscious elements that Annie has infused into her line, and it speaks to her firm desire to get it right. Details such as recycled packaging, premium no-snag zippers, and versatile fits contribute to the longevity and positive impact of the clothing. Although the entire collection does not meet her original unisex goal, Annie took immense care for Two Bits to fit a variety of body types and to stand up to the demands and shifts of an active lifestyle.
"The contrasting ribbing on the side [of the bomber] is flattering and ensures that it has a lot of give. I had a pregnant lady try one on, and she was saying 'Oh my god, it fits, it works! And it's going to shrink right back when I'm done being pregnant!' I loved that. I realized, 'That's so beautiful, the design is functioning and working for real women!'"
This spring, Two Bits Equestrian not only launched as an industry success, but the fulfillment of a personal vision for Annie. "It's been very surreal – to have people touching the clothes, trying them on, getting excited and invested in the story behind the product, and supporting a young female entrepreneur. In this current world climate, it's been very nice to have people who think that what I'm doing is brave and who want to know more."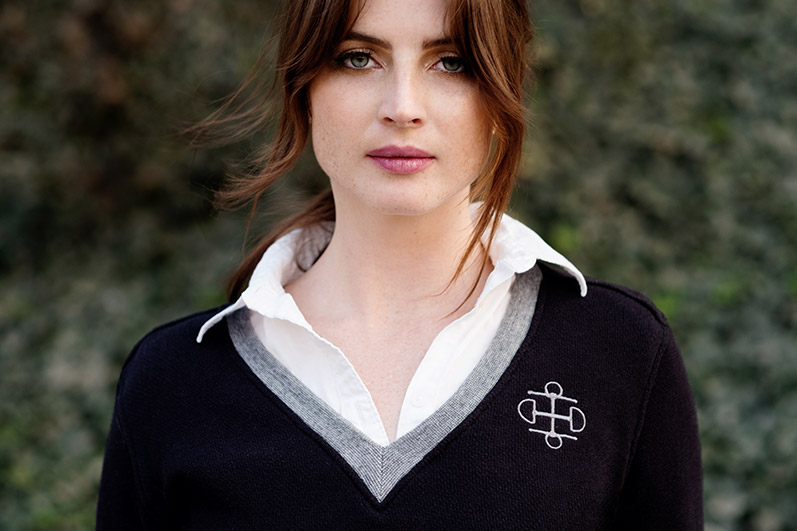 As she heads back into production to meet growing demand for her pieces, Annie continues to reflect on the bold moves and the system of support it took for her vision to come to fruition. She cites her close family and friends (equestrian or not) as her main supporters and cheerleaders and naturally, as those who have been the first to embrace and don the line wholeheartedly.
"Early in the process, it can feel really scary and alone. But once it was actualized and people were drawn to it – it has meant more than most things I've ever done. To make people feel they're beautiful while wearing things that will function for their lives, it's very rewarding."
Two Bits Equestrian represents more than one woman's personal journey – it is imbued with a philosophy of consciousness, quality, function and timeless style, all elements that equestrians are familiar with. However, in a market of abundance, the collection challenges buyers to examine their purchasing habits and lend a sharper eye to their own lifestyles of consumption. As for the modern rider, the versatile textiles and sophisticated details don't hurt either. Two Bits is currently available through tbequestrian.com, though horse show and retail pop-up appearances are announced regularly through the brand's Instagram and email list. With future plans for technical fabrics and other transitional pieces, Annie continues to steer Two Bits in a direction that will redefine specialty clothing and embrace the athleisure category.
tbequestrian.com | IG: @twobitsequestrian | FB: Two Bits Equestrian